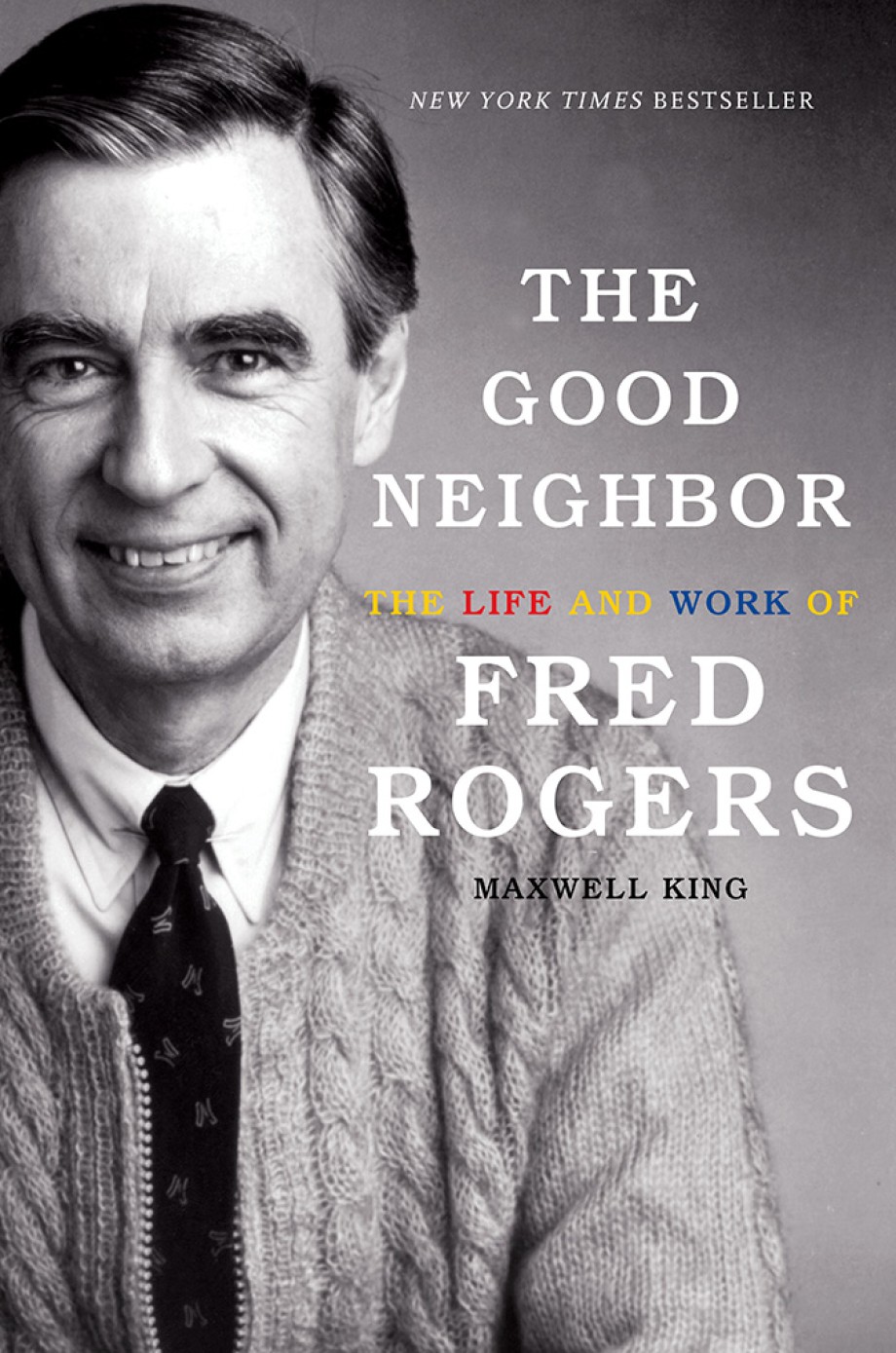 The Good Neighbor
The Life and Work of Fred Rogers
Hardcover
Price: $30.00
Out of stock
Available from:
Additional formats:
Publication Date: September 4, 2018
Imprint: Abrams Press
Trim Size: 6 x 9
ISBN: 9781419727726
Page Count: 416
Rights: US and Canada
New York Times bestseller
2018 Goodreads Choice Award Winner for History & Biography
Fred Rogers (1928–2003) was an enormously influential figure in the history of television and in the lives of tens of millions of children. As the creator and star of Mister Rogers' Neighborhood, he was a champion of compassion, equality, and kindness. Rogers was fiercely devoted to children and to taking their fears, concerns, and questions about the world seriously.
The Good Neighbor, the first full-length biography of Fred Rogers, tells the story of this utterly unique and enduring American icon. Drawing on original interviews, oral histories, and archival documents, Maxwell King traces Rogers's personal, professional, and artistic life through decades of work, including a surprising decision to walk away from the show to make television for adults, only to return to the neighborhood with increasingly sophisticated episodes, written in collaboration with experts on childhood development. An engaging story, rich in detail, The Good Neighbor is the definitive portrait of a beloved figure, cherished by multiple generations.
Praise
"In King's [The Good Neighbor] … the inimitable Mister Rogers becomes somehow even more enchanting. In addition to elegantly narrating the facts of Rogers' life… King's book brims with anecdotes of intimate exchanges that highlight Rogers' kindness and grace."

Booklist —
"King is a skilled storyteller who captures the essence of not only Rogers the person but also the very particular American scene that produced him."

The Washington Post —
"As the extreme importance of our most gifted teachers, and the credit they are due, become ever more evident, Maxwell King has provided a superb, thoughtful biography of the brilliant Fred Rogers, who with his long-running television show, reached more children than any teacher ever. The enormous amount of thought, creative talent, and hard work that Rogers put into every aspect of the show becomes abundantly clear in this book, as do the lessons in empathy and kindness that he took so to heart. Much there is for all of us to learn in Maxwell King's The Good Neighbor."

David McCullough —
"Fred launched the ship that carried us all."

LeVar Burton —
"Mere pages into this beautiful account, tears began to roll down my cheeks as my heart remembered the kind and gentle manner of Mr. Rogers. Deeply researched, Maxwell King's biography brings Rogers to life in small moments recalled by those who knew him best. Through a meticulous unspooling of his childhood, we learn why Fred Rogers—a child born into extreme wealth who could have done anything or nothing with his life—wound up of all things a child whisperer, a seer of the human heart, a builder of bridges constructed of unconditional love and acceptance. Reading King's narrative, one cannot help but long for a time when children spent their afternoons watching Mister Rogers' Neighborhood; one cannot help but sense that what we all need right now is an infusion of Fred Rogers' enduring teachings back onto our airwaves and into our America."

author of How to Raise an Adult, Julie Lythcott-Haims —
"Anyone who has seen Fred Rogers on TV eventually gets around to the same core question: Was he really like that in real life? In this well-researched, insightful and affectionately written biography, Maxwell King answers 'Yes.' I suspect Mister Rogers himself would have approved of The Good Neighbor, and Rogers always maintained the highest of standards."

David Bianculli —
"Fred Rogers recognized how essential the first years of life are to a child's social, emotional, and cognitive development. No one understood the strength of human kindness better. His message spans all generations, from my own children to their children. He was a man truly ahead of his time."

President and Co-Founder, Bezos Family Foundation, Jackie Bezos —
About the author
Maxwell King is the CEO of the Pittsburgh Foundation. After a career in journalism, including eight years as editor of the Philadelphia Inquirer, King served as president of the Pittsburgh-based Heinz Endowments for nearly a decade.