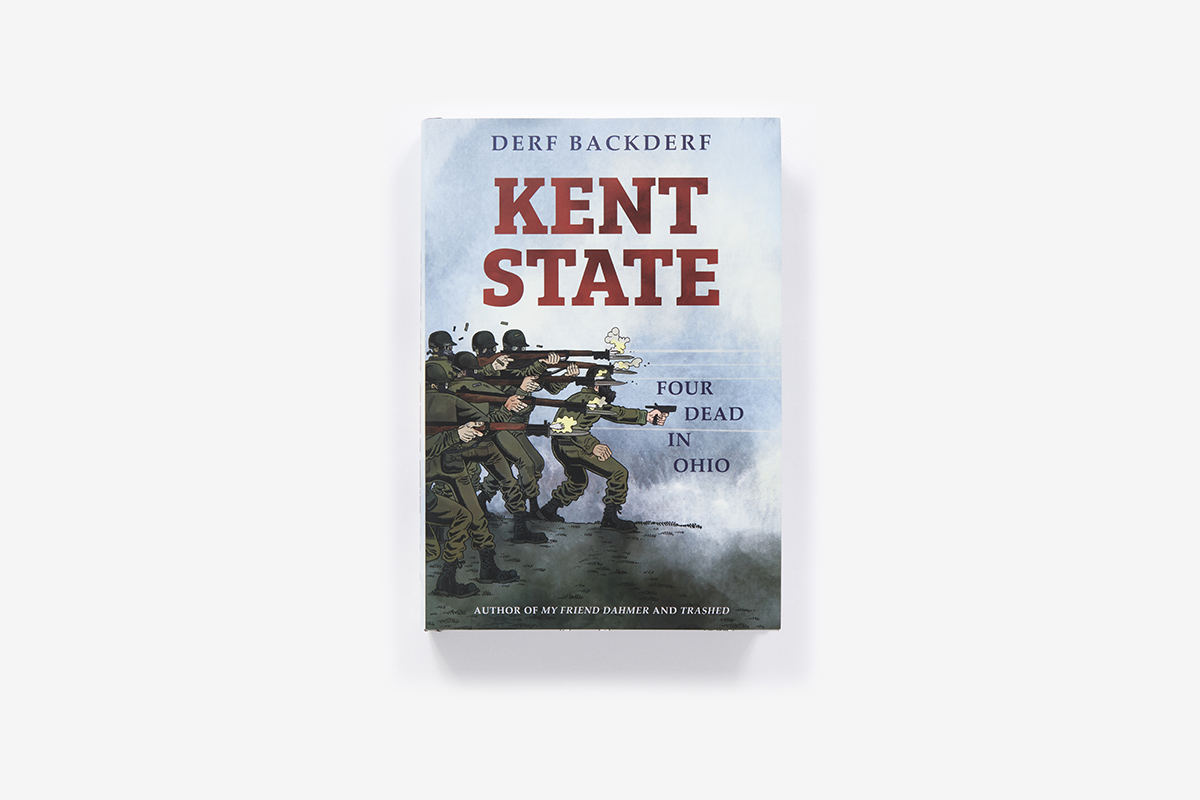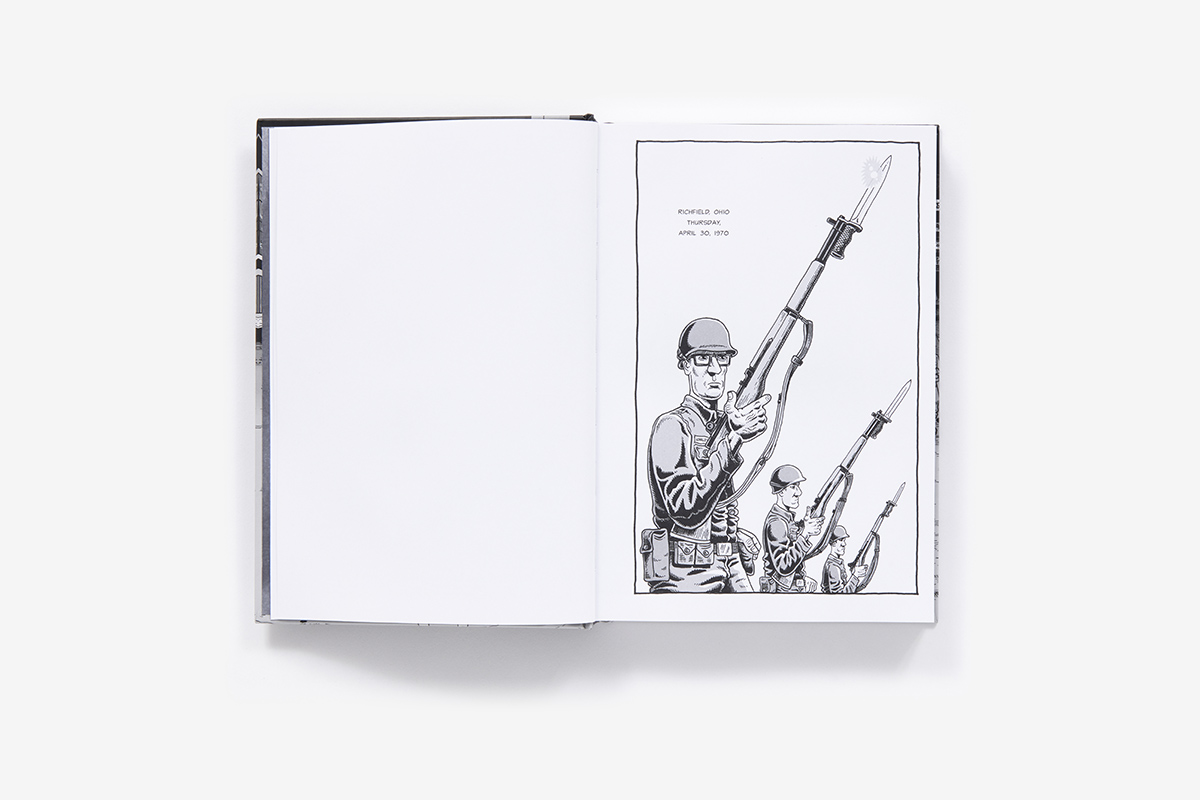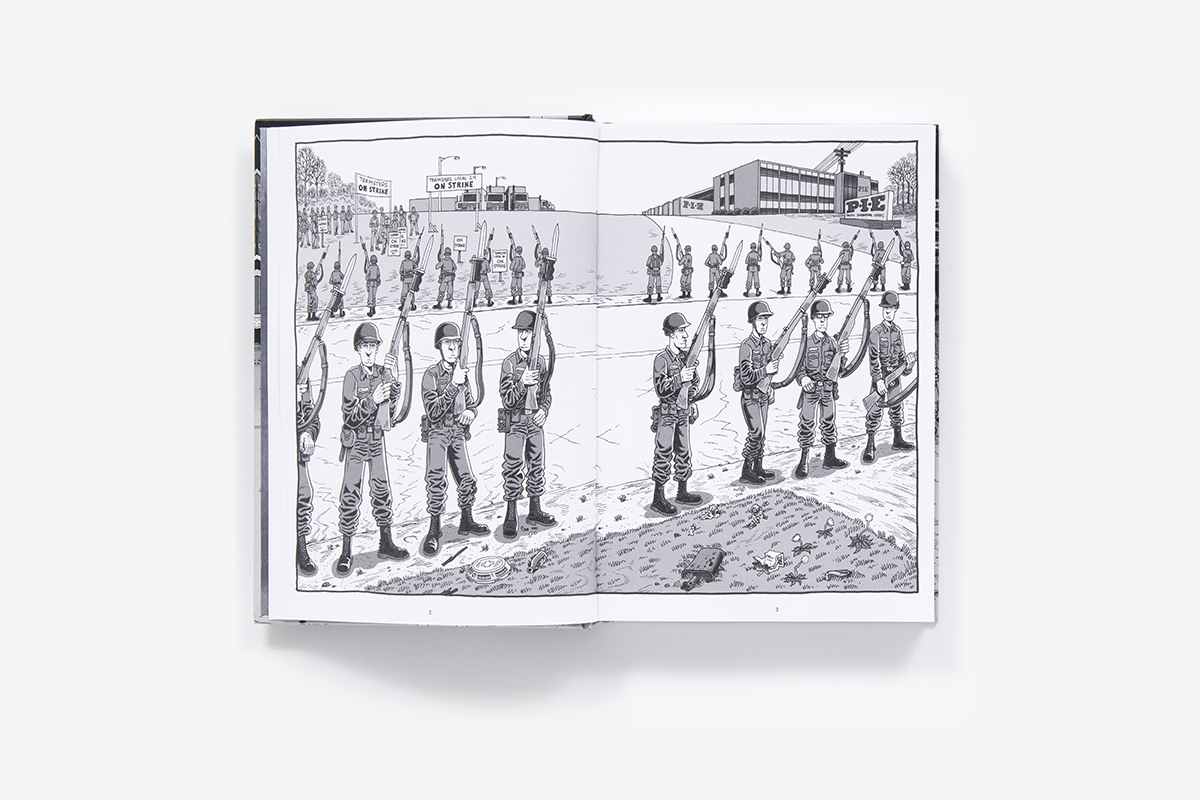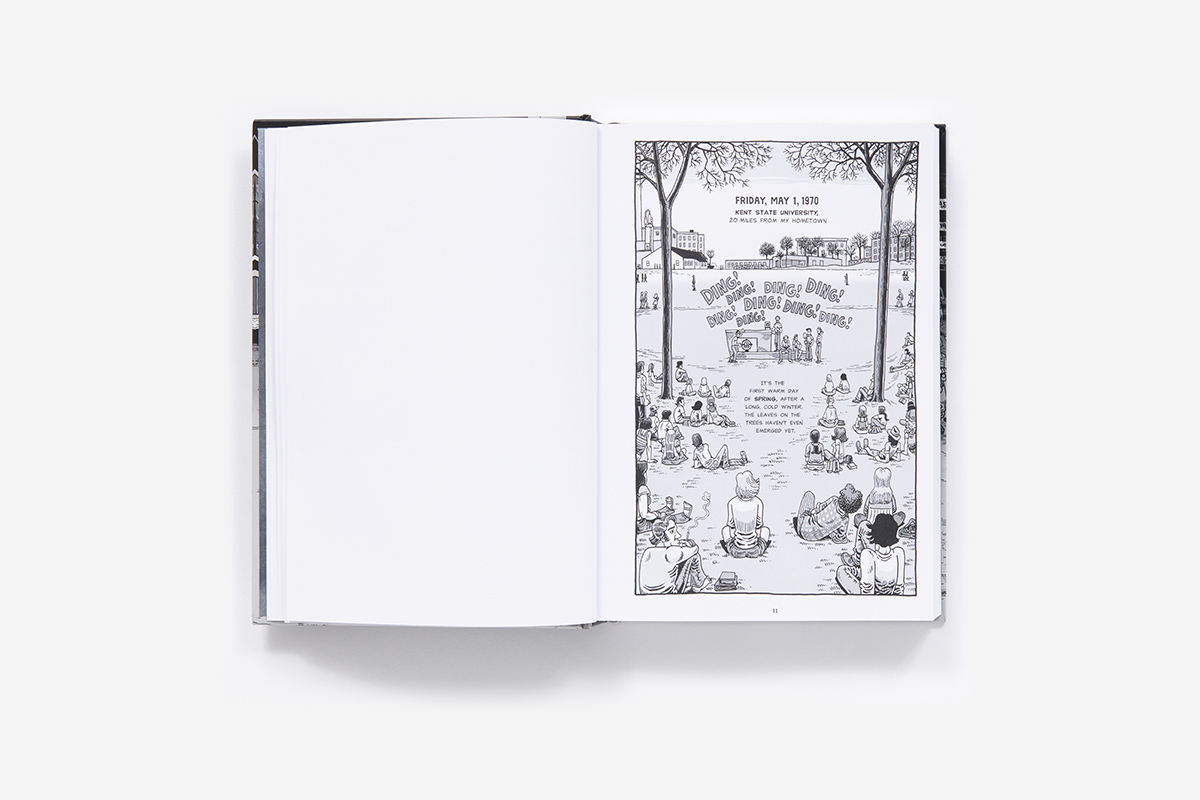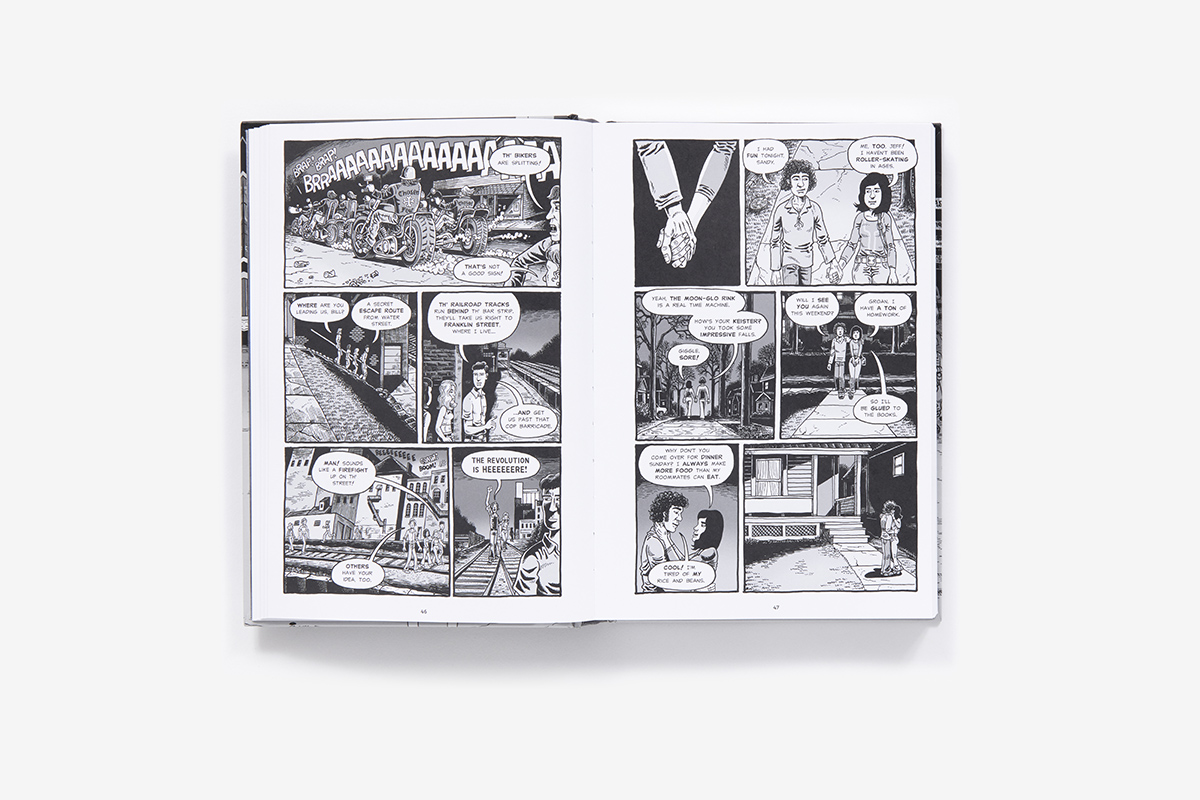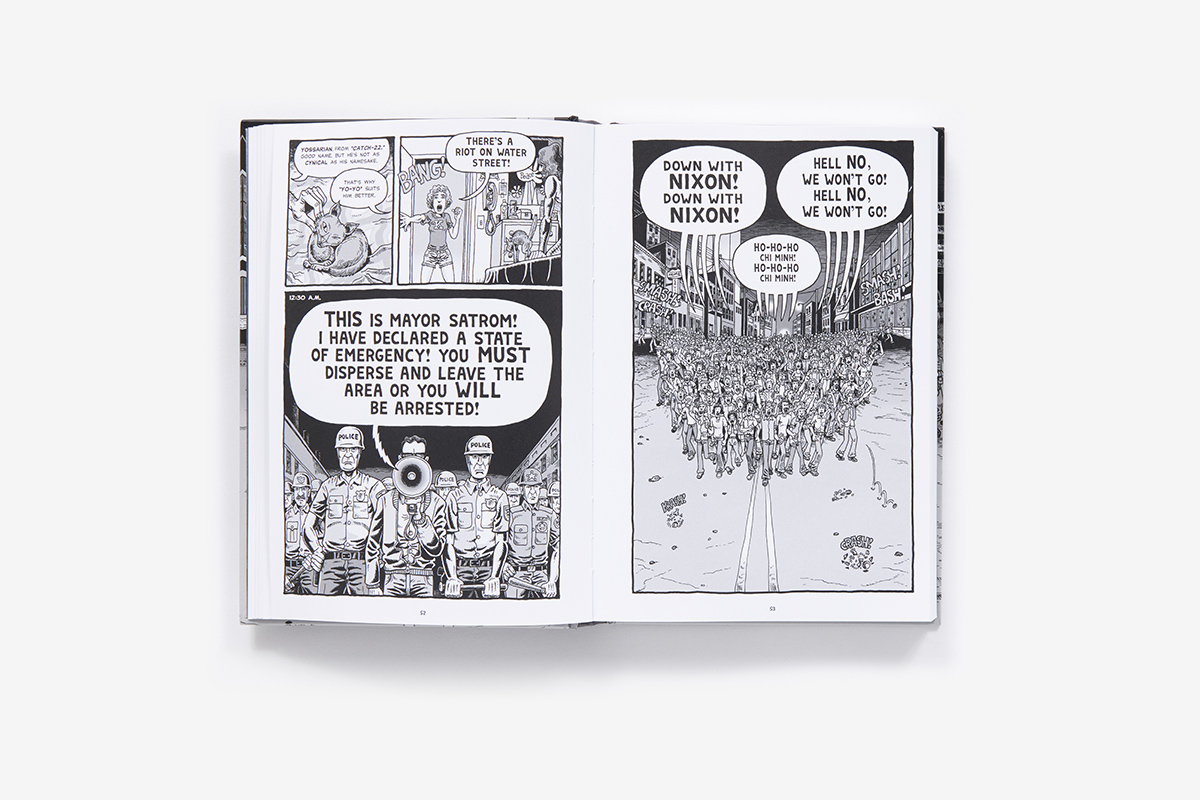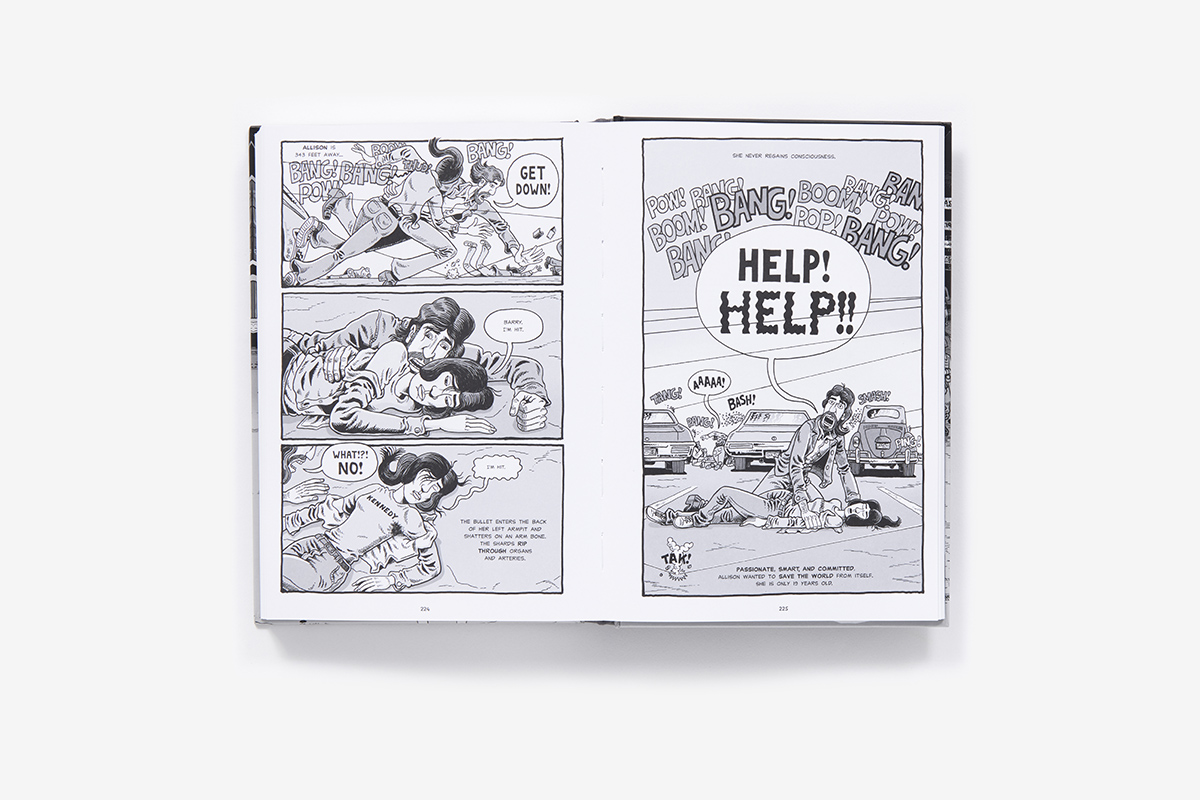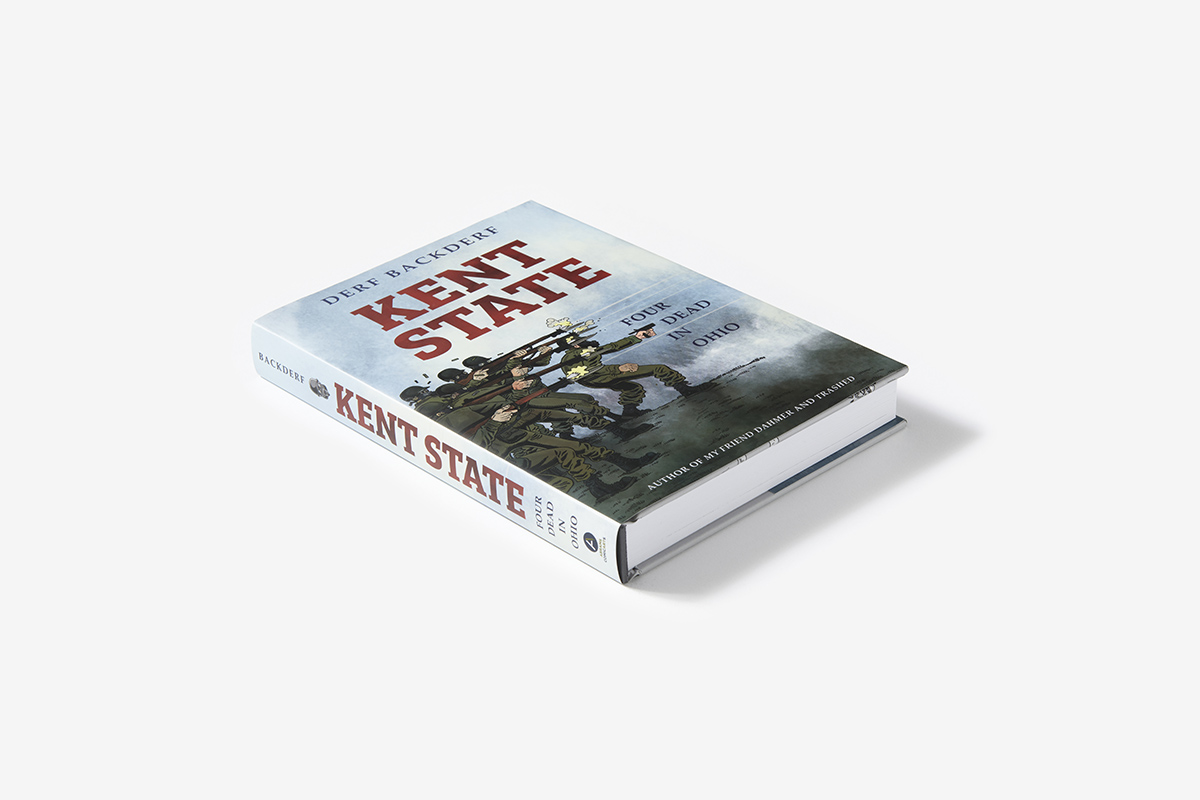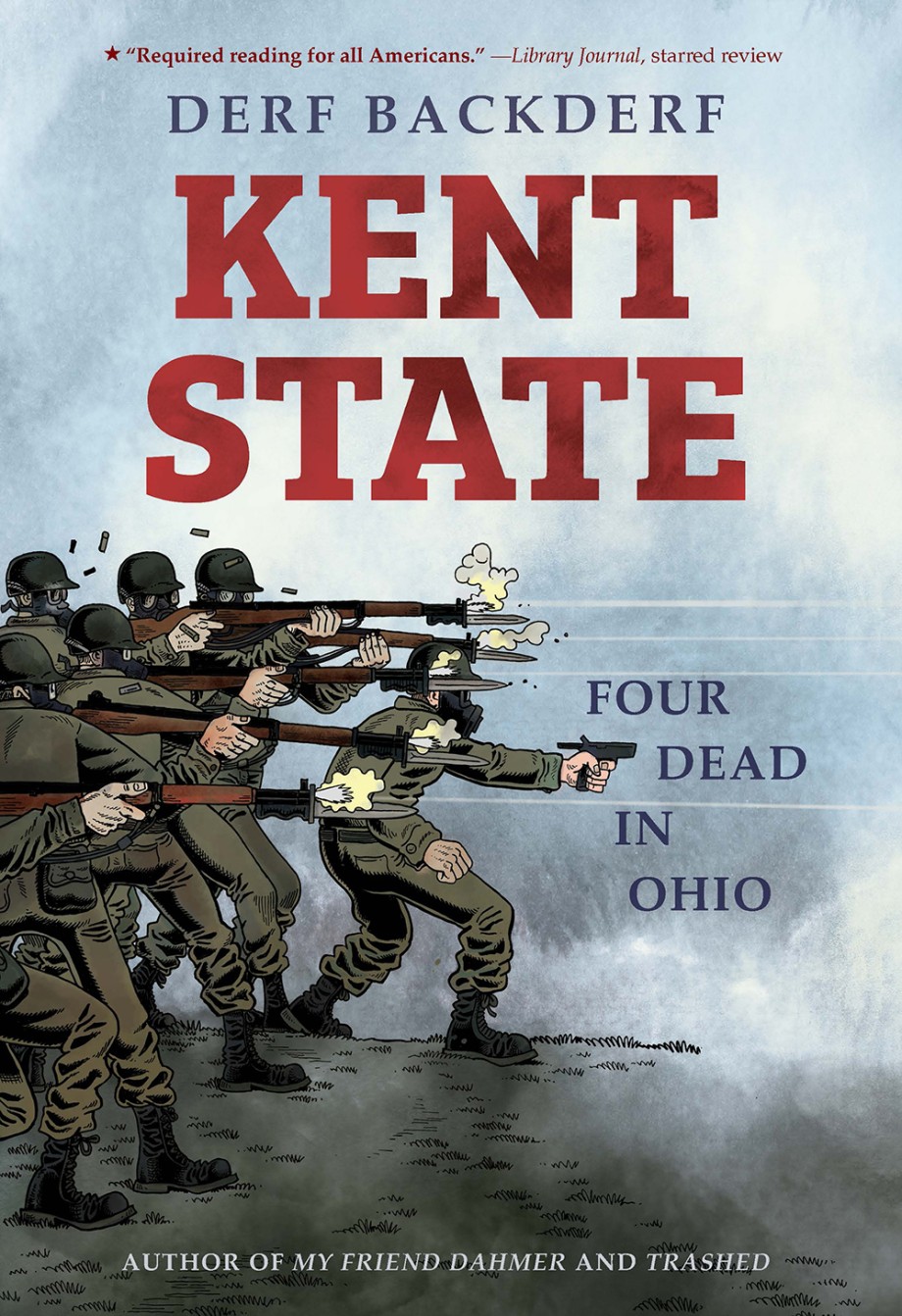 Kent State
Four Dead in Ohio
Hardcover
Price: $24.99
Also available from:
Additional formats:
Publication Date: September 8, 2020
Imprint: Abrams ComicArts
Trim Size: 7 x 10 1⁄4
ISBN: 9781419734847
Page Count: 288
Illustrations: Two-color illustrations throughout
Rights: World/All
Named a "Best Book of the Year" by New York Times, Forbes, Publishers Weekly, Library Journal, and NPR!
An Eisner Award Winner
An ALA/YALSA Alex Award Winner
Ringo Award for Best Non-Fiction Comic Work
France's Association of Comics Critics and Journalists (ACBD) Comics Prize
From Derf Backderf, the bestselling author of My Friend Dahmer, comes the tragic and unforgettable story of the Kent State shootings, told in graphic novel form.
Backderf takes us back to the age of the Vietnam War, Richard Nixon, Woodstock, and the Cold War and explores, in words and images, a scene of tragedy, the campus of Kent State University, where National Guard Troops attacked unarmed protestors and killed four students (Allison Beth Krause, age 19, Jeffrey Glenn Miller, age 20, Sandra Lee Scheuer, age 20, and William Knox Schroeder, age 19).
On May 4, 1970, the Ohio National Guard gunned down unarmed college students protesting the Vietnam War at Kent State University. In a deadly barrage of 67 shots, 4 students were killed and 9 shot and wounded. It was the day America turned guns on its own children—a shocking event burned into our national memory.
The fatal shootings triggered immediate and massive outrage on campuses around the country. More than 4 million students participated in organized walkouts at hundreds of universities, colleges, and high schools, the largest student strike in the history of the United States at that time. It was a day that shocked the nation and helped turn the tide of public opinion against America's war in Vietnam.
A few days prior, 10-year-old Derf Backderf saw those same guardsmen patrolling his nearby hometown, sent in by the governor to crush a trucker strike.
Using the journalism skills he employed on My Friend Dahmer and Trashed, Backderf has conducted extensive interviews and research to explore the lives of these four young people and the events of those four days in May, when the country seemed on the brink of tearing apart.
Kent State: Four Dead in Ohio, which published on the 50th anniversary of the tragedy, is a moving and troubling story about the bitter price of dissent—as relevant today as it was in 1970.

Praise
"[Backderf's] expertly crafted chronicle of this defining moment in U.S. history serves as a deeply moving elegy for the victims. Readers may also draw from it sobering parallels to the deep divisions of contemporary times, again dangerously rife with media noise and misinformation muddying the waters."

Publishers Weekly, STARRED Review —
"An incendiary corrective to the myths and misconceptions surrounding these events and a memorial to the lives lost or forever altered that should be required reading for all Americans."

Library Journal - STARRED review —
? "An excellent graphic retelling of a climactic moment in American history . . . Four dead in Ohio, indeed—but Backderf's vivid, evocative book does a splendid job of keeping their memories alive.

Kirkus reviews, STARRED Review —
"Derf Backderf's masterful Kent State does what really good, in-depth journalism should always do—breathe life into cold, hard facts—but in this case, with searing, memorable images, drawings that put us inside the skin of the protagonists. The students and the soldiers are all tragic figures in this telling, and Backderf lets us decide how to judge them. The final, violent scenes are almost Goyaesque in their brutal reality. You don't simply put this book down and get on with your life after reading the final page—you slowly recover, shaken from the experience."

Bill Griffith, author of Zippy the Pinhead, Invisible Ink, and Nobody's Fool —
"Deeply researched and gut-wrenching…"

The New Yorker —
"One of the masterpieces of the medium...a work of devastating emotional impact."

Forbes, Rob Salkowitz —
"The meticulous research is shown in more than two dozen pages of notes, confirming the sources from the Kent State University May 4 Collection about the shootings, but also Backderf's personal research and interviews."

The Akron Beacon Journal —
"Kent State is meticulously researched…Backderf is in total artistic control of his material."

Cleveland Review of Books —
"Derf Backderf brings historical context and a propulsive sense of narrative to this graphical history of the Kent State shootings."

book critic, Etelka Lehoczky —
"The book not only illuminates history but also brings a form of closure to an unforgivable, inexcusable episode."

The Pittsburgh Post-Gazette —
"Kent State, unfolding in sober black and white, is as passionate as it is meticulous in its treatment of the May 4, 1970 killings of four unarmed college students by the Ohio National Guard."

The New York Times Book Review —
"While removed from the events by a half-century, by the time the memoir spirals into the final spasm of chaos, the tragedy these boldly drawn panels feel fresh as if from yesterday's news."

PopMatters —
"Surely the graphic novel of the year, and an early entry onto the next Best of the Decade lists."

Forbes —
"A masterwork of graphic history, and the most sharply drawn commentary regarding the current moment in American history . . . meticulous down to the last detail . . . Kent State is a poignant and powerful memorial for the four students who were mercilessly and needlessly killed that day in Ohio."

The Beat —
"Derf's new graphic novel Kent State: Four Dead in Ohio has much to offer in our current climate . . . The result is a work of journalism and art that shows the reader what happened 50 years ago, and why it's all-too-sadly relevant today. During a time where widespread Black Lives Matter protests have been sweeping the nation in the wake of the heinous killings of George Floyd, Breonna Taylor, and others at the hands of law enforcement, the parallels are clear."

Cleveland Scene —
"I was rendered nearly breathless by the expert storytelling and breakneck pacing in this epic retelling of that pivotal event in American history. [Backderf] reveals the day-to-day moments of those oh-so-tenderly young people whose heartbreaking deaths would inflict a mournful impact of the American soul. Derf helps us imagine what it might be to know Allison, Jeff, Sandy and Bill, and, horrifically, what it may have been like to 'find them dead on the ground.'"

Comic Book Creator —
"When reading Kent State, it's easy to imagine it being drafted as a response to our moment, but the quality of history and rich network of stories testify to this being a labor of many years—albeit one with impeccable (or horrifying, depending on your perspective) timing . . . Kent State attempts to set the record straight, and the combined excellence of research and storytelling makes it easy to witness both the tragic loss of life and senseless police actions that were never punished."

ComicBook.com —
"Delivers an emotional wallop."

WKSU (Kent State NPR affiliate) —
"Powerful. A deep journalistic dive into the still-resonant tragedy."

Washington Post —
"This book is amazingly detailed and informative. Which is what makes it all the more horrifying. Most of us know the basic outlines of the events of May 4, 1970, at Kent State University in northeast Ohio: Ohio National Guard troops opened fire on unarmed students protesting the Vietnam War, killing four. But there's a lot more to the story, and Backderf tells it. He finds every interview, every news story, every autopsy report. He takes you into the lives of various students and Guardsmen days before the event, allowing you to get to know each one personally."

Star Tribune —
"Kent State: Four Dead in Ohio is a remarkable achievement, the product of a cartoonist at the top of his game telling a story he's uniquely suited to tell at precisely the time it needs to be told."

SOLRAD —
"Deeply researched . . . one of the year's most tragic and insightful books of any genre . . . painfully relevant today."

Publishers Weekly, Graphic Novel Critics Poll —
"Derf Backderf brings historical context and a propulsive sense of narrative to this graphical history of the Kent State shootings . . . Backderf's noodly style uncannily evokes that era, and his sparse palette (black and white with some restrained gray shading) imbues his tale with force and urgency. His attention to the guardsmen's side of things—their lack of training in de-escalation, systemic hostility and paranoia toward anti-war demonstrators—strikes a resonant chord in a year marked by images of police and National Guard troops brutalizing Black Lives Matter protesters."

NPR Book Concierge, Books We Love —
"The success of Kent State lies in Derf's skills as a cartoonist and as a storyteller. His style is distinct, bridging that gap between the realistic and the exaggerated. Moments such as the burning ROTC building are powerful thanks to Derf's use of contrast, the fire burning bright, illuminating the canisters of tear gas, a torn peace shirt, and a long shadow of the bell used as a rallying point. The tension builds and builds and builds and then . . . is released. In a harrowing final act that, even knowing what was coming, brought me to tears because of the work Derf had done in the preceding pages, Kent State reminds us why this story is still being told 50 years later and why it remains powerful and tragic. Kent State is a marvel of a book."

Multiversity Comics —
"This is one of the books you need to be reading on civil protest, and on violence."

Medium, "Five Graphic Novels You Need to Read Now" —
"Backderf has delivered a career-defining work here that will likely be required reading in many a college history course in the future."

Four Color Apocalypse —
"Humanizes the victims and breaks down the events with clarity and anger. It unfortunately remains as timely as ever."

The Comics Journal, Best Comics of 2020 —
About the author
Derf Backderf is the bestselling, award-winning author of My Friend Dahmer and Trashed. He lives in Cleveland, Ohio.