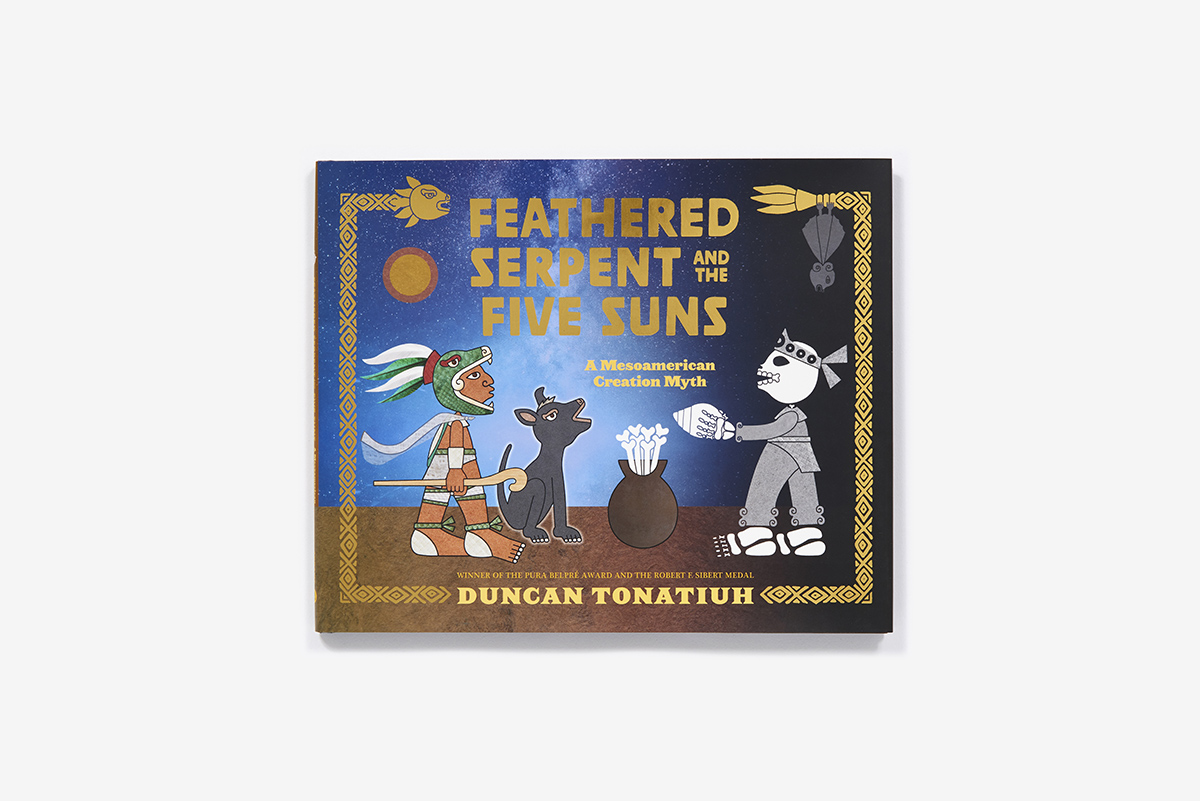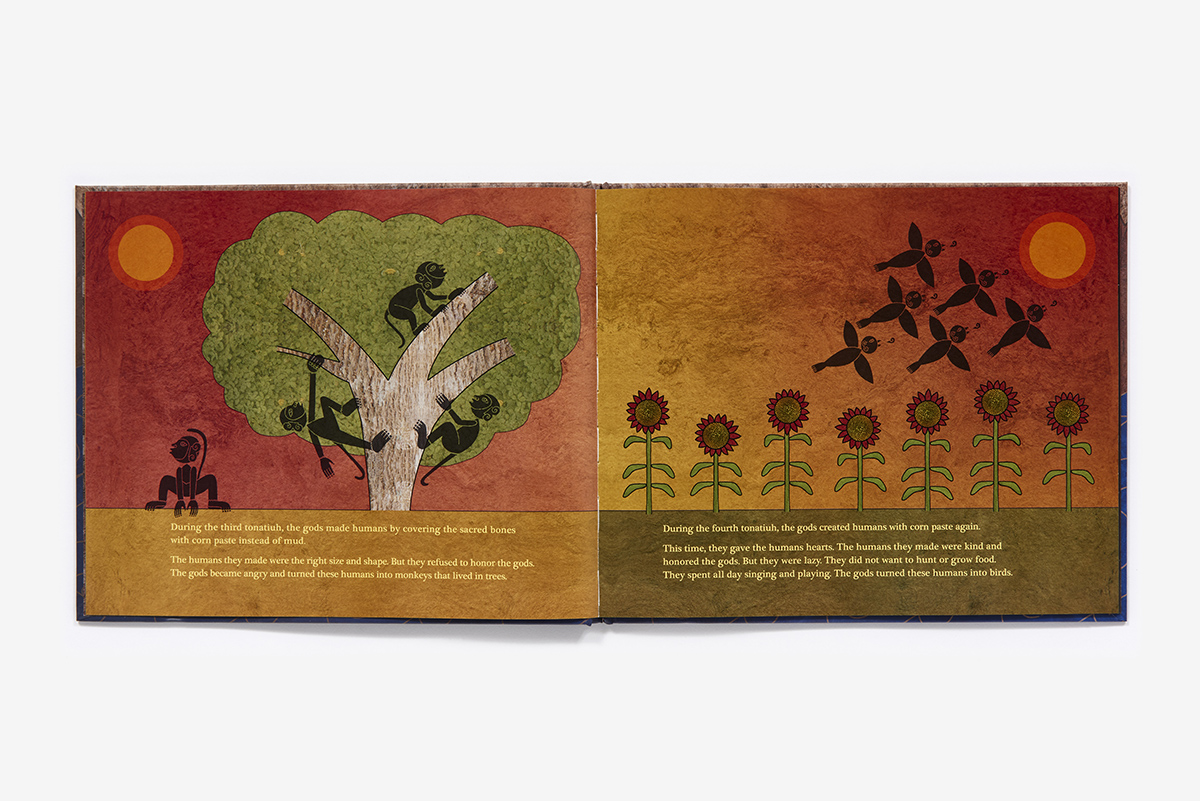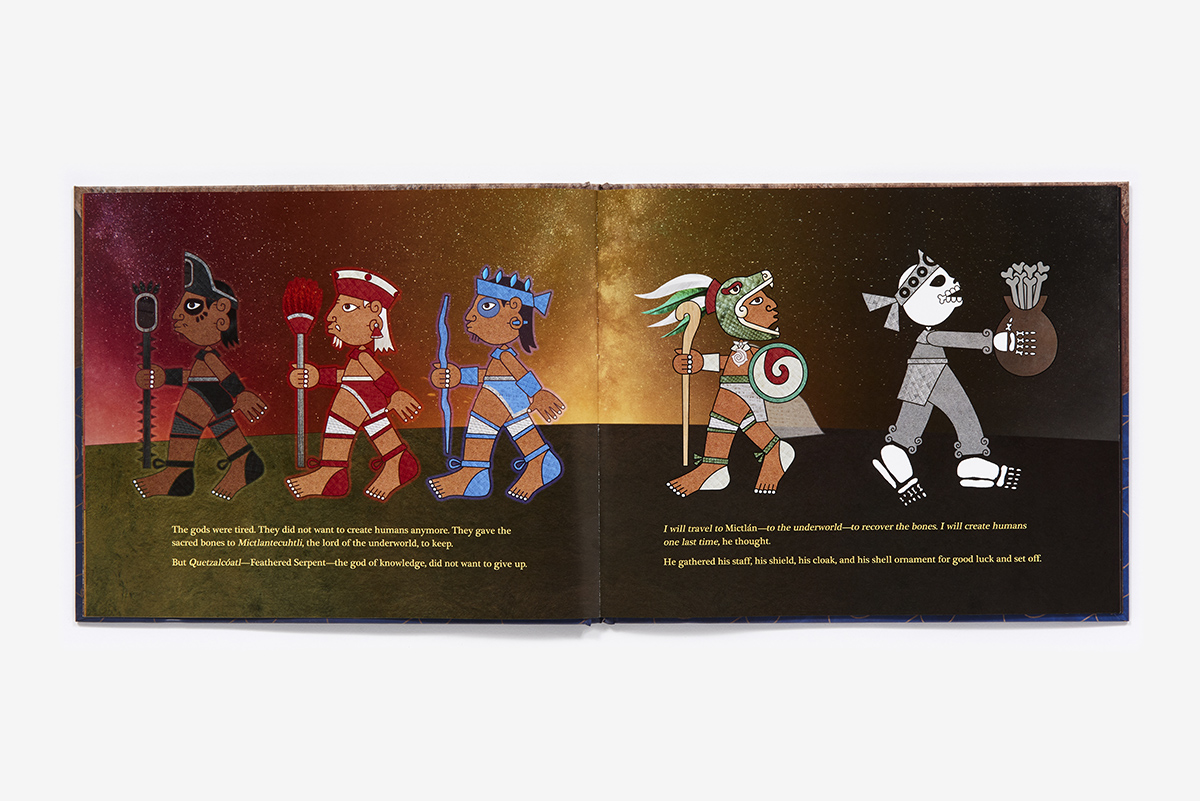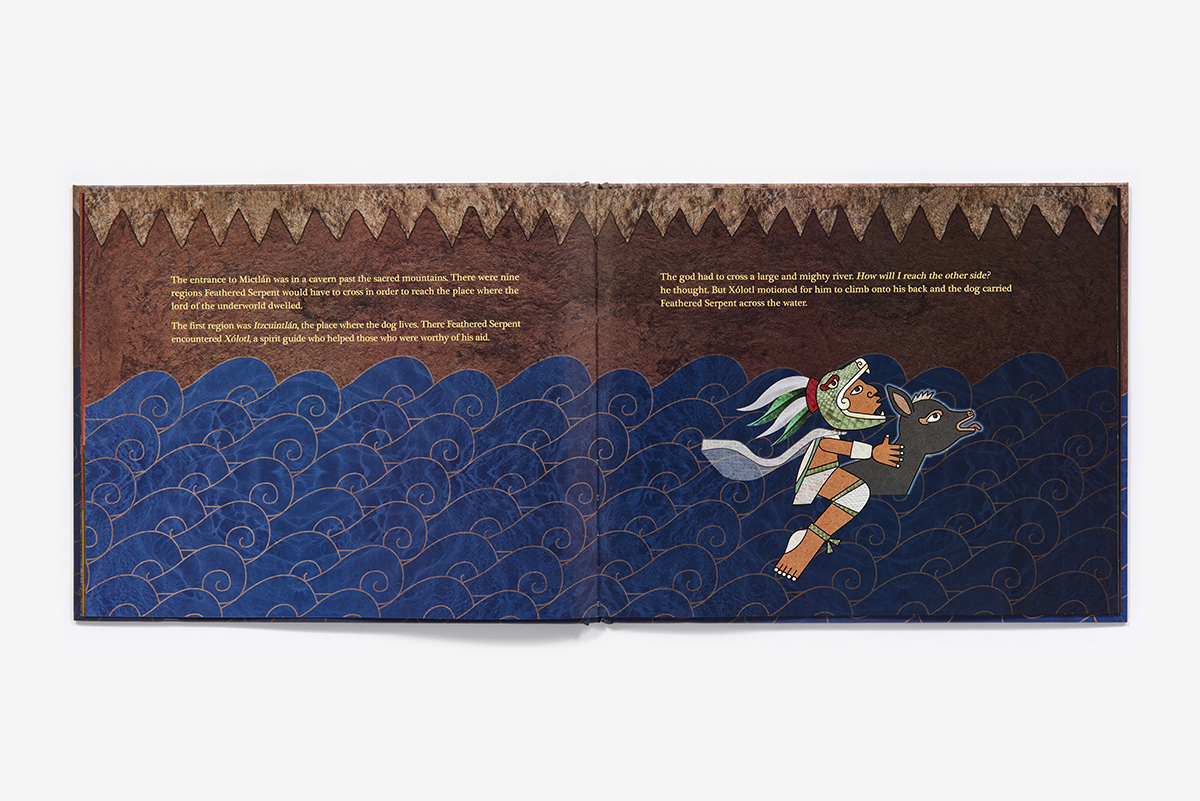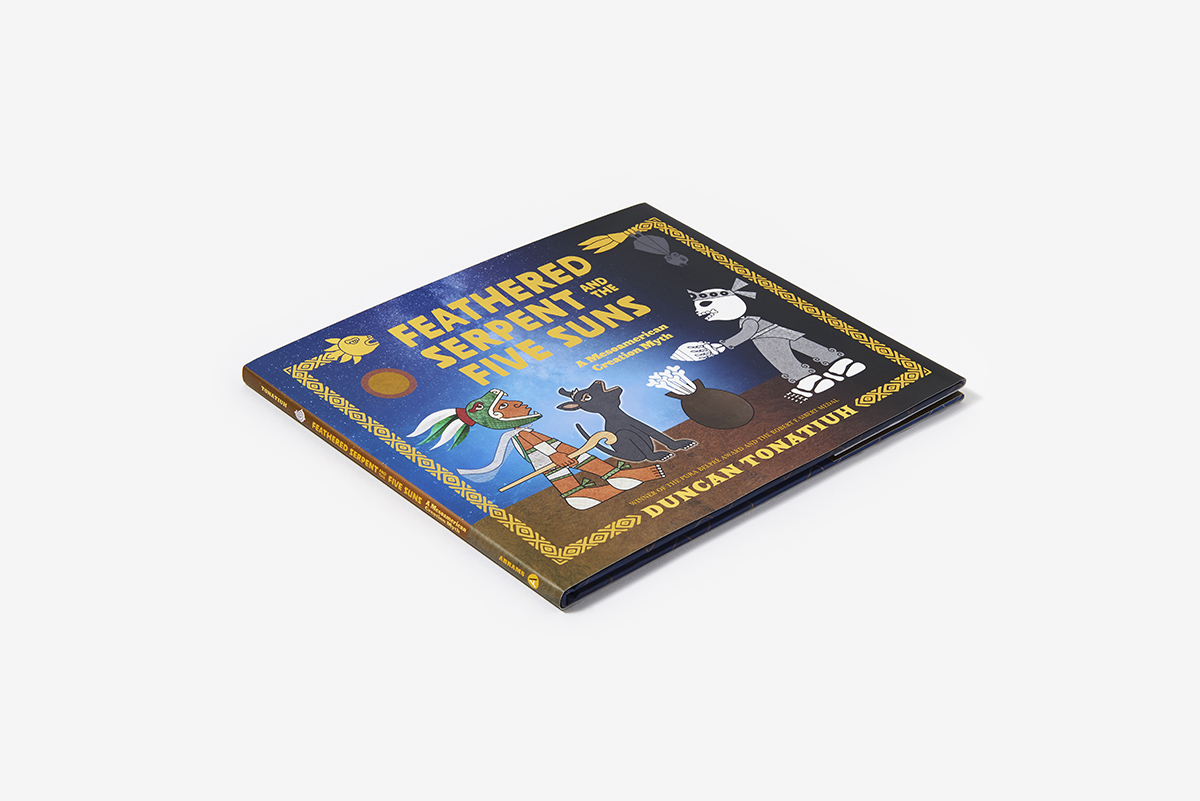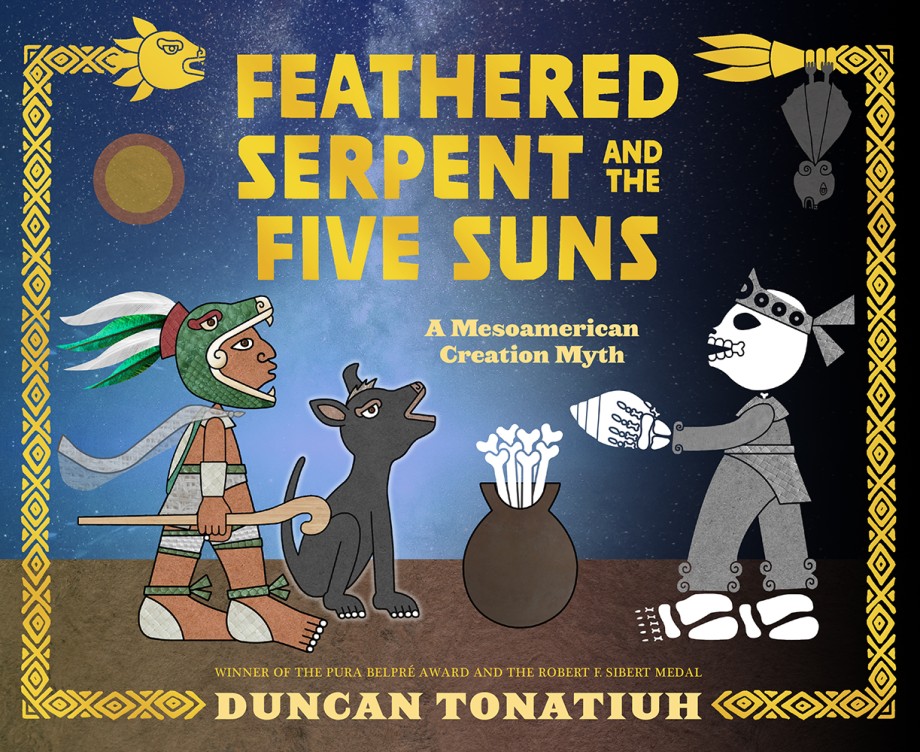 Feathered Serpent and the Five Suns
A Mesoamerican Creation Myth
Hardcover
Price: $16.99
Also available from:
Additional formats:
Publication Date: September 1, 2020
Imprint: Abrams Books for Young Readers
Trim Size: 11 x 9
ISBN: 9781419746772
Page Count: 40
Illustrations: Four-color illustrations throughout
Rights: World/All
Award-winning author and illustrator Duncan Tonatiuh brings an ancient Mesoamerican creation myth to life
Long ago, the gods of Mesoamerica set out to create humans. They tried many times during each sun, or age. When all their attempts failed and the gods grew tired, only one did not give up: Quetzalcóatl—the Feathered Serpent. To continue, he first had to retrieve the sacred bones of creation guarded by Mictlantecuhtli, lord of the underworld. Gathering his staff, shield, cloak, and shell ornament for good luck, Feathered Serpent embarked on the dangerous quest to create humankind.
Award-winning author and illustrator Duncan Tonatiuh brings to life the story of Feathered Serpent, one of the most important deities in ancient Mesoamerica. With his instantly recognizable, acclaimed art style and grand storytelling, Tonatiuh recounts a thrilling creation tale of epic proportions.
Praise
**STARRED REVIEW**
"While the tale itself will appeal to lovers of adventure and myth, the author's note adds an important historical and cultural depth that should not be bypassed. Feathered Serpent has all the literary elements of a good story and can be used to teach genre, narrative, history, or just quality literature."

Booklist —
**STARRED REVIEW**
"Tonatiuh's familiar flat-perspective digitally collaged illustrations are particularly strong on the designerly element here, ranging from the playful. . .to the rhythmic elegance of the silhouetted fish and birds."

Bulletin of the Center for Children's Books —
**STARRED REVIEW**
"Tonatiuh's illustration style draws on Nahua visual writing systems, emulating the symmetry, balanced lines, and prominent profile and aerial viewpoints found in Indigenous codices. . .reward[s] careful examination as textures pop and engage the viewer."

Horn Book Magazine —
**STARRED REVIEW**
"Tonatiuh's artwork—familiar in form, electric in spirit—astonishes in this retelling of a Mesoamerican creation story. Told with succinct clarity and a hint of mischief, this rendition begs for rereads... Simply spellbinding."

Kirkus Reviews —
**STARRED REVIEW**
"Hand-drawn, digitally collaged art, incorporating Mesoamerican styles and motifs, deepens the power of Tonatiuh's tale, a tantalizing slice of Mesoamerica's rich stories."

Publishers Weekly —
"Modern touches and warm color palette make for vibrant, expressive spreads. Wondrous landscapes magnify Quetzalcóatl's formidable and heroic quest... With prose that is accessible and has the abiding quality of myth, Feathered Serpent and the Five Suns feels both classic and refreshing."

Shelf Awareness —
About the author
Duncan Tonatiuh was born in Mexico City and grew up in San Miguel de Allende. His books have received many awards over the years. He currently lives in San Miguel with his wife and children but travels to the US often.