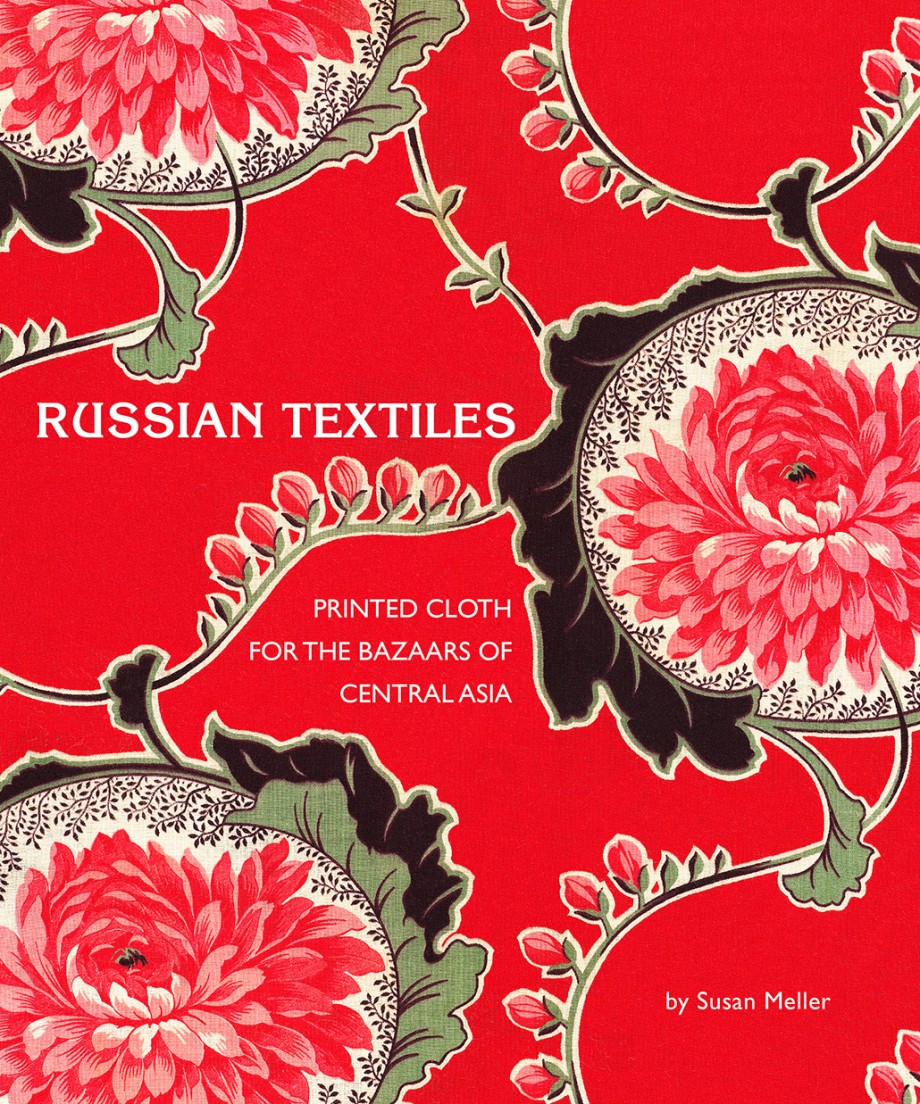 Russian Textiles
Printed Cloth for the Bazaars of Central Asia
Hardcover
Price: $60.00
Also available from:
Publication Date: September 1, 2007
Imprint: Abrams Books
Trim Size: 10 x 12
ISBN: 9780810993815
Page Count: 208
Illustrations: 208 pages, 10"x12"
Rights: World/All
Russian Textiles showcases the gorgeous printed-cotton textiles created and manufactured in Russia and exported to Central Asia from approximately 1860 to 1960. More than 175 spectacular patterns spanning a variety of periods and styles, from Art Nouveau florals to Soviet-era agitprop, are featured. The people in these Central Asian countries—including Uzbeks, Tadjiks, and Turkmen—incorporated the brightly patterned material into their clothing, particularly their robes, and in their household items.
Brief essays by the author and fellow textile experts describe the "social life" of the fabrics and the fascinating history of this merging of Russian, Western, and Central Asian aesthetic styles; Robert Kushner contributes a lively text on how an artist "sees" and is inspired by these designs. Complementing the pattern images are vintage photographs from the turn of the 20th century as well as beautifully detailed reproductions of the robes and other articles that were lined and embellished with these cloths.
This is a must-have book for the inspiration library of every artist; professional fashion, interior, and product designer; crafter; and anyone with a love of extraordinary visual design.
"Seldom does a new textile book invite one to view its subject matter in an entirely new light, from an entirely new perspective. Russian Textiles does just this. These cloths, with their boldly printed designs, are generally considered to be of little importance, and have been viewed with little contextual foundation. Russian Textiles: Printed Cloth for the Bazaars of Central Asia, changes this landscape and presents a collage of information and startling visuals. It fills a niche in our knowledge and appreciation of the dynamics of the textile trade in Central Asia, a niche that most of us were hardly aware was empty and needed to be addressed. Such is the groundbreaking nature of this book." - - Thomas Cole, HALI Magazine, Spring 2008
"Meller's book is a voyage of discovery…a joyous celebration of pattern and colour, and of a way of life in Central Asia" - - Brigid Keenan STEPPE Magazine, Summer 2008
"The intriguing title with its mingling of the commonplace and the exotic, neatly sums up the esoteric collecting field that fascinates Meller and sets her apart from the typical high-end textile hunter who is searching for silken ikats or woven carpets. According to Meller's view, machine-printed textiles qualify as 'fine art that happens to be for a commercial product.'" – Andrea DiNoto, American Craft Magazine, Oct/Nov 2008
"Russian Textiles is one of those rare and serendipitous books that can be judged by its cover. From first bold photo to final footnote, the bright, complex language of Russian trade cottons is given full voice in Susan Meller's new book." - - HAND/EYE, The Aid to Artisans Magazine, Summer 2008

"This is a beautiful book to be cherished for its look as well as its content." - - Frances Pritchard, SELVEDGE Magazine, September 2008
About the author
Susan Meller is the coauthor of Abrams' highly successful Textile Design. These never-before-seen textiles are from the author's personal collection.

Kate Fitz Gibbon is a specialist in the nomadic textiles and the silk-weaving traditions of Central Asia.
Annie Carlano is a senior curator at the Museum of International Folk Art, Santa Fe, NM.

Robert Kushner is a New York–based artist.