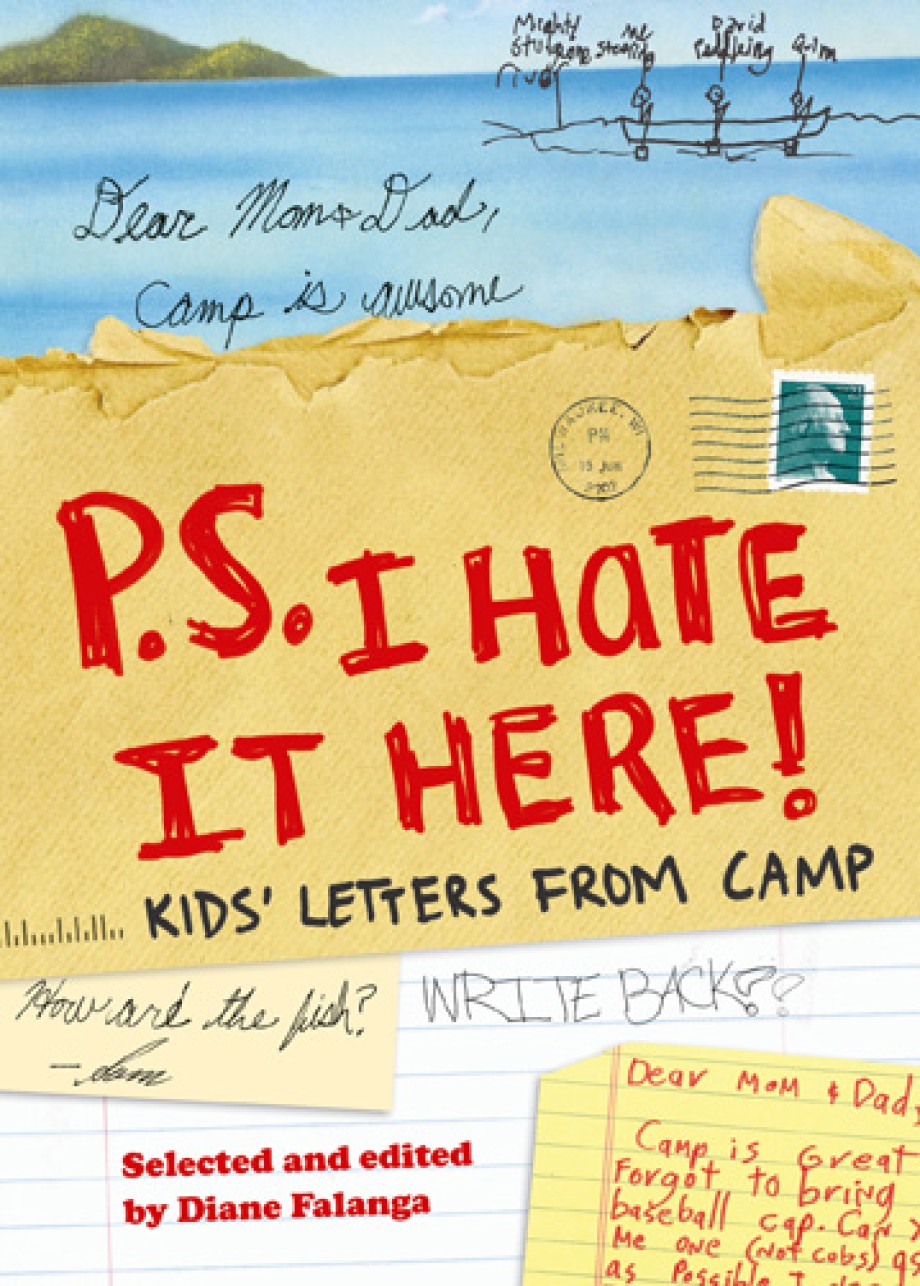 P.S. I Hate It Here
Kids' Letters from Camp
Paperback
Price: $13.95
Also available from:
Additional formats:
Publication Date: May 1, 2010
Imprint: Abrams Image
Trim Size: 5 x 7
ISBN: 9780810982956
Page Count: 160
Illustrations: 150 full-color illustrations
Rights: World/All
For every parent who's ever received a letter from a homesick child or anybody who's ever written their parents with crazy requests from their bunk, P.S. I Hate It Here: Kids' Letters From Camp will delight with hilarious and heartwarming real-life letters.
In the bestselling tradition of nostalgic looks at classic rites of passage, such as Camp Camp and Bar Mitzvah Disco, P.S. I Hate It Here: Kids' Letters from Camp captures a childhood experience shared by millions. This collection of real letters written by children ages eight to sixteen to their parents about their adventures at summer camp are laugh-out-loud funny and will have readers reminiscing about their own camp days.
More than 150 letters cover all the imaginable scenarios of sleep away camp, from acing the cabin lice inspection, to rowing in the "ricotta" race, to breaking the bad news about a retainer lost in the wilderness. These letters reveal that kids are wittier and more sophisticated than we might assume, and that the experience of being away from home for the first time creates hilarious and lasting memories.
Inspired by her daughter's "melodramatic rants" from camp, Diane Falanga collected 150 hilarious, poignant letters from kids 8-16 ... Read it and remember.
- People Magazine

Whether your kid is in camp or you cherish your own memories of s'mores and Color Wars, you'll get a kick out of P.S. I Hate It Here! , a book of real-life, laugh-out-loud letters from camp.
- Redbook Magazine

Kids just left for sleepaway camp? See how their letters from home measure up to the humorous missives in the new book "P.S. I Hate It Here: Kids' Letters From Camp" by Diane Falanga, a collection of more than 150 real letters.
- Newsday

'P.S. I Hate It Here' compiles notes home from camp with love - a handsome, actually quite beautiful, little book.
- Chicago Tribune

Trust me when I tell you that not only will your kids get a kick out of the amazingly funny letters contained in this book, you and your friends will too.
- Chicago Parent Magazine

This collection of kids' actual letters home brings back all the hilarity and homesickness of sleepaway camp. Each image displays children's creative spelling, their pleading to be picked up or for permission to stay "just two more weeks." Parents and seasoned campers will enjoy reading this collection and laughing at (or commiserating with) these familiar dilemnas: "I hate it here! The letter before this about me starting to have fun was not true ..."
- San Diego Family Magazine
About the author
Diane Falanga, a mother of two, was inspired to put this book together after receiving her eight-year-old daughter's hilarious letters home from camp. After sharing her story with a number of friends, and sending e-mails across the country she was able to gather a few hundred laugh-out-loud letters for this collection. She is an interior designer and founder of the Heart Homes Initiative of Designs for Dignity (a not-for-profit providing furniture for those in need). Diane lives on Chicago's North Shore.