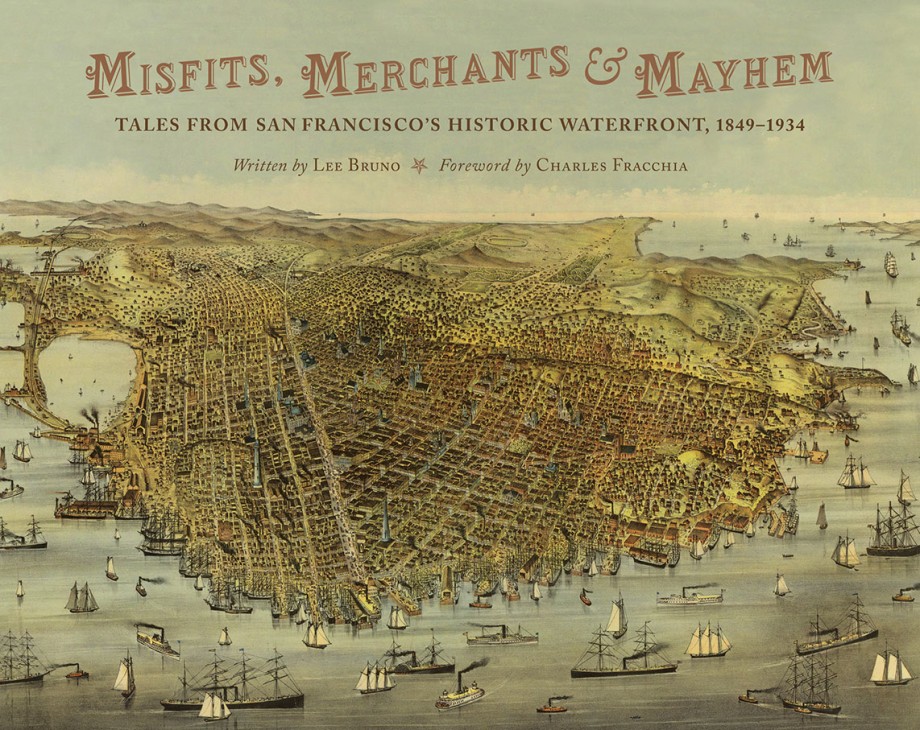 Misfits, Merchants, and Mayhem
Tales from San Francisco's Historic Waterfront, 1849-1934
Hardcover
Price: $35.00
Also available from:
Publication Date: February 6, 2018
Imprint: Cameron Books
Trim Size: 12 x 9 1⁄2
ISBN: 9781944903275
Page Count: 160
Rights: World/All
The waterfront is where it all began for San Francisco. It's where untold numbers of adventurers and fortune-hunters first stepped foot upon the land that embodied possibility. It's where ships from around the world, carrying sea-faring gold seekers, maritime traders, free-spirited mavericks, and hopeful immigrants, came to anchor. And it's where the unconventional, opportunistic, and indefatigable embarked. Misfits, Merchants & Mayhem: Tales from San Francisco's Historic Waterfront, 1849–1934 shares the stories of exceptional newcomers and outliers, whose intrepid spirits helped to transform a small port into one of the most beautiful, unpredictable, and beloved cities in the world.
Lee Bruno explores nearly a century of waterfront history, ranging from the Gold Rush to the Jazz Age, telling the tales of the enterprising entrepreneurs, reckless financiers, tireless reformers, visionary architects and city planners, and bohemian artists, musicians, and poets who all heeded the call of promise. With more than 100 historical images, Misfits, Merchants & Mayhem celebrates the famous (and infamous) characters whose charismatic personalities and perseverance created the institutions, businesses, and cultural fabric of San Francisco.
About the authors
Lee Bruno has been digging into San Francisco's rich history ever since discovering his great grandfather Reuben Hale's inspiring letters and speeches. Lee, who received his MS in science journalism from Boston University, is the author of Panorama: Tales from San Francisco's 1915 Pan-Pacific International Exposition (Cameron + Company) and has been writing for over 20 years about business and technology for the Economist, the Guardian, MIT Technology Review, Red Herring magazine, and Wired, among others. He has lived in San Francisco for more than 30 years, raising a family of four boys with his wife and enjoying long open-water swims with the eccentrics at the South End Rowing Club.
Charles Fracchia is the founder and president emeritus of the San Francisco Museum and Historical Society and has given talks on a variety of historic subjects to such groups as the Commonwealth Club and the Mechanics' Institute. He currently lectures at the Fromm Institute at USF. Charles has a BA from USF, an MLS from the University of California, an MA from San Francisco State, and an MA in theology from the Graduate Theological Union/Berkeley. He was one of the founders of Rolling Stone magazine and has written many books and articles about San Francisco history.