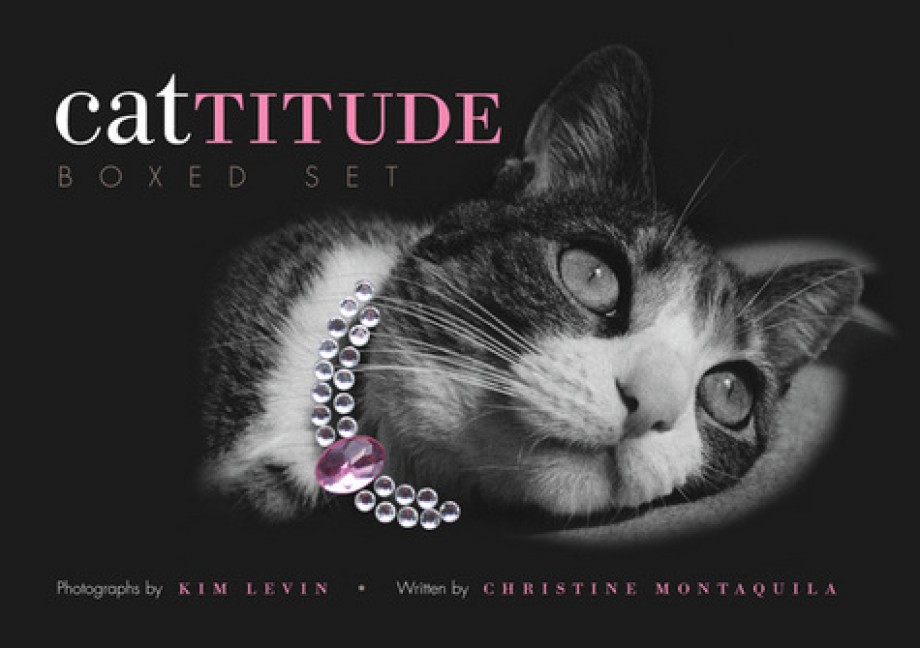 Cattitude Box Set
Boxed Set
Price: $29.95
Also available from:
Publication Date: November 1, 2007
Imprint: Stewart, Tabori & Chang
Trim Size: 8 1⁄2 x 5 1⁄2
ISBN: 9781584796466
Illustrations: 192 pages, 8 7⁄8"x5 1⁄2"
The purrfect gift for the holidays!
Diecut slipcase with faux jewels
The ladies are back, and this time with a trilogy of feline fun. Christine Montaquila and Kim Levin's bestselling "feline guides" are now available as a boxed set, including Cattitude: The Feline Guide to Being Fabulous, Catrimony: The Feline Guide to Ruling the Relationship, and Caternal Instincts: The Feline Guide to Mastering Motherhood. All three feature the unique black-and-white documentary-style photography and clever captions that have kept cat lovers wanting more.
In Cattitude, the felines give us the dish on living large for women in any stage of life, offering advice like "Accept your body. Augment your ego," and "Realize a tiara is a state of mind." In Catrimony they conquer the milestone of marriage with witty suggestions to "Hide the videotape" and "Devise a holiday evacuation plan." And, finally, in Caternal Instincts the ladies get real about the challenges of parenting, encouraging every mom to "Buy stain resistant everything" and "Accept the fact that you'll never pee alone again." Perfect for birthdays, weddings, baby showers, or any gift-giving occasion, the Cattitude Boxed Set is for cat lovers, photography buffs, and everyone in between.
About the author
Kim Levin is a photographer who specializes in pet portraiture. Her company, Bark & Smile ® Pet Portraits, combines her passion for photography and her love of animals. Kim is the photographer and author of ten books including Why We Love Dogs, Why We Really Love Dogs, Why We Love Cats, and Dogma (all Andrews McMeel). Bark & Smile® books have sold over 250,000 copies to date and have been published in six languages: Japanese, Chinese, Korean, Dutch, Portuguese, and Spanish. Her gift line currently includes greeting cards, mugs, journals, calendars, e-greetings, postcard books, note cards and magnetic pads. She has appeared on Animal Planet, Fox News Channel, News 12 Long Island, and News 12 New Jersey. Her photography has been featured in Reader's Digest, Photo District News, Italian Elle, Bark Magazine, The American Kennel Club Gazette, and NJ Monthly. She was the official photographer for the 2004 ASPCA "make adoption your first option" calendar. Kim lives in New Jersey with her husband, two kids, and adopted greyhound/collie mix, Charlie.

By day, Christine Montaquila works in advertising as a creative director. She lives in Chicago with her husband Brad, son Luca, daughter Francesca, and her tiger kitty, Maddie. She has loved cats since childhood and has the scars to prove it.