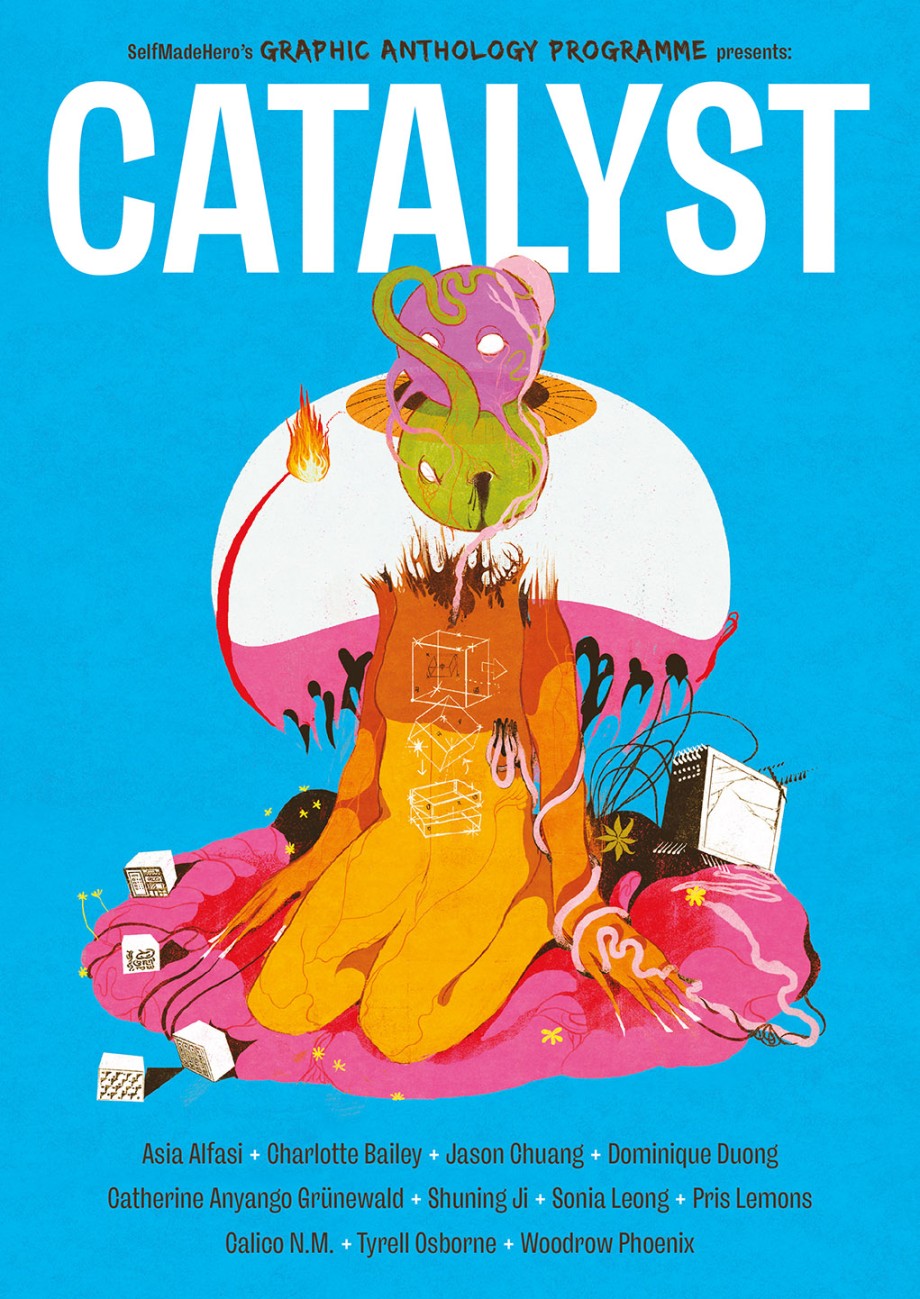 Catalyst
Paperback
Price: $19.99
Also available from:
Publication Date: February 22, 2022
Imprint: SelfMadeHero
Trim Size: 6 3⁄4 x 9 1⁄2
ISBN: 9781914224027
Page Count: 112
Illustrations: Full-color illustrations throughout
Rights: North America, LAMC
Catalyst, a collection of short stories from established artists such as Asia Alfasi, Catherine Anyango Grünewald, Sonia Leong, and Woodrow Phoenix, aims to reflect up-and-coming new voices and the diversity and wealth of talent in the UK comics scene. United by a single theme—"catalyst"—the contributors have each written and drawn an eight-page story that explores ideas of reaction and transformation. Edited by Ayoola Solarin, this provocative, intriguing, and revelatory anthology invites readers to consider the situations, people, and events that might accelerate change in their own lives and in our society as a whole.
Collecting stories from a range of artists of color across the UK, this comics anthology unites their voices under a single theme: 'catalyst'. In one story, the accidental witnessing of a horrific scene turns a regular day into a nightmare; in another, the truth of what it really took to put a man on the moon is revealed. From tales of misplaced memories to battles with the id, Catalyst offers a look at the consequences of big and small acts alike.
Showcasing a mix of established and emerging artists, this collection imagines the myriad ways in which a chain of events might end in either euphoria or catastrophe. Sometimes both. Edited by Ayoola Solarin, this provocative, intriguing and revelatory anthology invites readers to consider the situations, people and events that might accelerate change in their own lives and in our society as a whole.
"Strong and eclectic... this is the sort of thing we need a lot more of." – Bryan Lee O'Malley, creator of Scott Pilgrim and Seconds
"Filled with new and vibrant work... Catalyst truly lives up to its title in every way possible." – John Jennings, illustrator of Parable of the Sower: A Graphic Novel Adaptation
About the author
Editor Ayoola Solarin is a TV writer, comics editor, critic and arts journalist. She has written for television for Disney and Netflix and has worked with numerous award-winning creators. Her byline features include The Guardian, Dazed, Vulture, i-D and Hyperallergic. She is currently working in production on Netflix's DEADENDIA, based on the graphic novels of which she was the editor.
Asia Alfasi is an award-winning British Libyan graphic novelist. Born in Libya in 1984, she spent her formative years first in Tripoli, and then in Glasgow, Scotland, after migrating there with her family. Upon discovering and falling in love with comics and manga, she realised their immense potential for humanizing issues and bringing the plight of often marginalized peoples to the fore and therefore furthering understanding. Ever since, she has represented the Muslim and Arab voice through her work with the ultimate aim of harnessing the medium as a tool for cross-cultural dialogue.
Catherine Anyango Grünewald, a published graphic novelist and teacher, taught at the RCA in London for 10 years and is now a Senior Lecturer in Illustration at Konstfack University of Arts, Crafts and Design in Stockholm. She illustrated a graphic novel adaptation of Conrad's Heart of Darkness for SelfMadeHero in 2010, and in 2019 was awarded the prestigious Navigator Art on Paper Prize. In 2021, Phaidon's Vitamin D3 included her among the 100 best practitioners of contemporary drawing.
Sonia Leong is a comics/manga illustrator and author of many drawing guides, including Draw Manga: Complete Skills (Search Press). Her debut graphic novel was the Manga Shakespeare Romeo and Juliet (SelfMadeHero), and her most recent book was Great Lives: Marie Curie (B.E.S. Publishing). She also illustrates for children's books, fashion, advertising, film and television. She is the Director of Sweatdrop Studios, an independent
comic publisher based in the United Kingdom.
Woodrow Phoenix is a writer, artist and graphic designer based in London and Cambridge. His work has appeared in national UK newspapers, in magazines and comics collections internationally and in television projects for Walt Disney and Cartoon Network. His books include the critically acclaimed Rumble Strip and Crash Course, the award-winning anthology Nelson and the experimental She Lives, a gallery installation that is also a graphic novel. Woodrow is a Visiting Lecturer in Graphic Novels at Middlesex University.