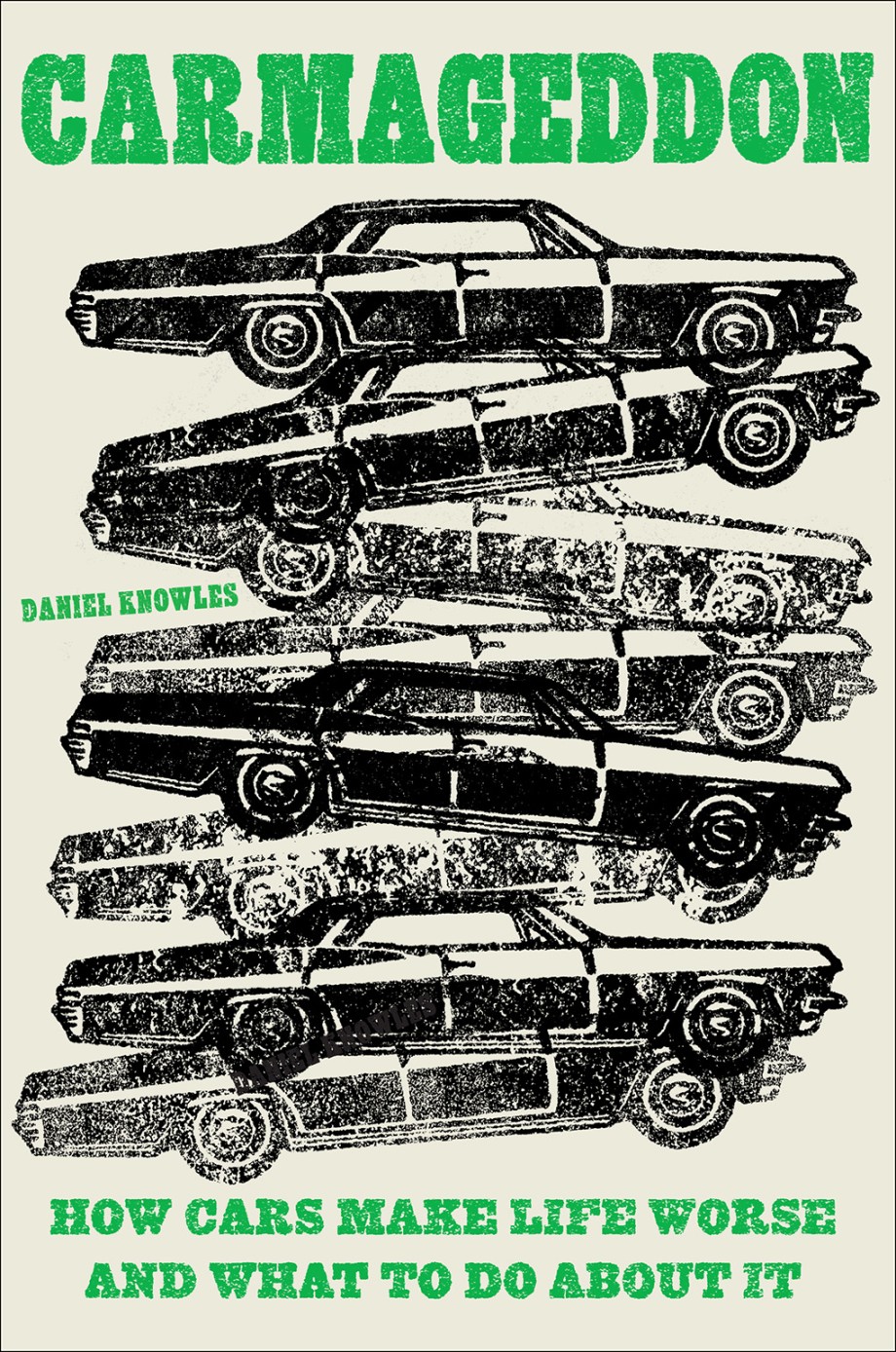 Carmageddon
How Cars Make Life Worse and What to Do About It
Hardcover
Price: $28.00
Also available from:
Additional formats:
Publication Date: March 28, 2023
Imprint: Abrams Press
Trim Size: 6 x 9
ISBN: 9781419758805
Page Count: 256
Rights: North America
A high-octane polemic against cars—which are ruining the world, while making us unhappy and unhealthy—from a talented young writer at the Economist
The automobile was one of the most miraculous inventions of the 20th century. It promised freedom, style, and utility. But sometimes, rather than improving our lives technology just makes everything worse. Over the past century cars have filled the air with toxic pollutants and fueled climate change. Cars have stolen public space and made our cities uglier, dirtier, less useful, and more unequal. Cars have caused tens of millions of deaths and injuries. They have wasted our time and our money.
In Carmageddon, journalist Daniel Knowles outlines the rise of the automobile and the costs we all bear as a result. Weaving together history, economics, and reportage, Knowles traces the forces and decisions that normalized cars and cemented our reliance on them. He takes readers around the world to show the ways car use has impacted people's lives—from Nairobi, where few people own a car but the city is still cloaked in smog, to Houston, where the Katy Freeway has a mind-boggling 26 lanes and there are 30 parking spaces for every resident, enough land to fit Paris ten times. With these negatives, Knowles shows that there are better ways to live, looking at Amsterdam, Copenhagen, Tokyo, and New York City.
CARMAGEDDON features original reporting from:
Chicago
Detroit
Houston
Las Vegas
Los Angeles
New York
Paris, France
Mumbai, India
Nairobi, Kenya
Tokyo, Japan
London, Birmingham, and Coventry, England
CARMAGEDDON also covers:
Atlanta
Cincinnati
Louisville
Memphis
St Louis
Amsterdam, Netherlands
Copenhagen, Denmark
Lagos, Nigeria
Sao Paolo, Brazil
Singapore

Praise
"In Carmageddon, Daniel Knowles takes us on a tour of the world's auto-dependency, showing us how our day-to-day lives have been mercilessly captured by the need to use automobiles for almost every task—and serve their ever-growing needs through aggressive highway construction and unwalkable land uses. Knowles makes the case that we need a better way to get around, and argues that we need to reshape our cities and our lives in the process. In the context of our climate crisis and the desire of billions around the globe to live in places with a higher quality of life, Carmageddon is a clarion call for change."

Yonah Freemark, senior research associate in the Metropolitan Housing and Communities Policy Center —
"Our cities are at a critical turning point, facing cumulative crises fueled by how badly we've surrendered our future to more and bigger cars. We all need to know the REAL costs and consequences of the car dependency we've built, ironically in the name of 'freedom.' That's why this book is so badly needed right now. It's smart, thorough, engaging, quotable, and persuasive!"

Brent Toderian, global advisor on better cities and former chief city planner for Vancouver, Canada. —
"[A] high-spirited jeremiad . . . sharply argued and solidly supported."

Publishers Weekly —
"Knowles offers a fresh look at the impact of the automobile . . . Readers will find this perspective enlightening and make them pause the next time they think of hopping in their cars."


Booklist —
About the author
Daniel Knowles is the Midwest correspondent for the Economist. Previously he worked as the paper's Mumbai and Nairobi bureau chiefs, as well as a reporter in the Washington, DC bureau and in London. He has covered stories about everything from the wars in South Sudan and Afghanistan to the drug trade in Colombia to the growing sobriety of modern teenagers in the rich world, but prefers writing about cities, transportation, and social transformation. Knowles studied history and economics at Pembroke College, Oxford University. He lives in Chicago.