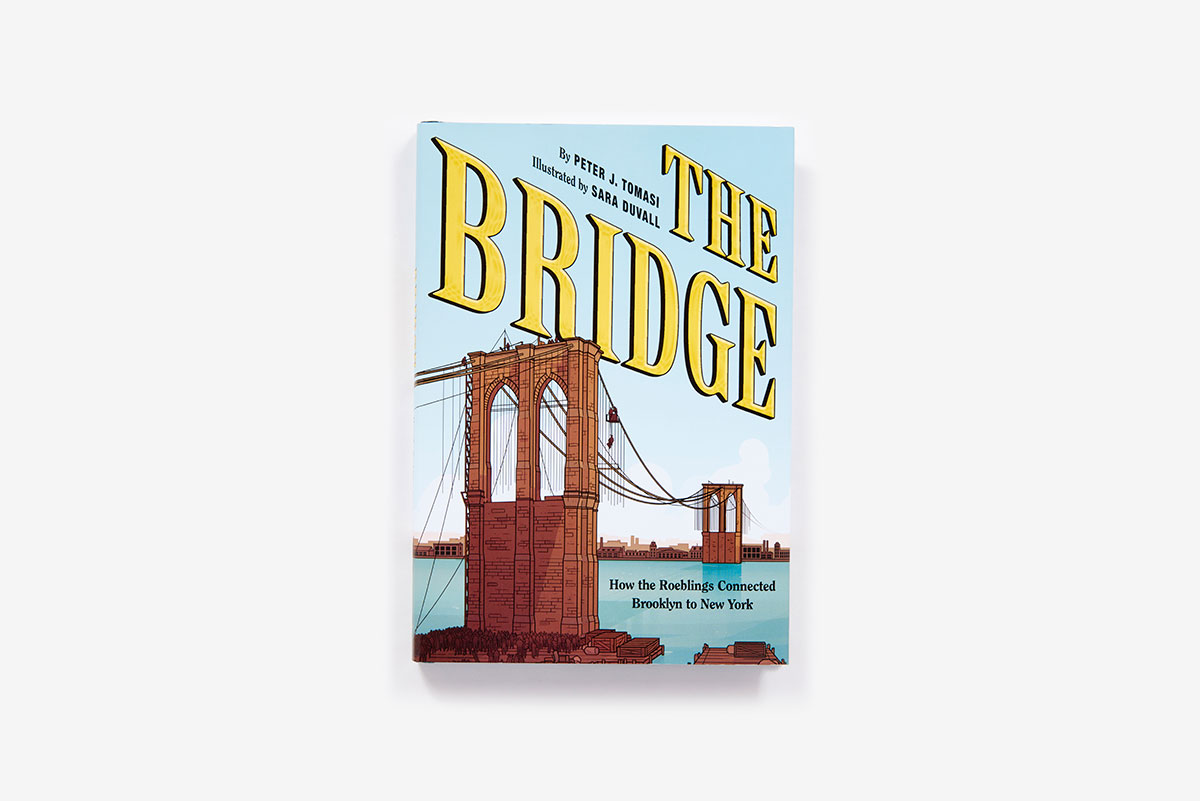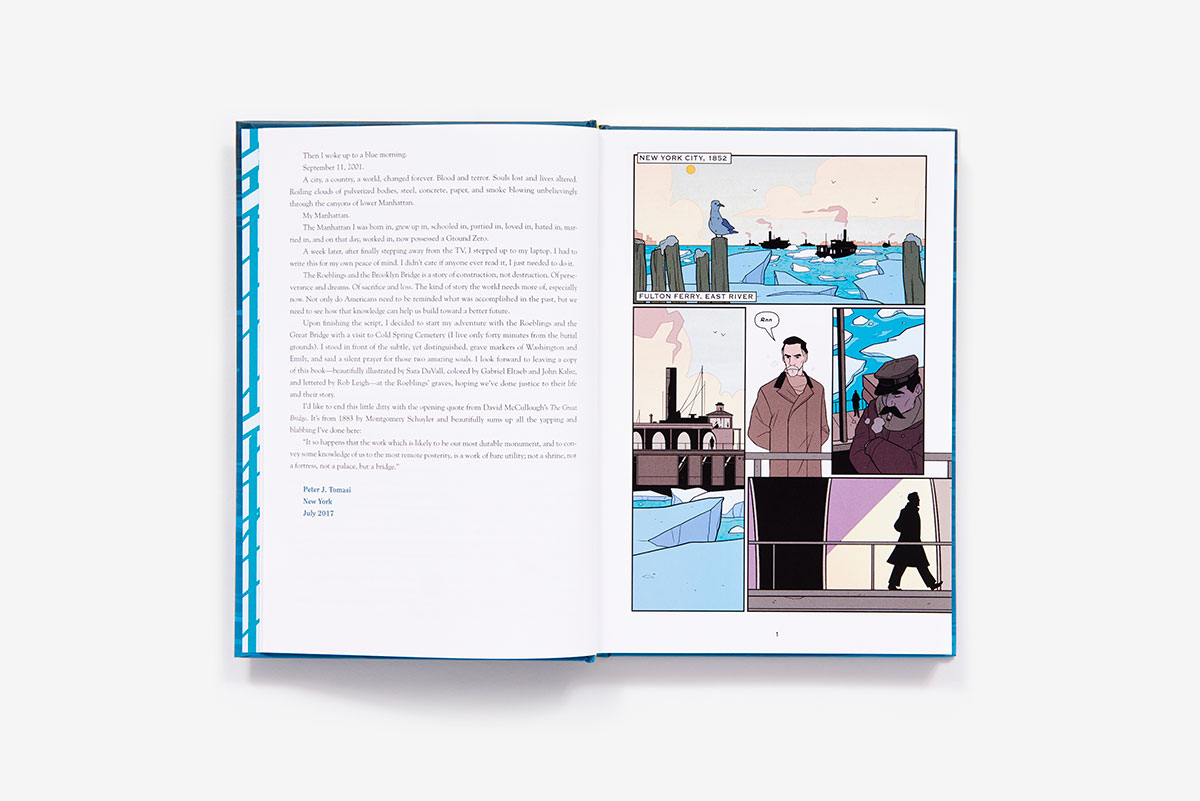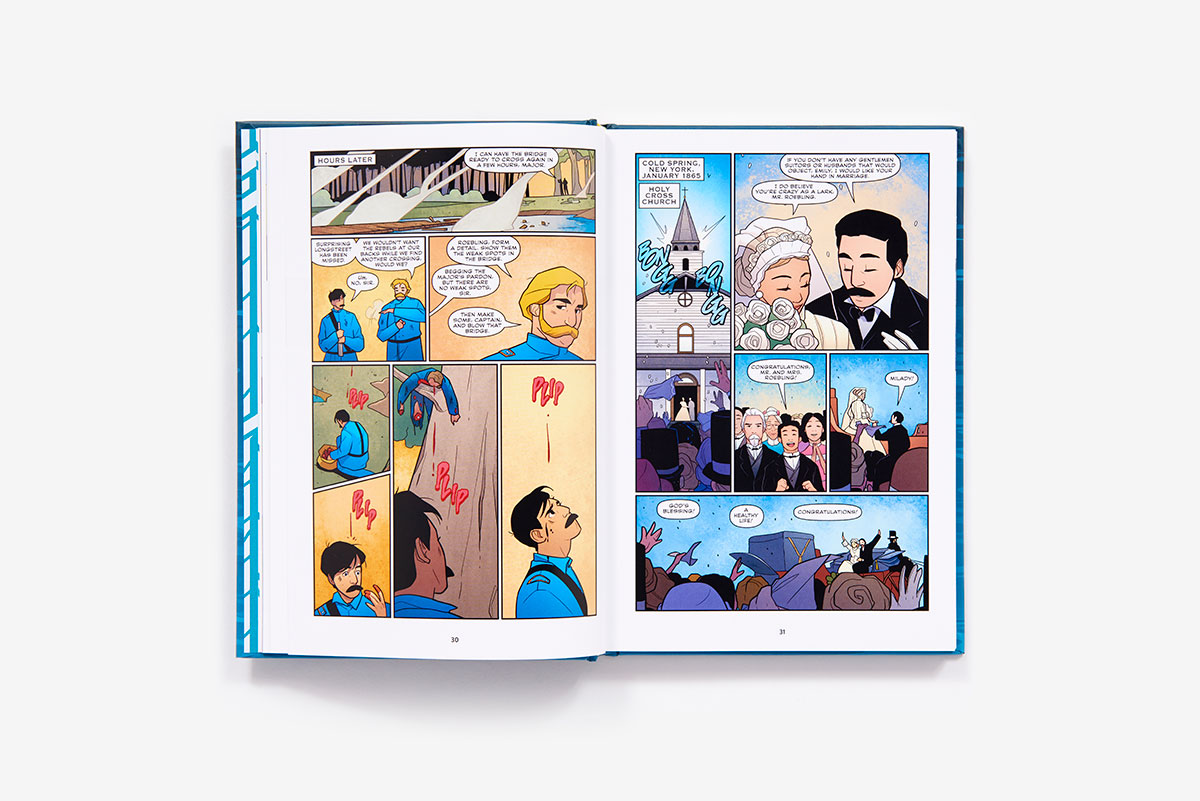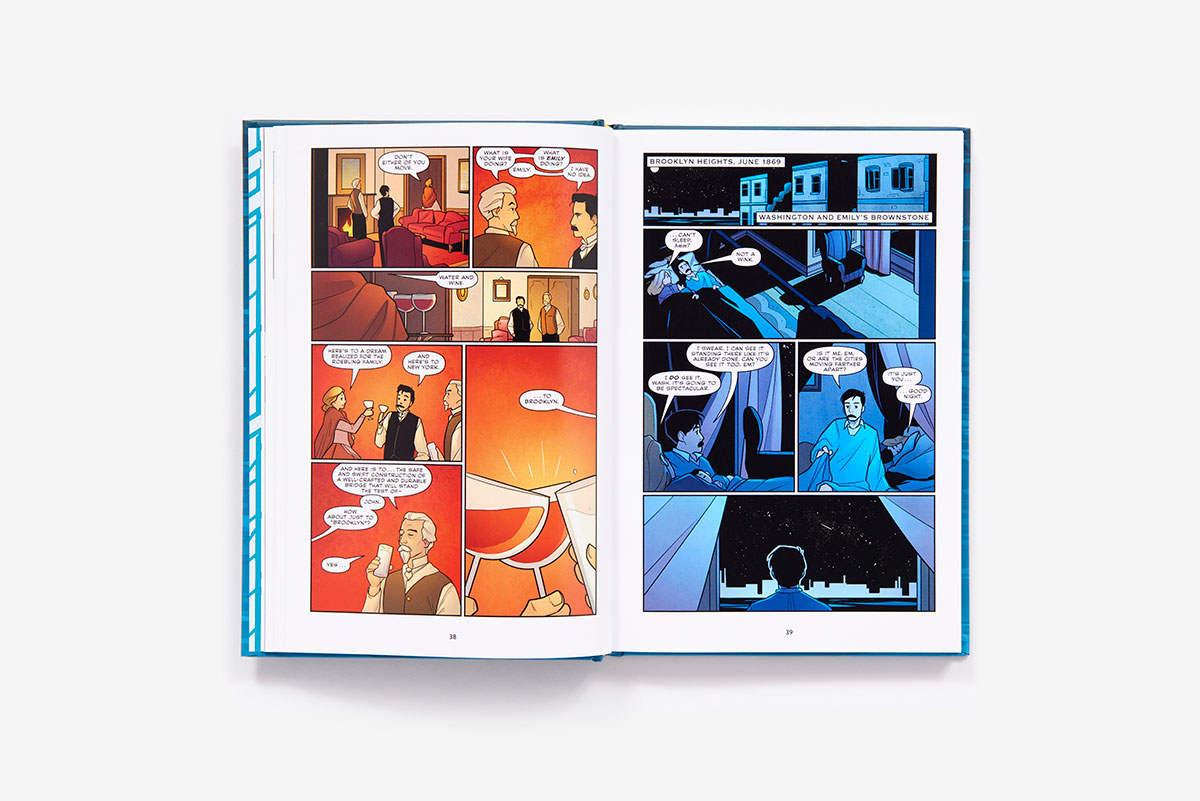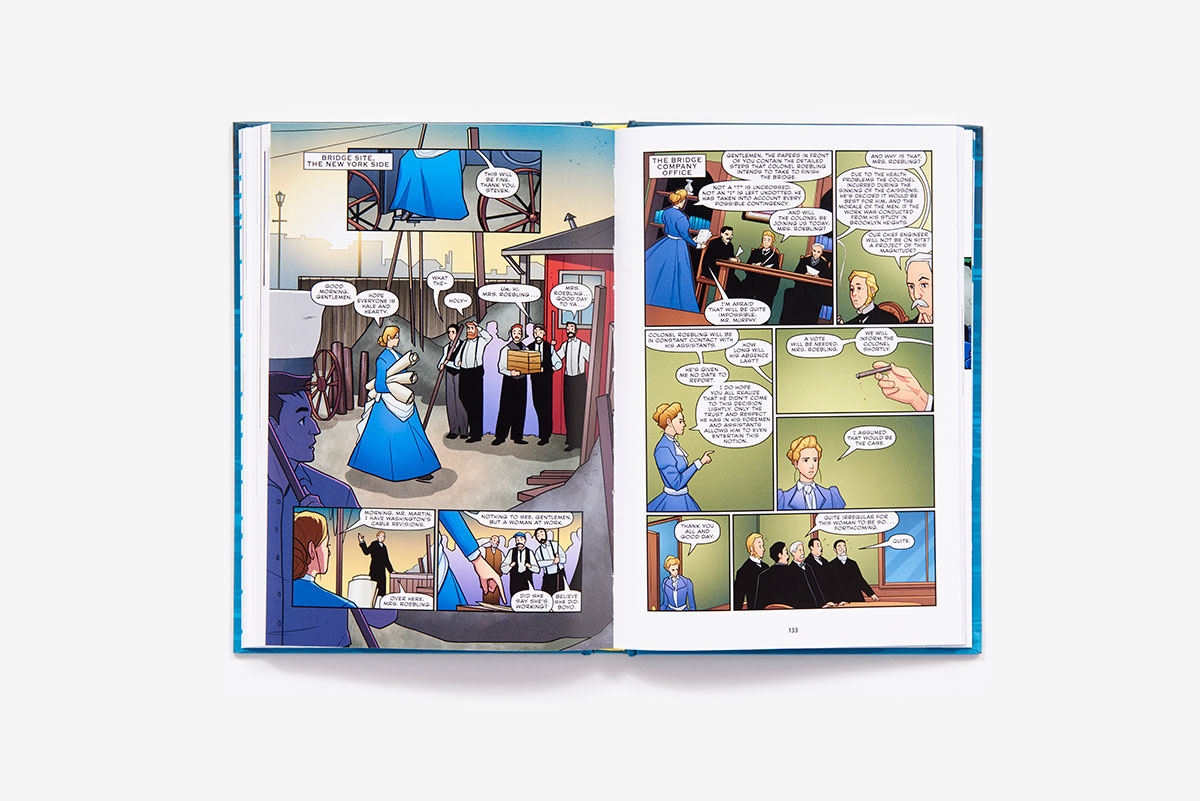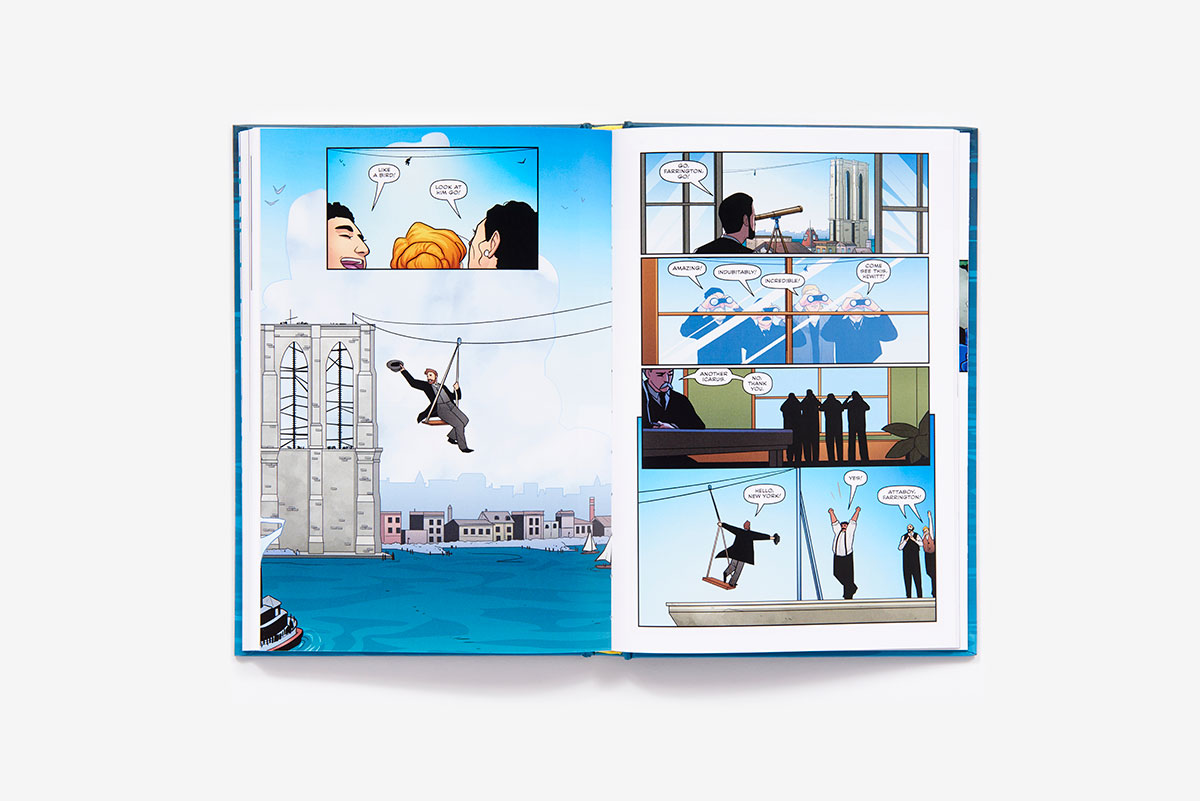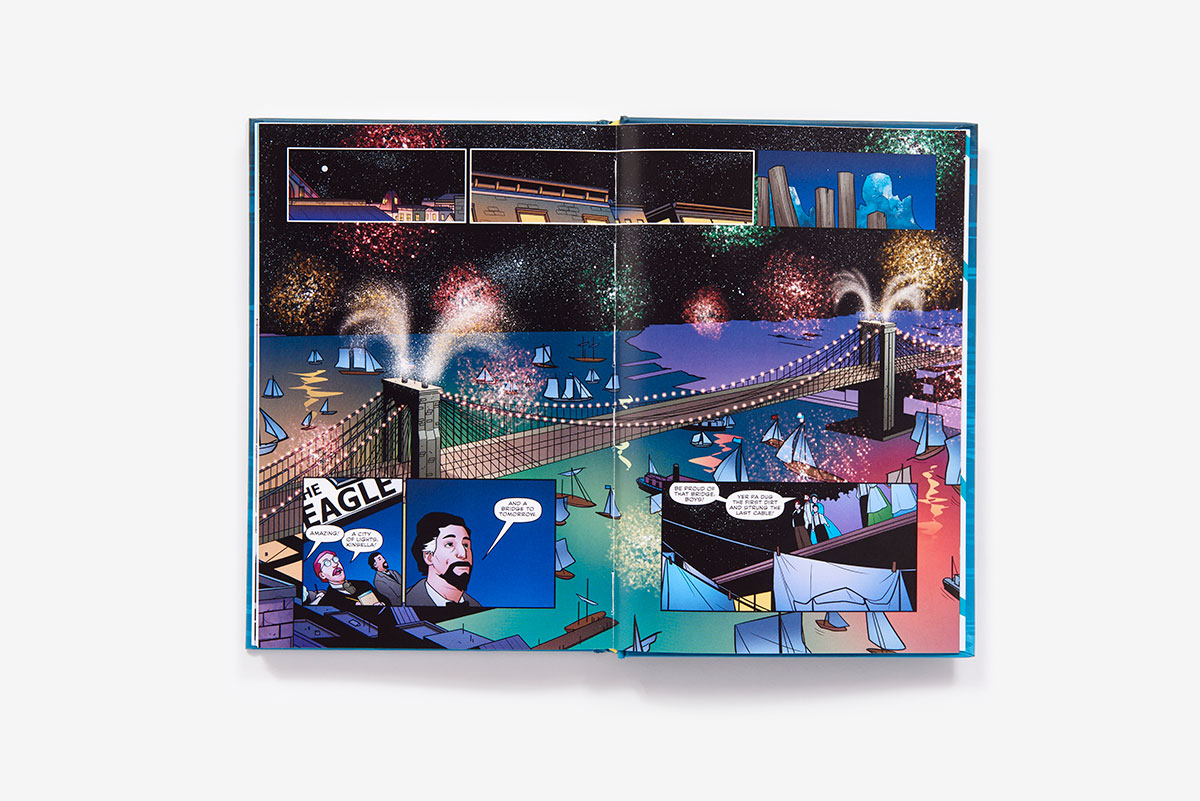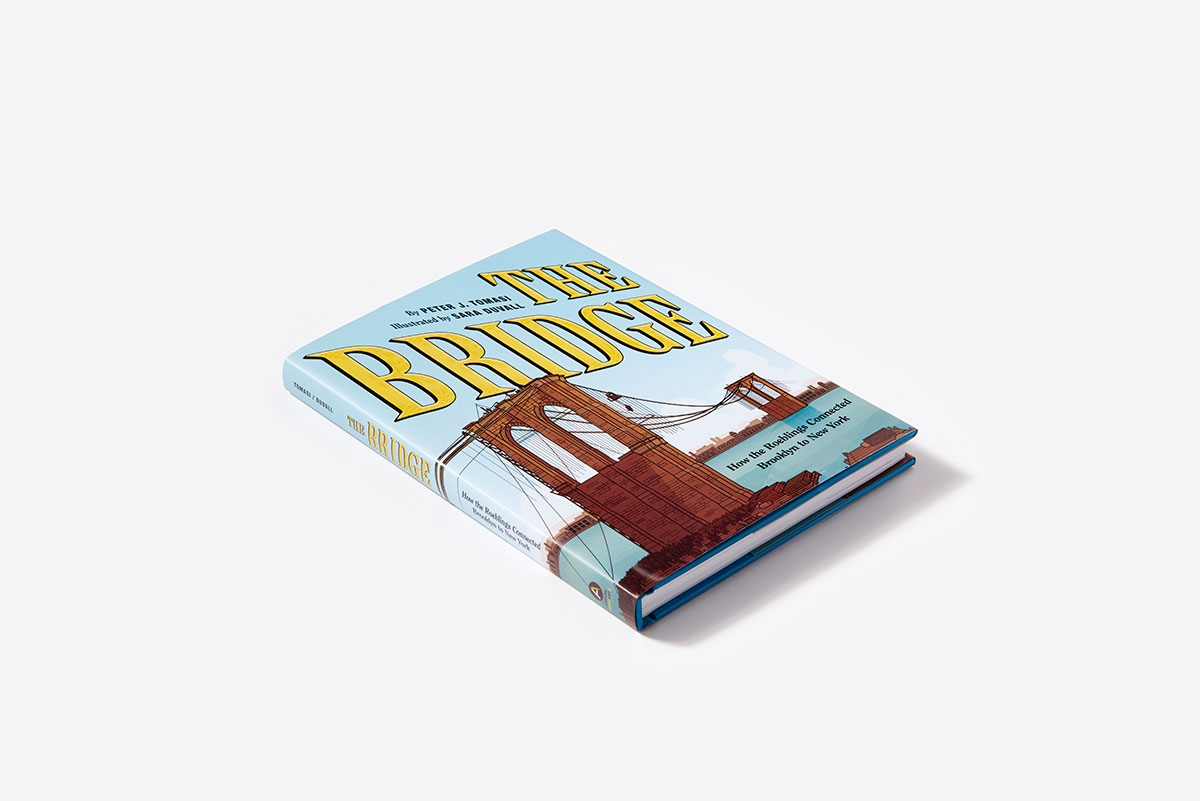 The Bridge
How the Roeblings Connected Brooklyn to New York
Imprint: Abrams ComicArts
Publication Date: March 12, 2019
Price: $18.99
Trim Size: 6 1⁄2 x 9 1⁄2
ISBN: 978-1-4197-3616-2
EAN: 9781419736162
Page Count: 208
Illustrations: Full-color illustrations throughout
Format: Paperback
Rights: World/All
Additional formats:
In this extraordinary graphic novel, author Peter J. Tomasi and illustrator Sara DuVall bring to life the construction of one of the most iconic landmarks in the world and shine a light on the incredible triumphs and tragedies that went into building the Brooklyn Bridge. After the accidental death of John Augustus Roebling in 1869, it was up to Roebling's son Washington to complete the massive project. Unfortunately, there was more pain to follow, as Washington developed caisson disease, leaving him bedridden. Washington's wife, Emily, deftly assumed a key role in the bridge's construction by becoming her husband's eyes and ears at the work site. As Washington's wisest council, Emily skillfully navigated work crews who now had to answer to a woman, contractors, a hostile press, and a greedy city politician—all looking to take credit for the magnificent bridge slowly making its way across the East River. Through it all, the Roeblings persisted, rising above every obstacle to build the great bridge that connects Brooklyn and New York.
Praise
"DuVall's bright and crisp, superhero-style comics artwork easily distinguish among the characters and is a perfect match for Tomasi's impressive history, which balances action and emotion well. Together, they make sense of the complicated work of nineteenth-century bridge-building and the concurrent behind-the- scenes political and boardroom antics."

— Booklist
"With just the right balance of history and drama, this very well-done work keeps readers intrigued right to the end… Highly recommended."

— Library Journal, Starred Review
"The Brooklyn Bridge is as much a feat of engineering as it is a familiar sight, as this graphic novel by Peter J. Tomasi and illustrator Sara Duvall reminds us."

— New York Magazine
"The Bridge meticulously depicts the enormity of the project, from meeting room intrigues to the sometimes perilous construction site...Mr. Tomasi and Ms. DuVall capture many historic moments."

— The New York Times
"Rather than being a story of a singular genius overcoming adversity, the book is a paean to collaboration. Iconic structures often have fascinating stories behind them, but rarely do the tellings emphasize the human as this one does."


— Publishers Weekly
"There have been many books written about the bridge, but Tomasi's The Bridge is likely the first graphic novel. He does a magnificent job of depicting the politics, the danger, and the tenacity of the Roebling family and the hundreds of workers who built the bridge."

— School Library Journal
"A timeless tale of dreams realized. Tomasi's thrilling true story and DuVall's wonderful art exude the spirit of imagination, courage, and grit."

— Gene Luen Yang, American Born Chinese, Boxers and Saints
"Engrossing and surprising."

— Dave Gibbons, Watchmen, Kingsmen: Secret Service
"The greatest city's greatest bridge deserves a great graphic novel, and Peter Tomasi is more than equal to the task."

— Garth Ennis, Preacher, The Boys, War Story
"Tomasi and DuVall's The Bridge is an amazing piece of historical non-fiction. Wonderfully written and gorgeously illustrated. Full of heart and hope."

— Jeff Lemire, Descender, Black Hammer
"The Bridge succeeds in its immediacy, feeling alive and utterly relevant to this moment in history—an epic tale that reminds us of the heights our shared passions can take us. The Bridge will inspire awe and admiration in all who read it. Tomasi and DuVall have truly created a masterful achievement of narrative design."

— Scott Snyder, A.D., Batman, Wytches
"The Bridge is an epic story of America, told in all its glory and dauntless personal courage, celebrating the perseverance of both Washington Roebling and Emily Roebling, who was one of our unsung women heroes. An enthralling story."

— Kevin Baker, America the Ingenious
"A beautifully rendered work. Aspirational and informative, Tomasi and DuVall push the graphic novel medium into new directions."

— David S. Goyer, Batman Begins, The Dark Knight
"An engrossing story of an engineering marvel and the human ingenuity behind it."

— Brian Azzarello, Dark Knight III, American Monster, and Moonshine
"What is assembled in this sublime book is more than a mere narrative, but the meeting of two passions; the Roebling family, forgotten by the years, and Tomasi's own need to tell their story, something which roars and foams from every page."

— Greg Rucka, Lazarus, Black Magick, and Wonder Woman
"The Bridge is exactly the type of story we need more of today—hopeful, idealistic, and daring. An epic with a real-world icon at its center built by the heads, hands, and hearts of real world heroes."

— Geoff Johns, Justice League, DC Rebirth, and Doomsday Clock
About the author
Peter J. Tomasi is a former editor at DC Comics and a New York Times bestselling author. He lives in New York. Sara DuVall is an Eisner-nominated comics artist. They live in Seattle, Washington.