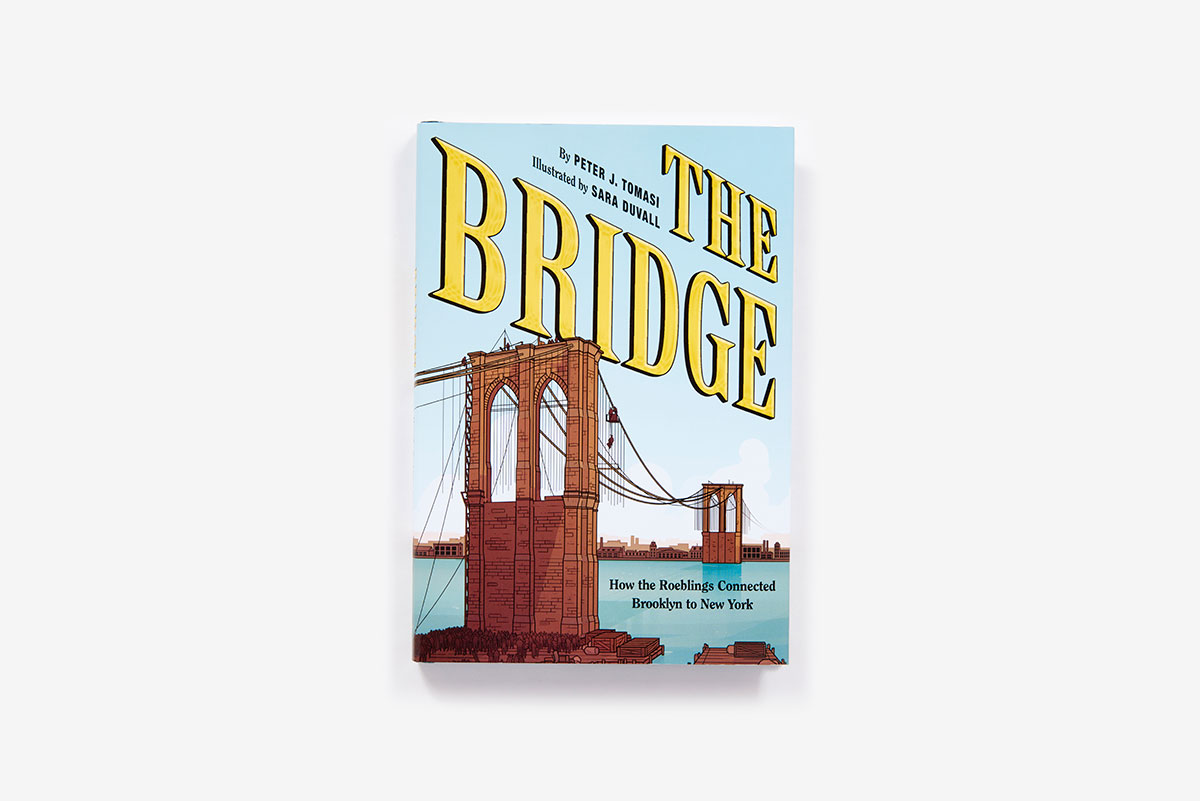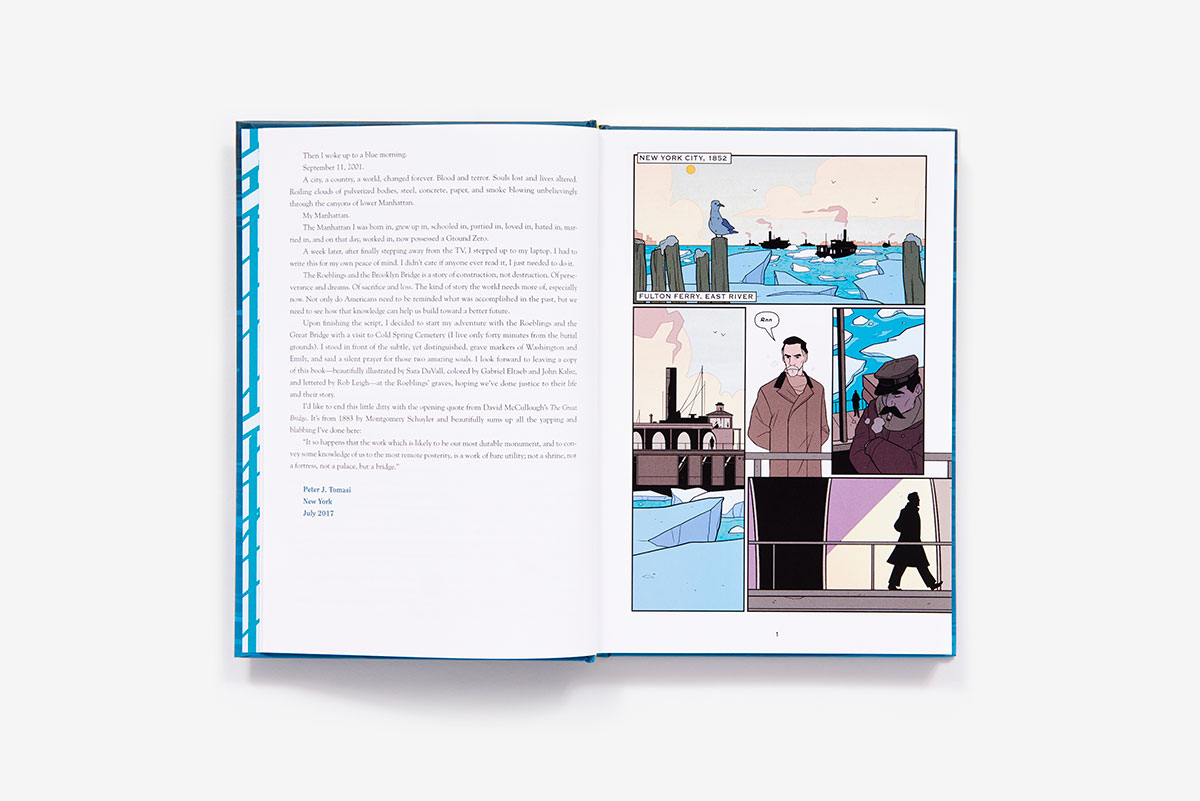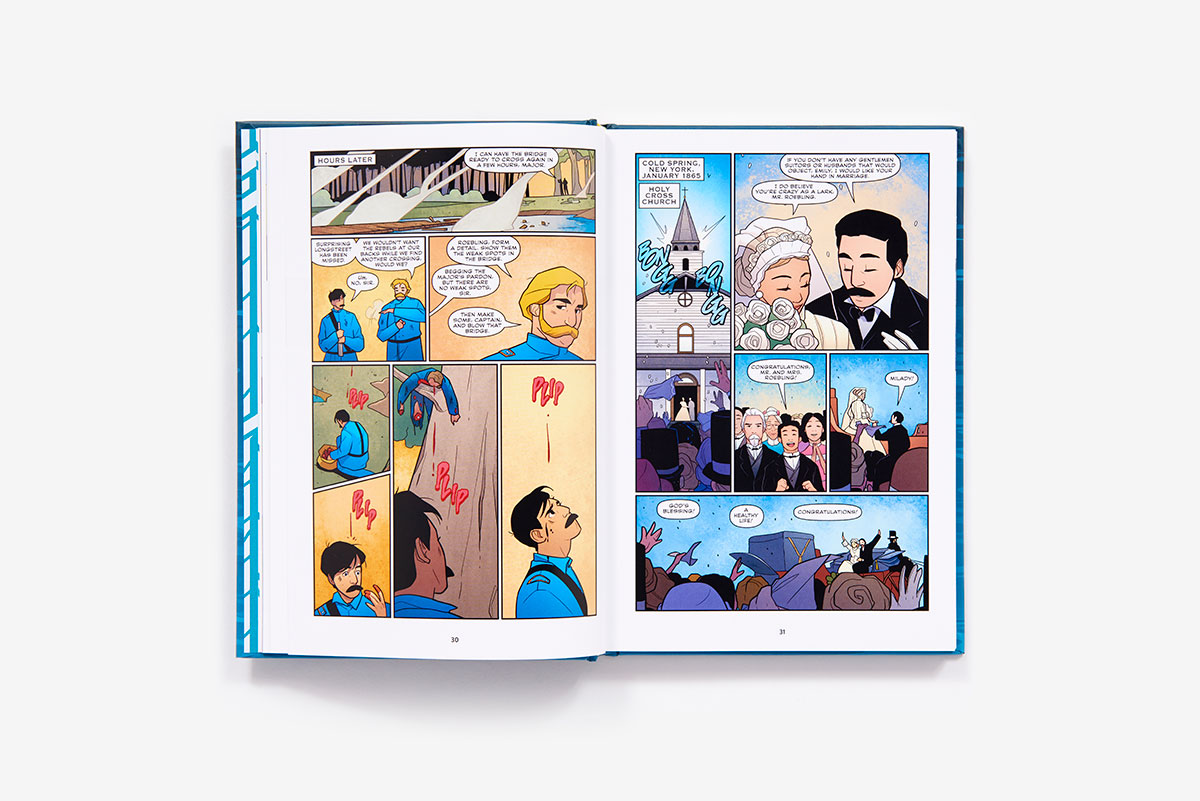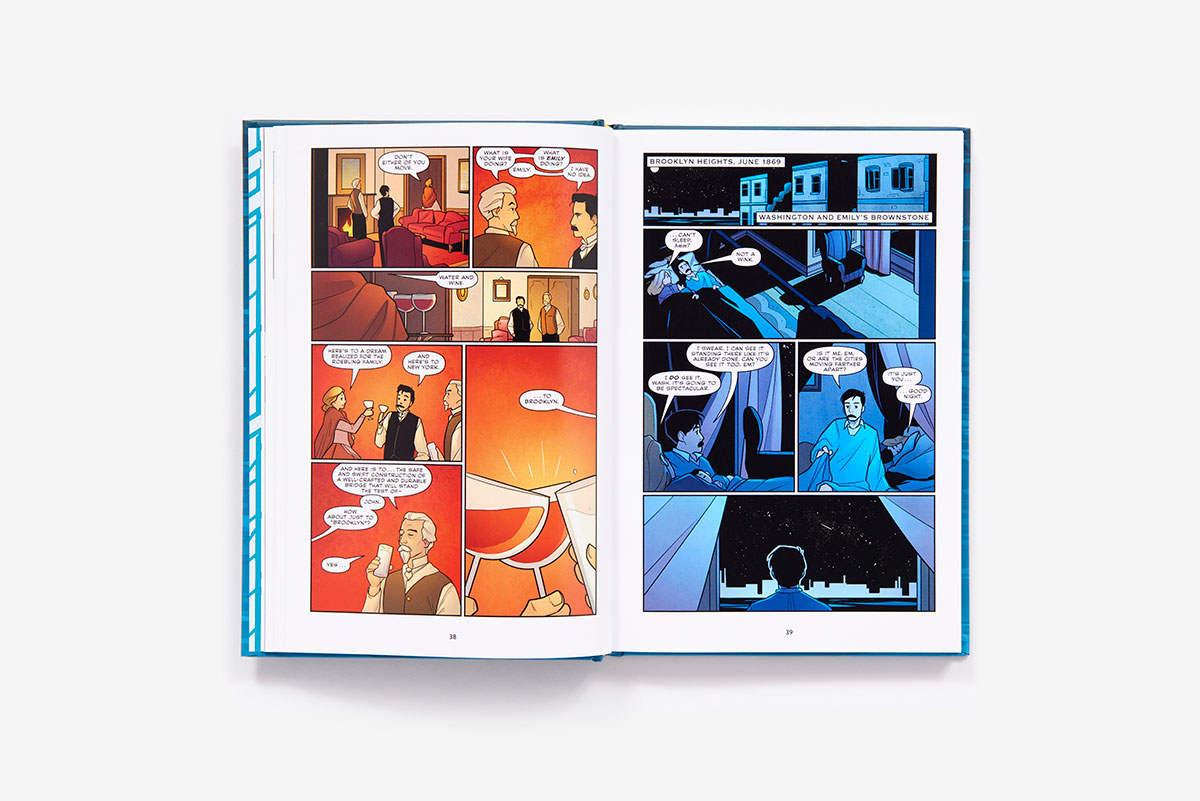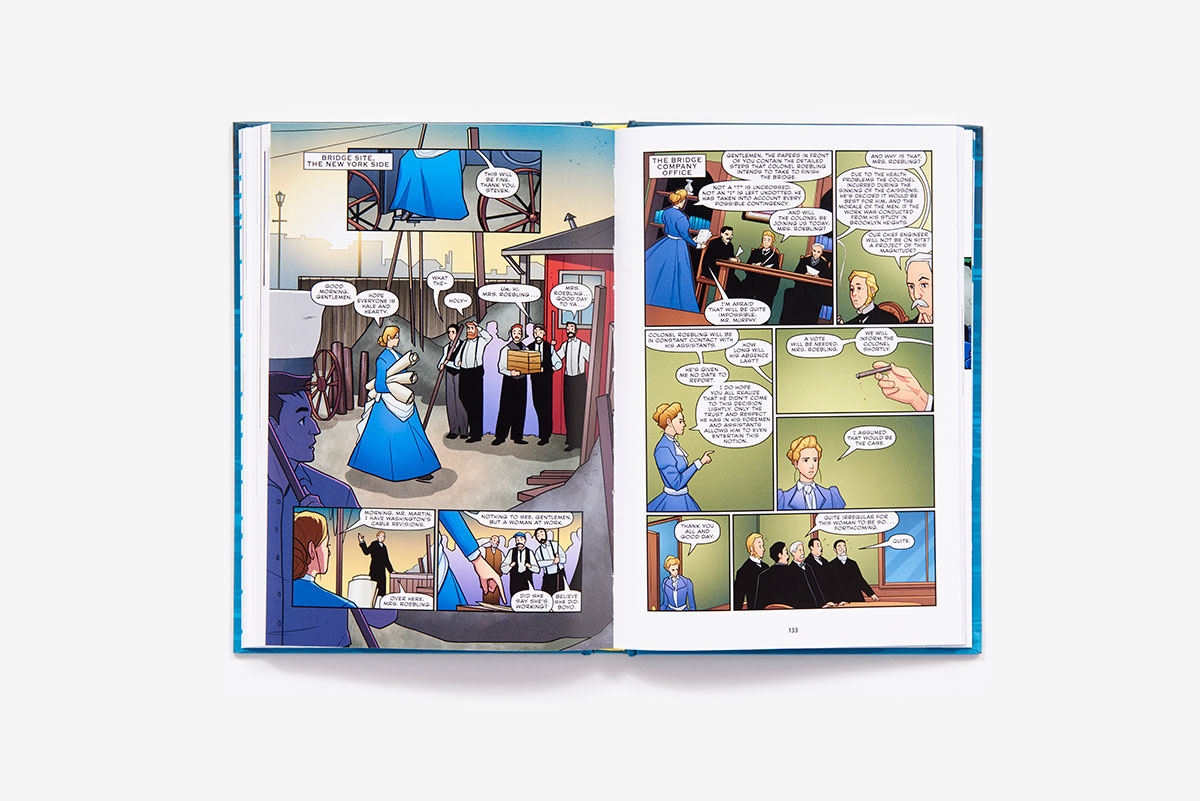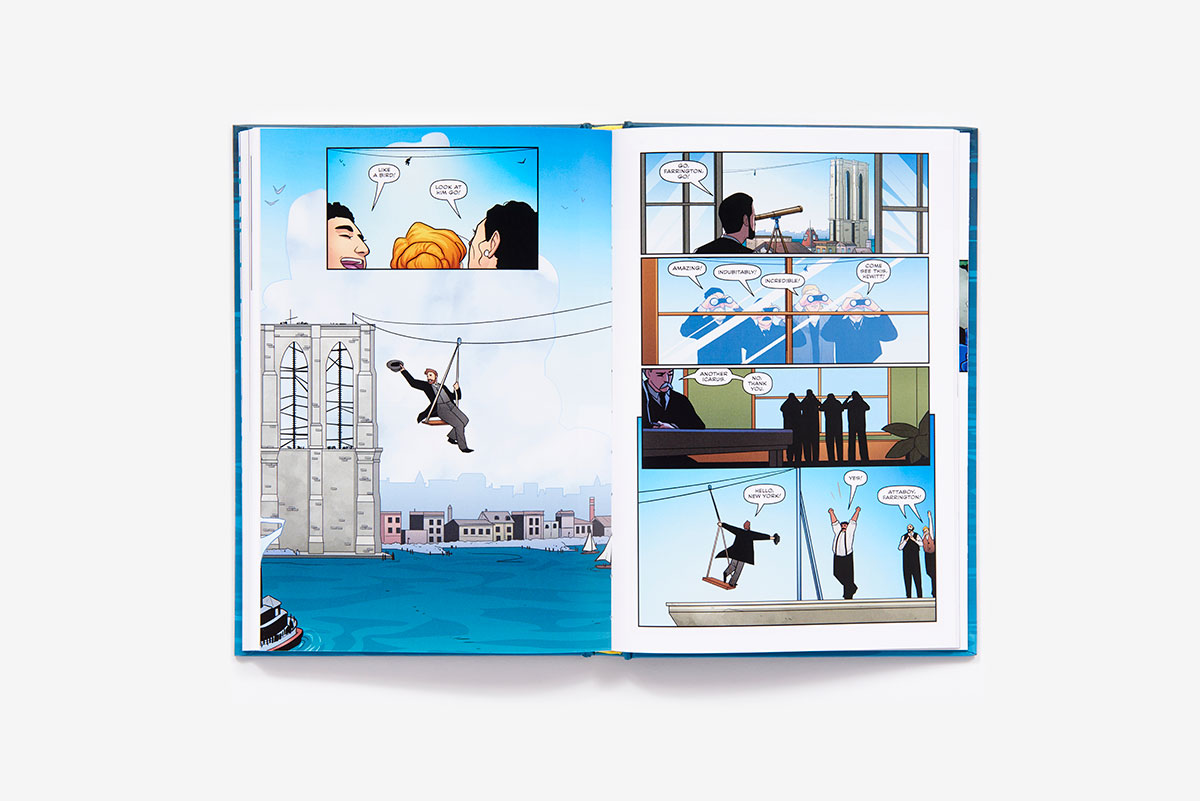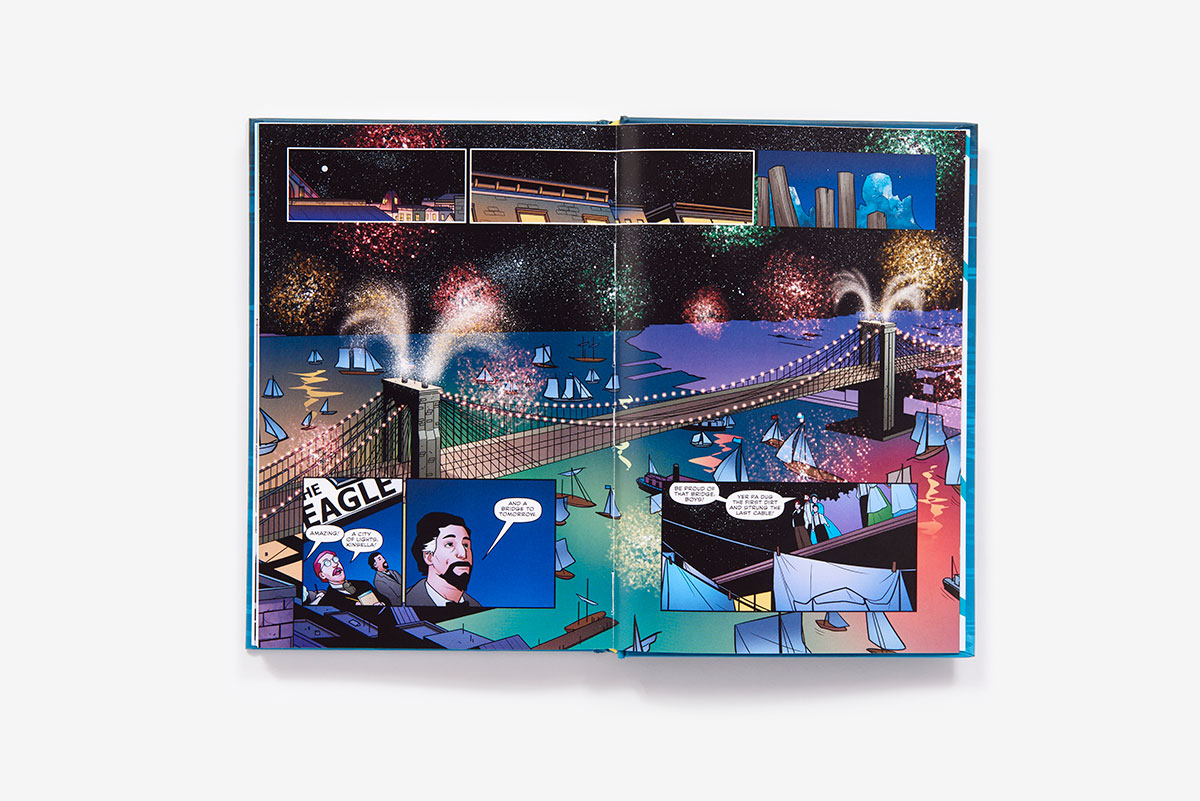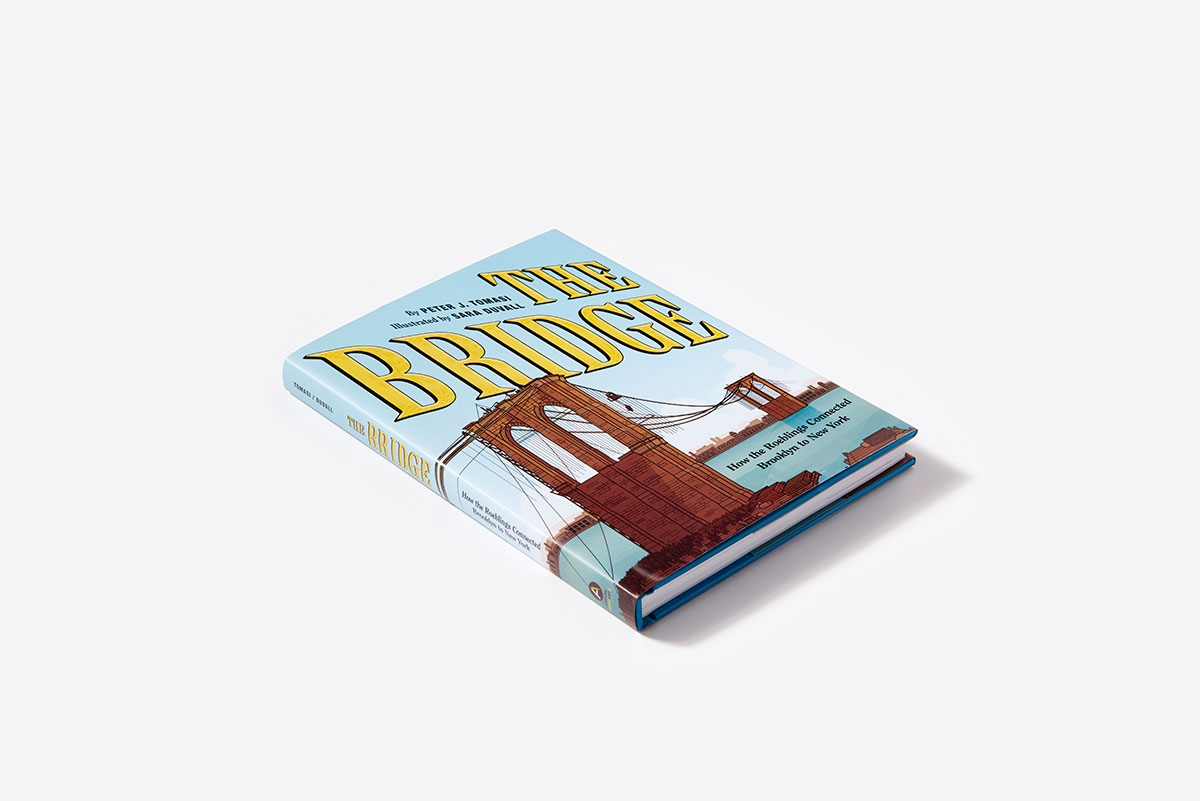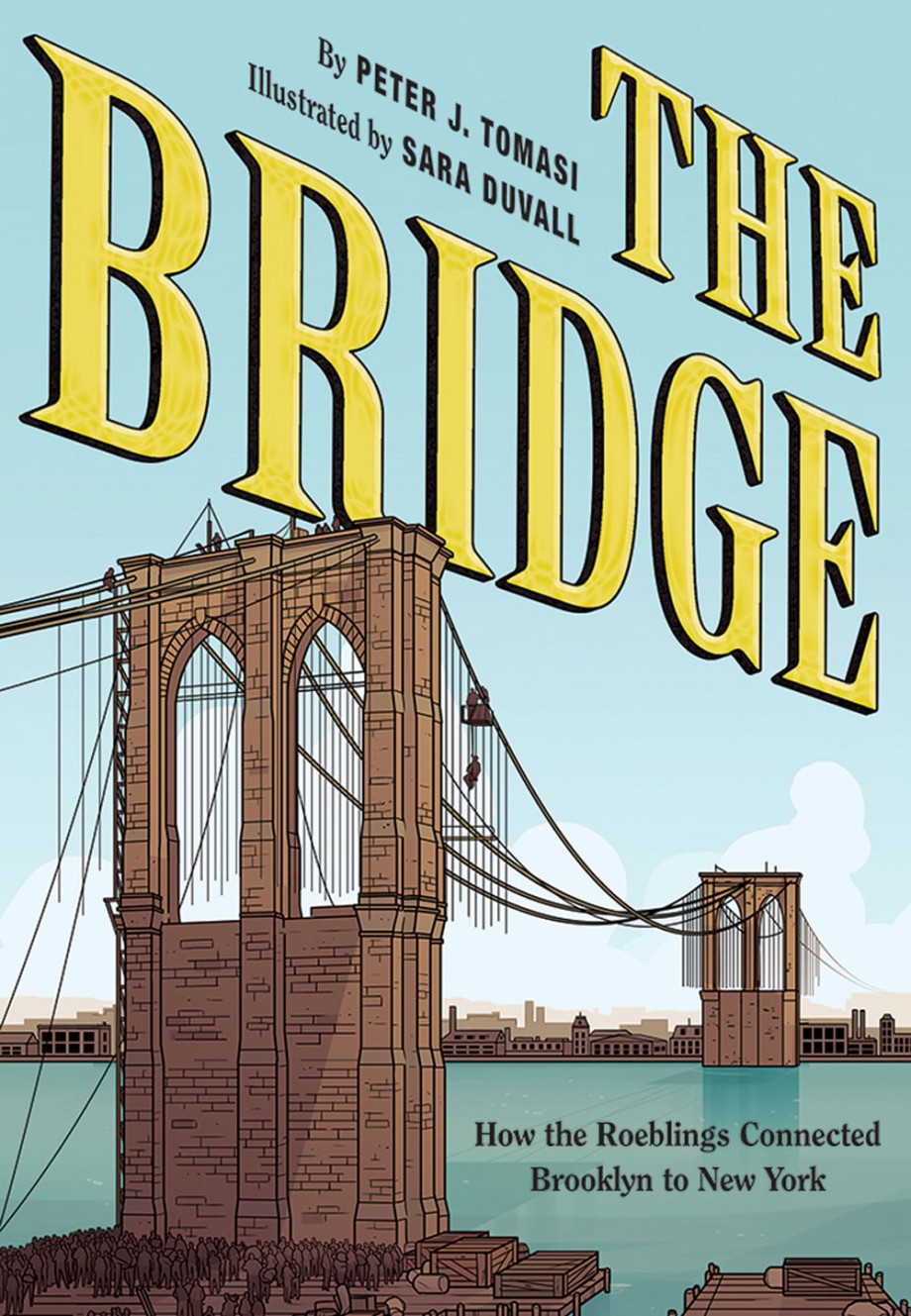 The Bridge
How the Roeblings Connected Brooklyn to New York
Hardcover
Price: $24.99
Also available from:
Additional formats:
Publication Date: April 17, 2018
Imprint: Abrams ComicArts
Trim Size: 6-1⁄2 x 9-1⁄2
ISBN: 9781419728525
Page Count: 208
Illustrations: Full-color illustrations
Rights: World/All
More than 130 years after its completion, the Brooklyn Bridge remains one of the most extraordinary landmarks and symbols of Brooklyn and New York City—and the story behind this architectural marvel is just as extraordinary.
The Brooklyn Bridge was originally designed by John Augustus Roebling, but it was his son, Washington, and his daughter-in-law, Emily, who oversaw the bridge's construction. As work on the bridge went on, Washington developed caisson disease, leaving him bedridden for the majority of the bridge's 14-year construction. Washington's wife, Emily Roebling, took his place running the work site, deftly assuming the role of chief engineer, supervising the project and overseeing the workers, contractors, a hostile press, and greedy city politicians—an unusual position for a woman to take on at the time.
In this inspiring graphic novel, author Peter J. Tomasi and illustrator Sara Duvall show the building of the Brooklyn Bridge as it has never been seen before, and the marriage of the Roeblings—based on intellectual equality and mutual support—that made the construction of this iconic structure possible.
Praise
"DuVall's bright and crisp, superhero-style comics artwork easily distinguish among the characters and is a perfect match for Tomasi's impressive history, which balances action and emotion well. Together, they make sense of the complicated work of nineteenth-century bridge-building and the concurrent behind-the- scenes political and boardroom antics."

Booklist —
"With just the right balance of history and drama, this very well-done work keeps readers intrigued right to the end… Highly recommended."

Library Journal, Starred Review —
"The Brooklyn Bridge is as much a feat of engineering as it is a familiar sight, as this graphic novel by Peter J. Tomasi and illustrator Sara Duvall reminds us."

New York Magazine —
"The Bridge meticulously depicts the enormity of the project, from meeting room intrigues to the sometimes perilous construction site...Mr. Tomasi and Ms. DuVall capture many historic moments."

The New York Times —
"Hard to believe that a graphic novel about the construction of the Brooklyn Bridge could be exciting and as informative as "The Bridge"... The book is a great way to learn history."

Cleveland Plain Dealer —
"You'll get some serious New Yorker cred after you read this."

Bustle —
"An iconic landmark beloved by many for its panoramic views of the New York skyline…This beautifully rendered graphic novel, illustrated by Sara Duvall, details how this engineering marvel was brought to fruition."

Shelf Awareness —
"Rather than being a story of a singular genius overcoming adversity, the book is a paean to collaboration. Iconic structures often have fascinating stories behind them, but rarely do the tellings emphasize the human as this one does."


Publishers Weekly —
"There have been many books written about the bridge, but Tomasi's The Bridge is likely the first graphic novel. He does a magnificent job of depicting the politics, the danger, and the tenacity of the Roebling family and the hundreds of workers who built the bridge."

School Library Journal —
"A timeless tale of dreams realized. Tomasi's thrilling true story and DuVall's wonderful art exude the spirit of imagination, courage, and grit."

American Born Chinese, Boxers and Saints, Gene Luen Yang —
"Engrossing and surprising."

Watchmen, Kingsmen: Secret Service, Dave Gibbons —
"The greatest city's greatest bridge deserves a great graphic novel, and Peter Tomasi is more than equal to the task."

Preacher, The Boys, War Story, Garth Ennis —
"Tomasi and DuVall's The Bridge is an amazing piece of historical non-fiction. Wonderfully written and gorgeously illustrated. Full of heart and hope."

Descender, Black Hammer, Jeff Lemire —
"The Bridge succeeds in its immediacy, feeling alive and utterly relevant to this moment in history—an epic tale that reminds us of the heights our shared passions can take us. The Bridge will inspire awe and admiration in all who read it. Tomasi and DuVall have truly created a masterful achievement of narrative design."

A.D., Batman, Wytches, Scott Snyder —
"The Bridge is an epic story of America, told in all its glory and dauntless personal courage, celebrating the perseverance of both Washington Roebling and Emily Roebling, who was one of our unsung women heroes. An enthralling story."

America the Ingenious, Kevin Baker —
"A beautifully rendered work. Aspirational and informative, Tomasi and DuVall push the graphic novel medium into new directions."

Batman Begins, The Dark Knight, David S. Goyer —
"An engrossing story of an engineering marvel and the human ingenuity behind it."

Dark Knight III, American Monster, and Moonshine, Brian Azzarello —
"What is assembled in this sublime book is more than a mere narrative, but the meeting of two passions; the Roebling family, forgotten by the years, and Tomasi's own need to tell their story, something which roars and foams from every page."

Lazarus, Black Magick, and Wonder Woman, Greg Rucka —
"The Bridge is exactly the type of story we need more of today—hopeful, idealistic, and daring. An epic with a real-world icon at its center built by the heads, hands, and hearts of real world heroes."

Justice League, DC Rebirth, and Doomsday Clock, Geoff Johns —
About the author
Peter J. Tomasi is a New York Times best-selling author known for his work on Superman Rebirth, Batman and Robin, Super-Sons, Green Lantern Corps, Detective Comics and Batman Arkham Knight, along with other commercially successful books, Brightest Day, Superman/Wonder Woman, Emerald Warriors, Black Adam, Nightwing and so many others. Over the course of his career with DC Comics, Peter also served as a group editor ushering in new eras for Batman, Green Lantern, and JSA along with special projects like Kingdom Come. Peter is the author of the critically acclaimed creator owned books Light Brigade (Dark Horse) with artist Peter Snejbjerg, The Mighty (Dark Horse) with Keith Champagne and artist Chris Samnee, and the horror/drama, House of Penance (Dark Horse) with artist Ian Bertram. Peter is a graduate of New York University and lives in New York.

Sara DuVall is a native of the Pacific Northwest, whose short comics have been featured online and in print anthologies. A graduate of the School of Visual Arts, Sara illustrated the 2017 Eisner–nominated webcomic Deja Brew. Sara DuVall lives in Seattle with her mini schnauzer and small horde of plants. The Bridge is her debut graphic novel. Visit her online at littlecorvusart.com.