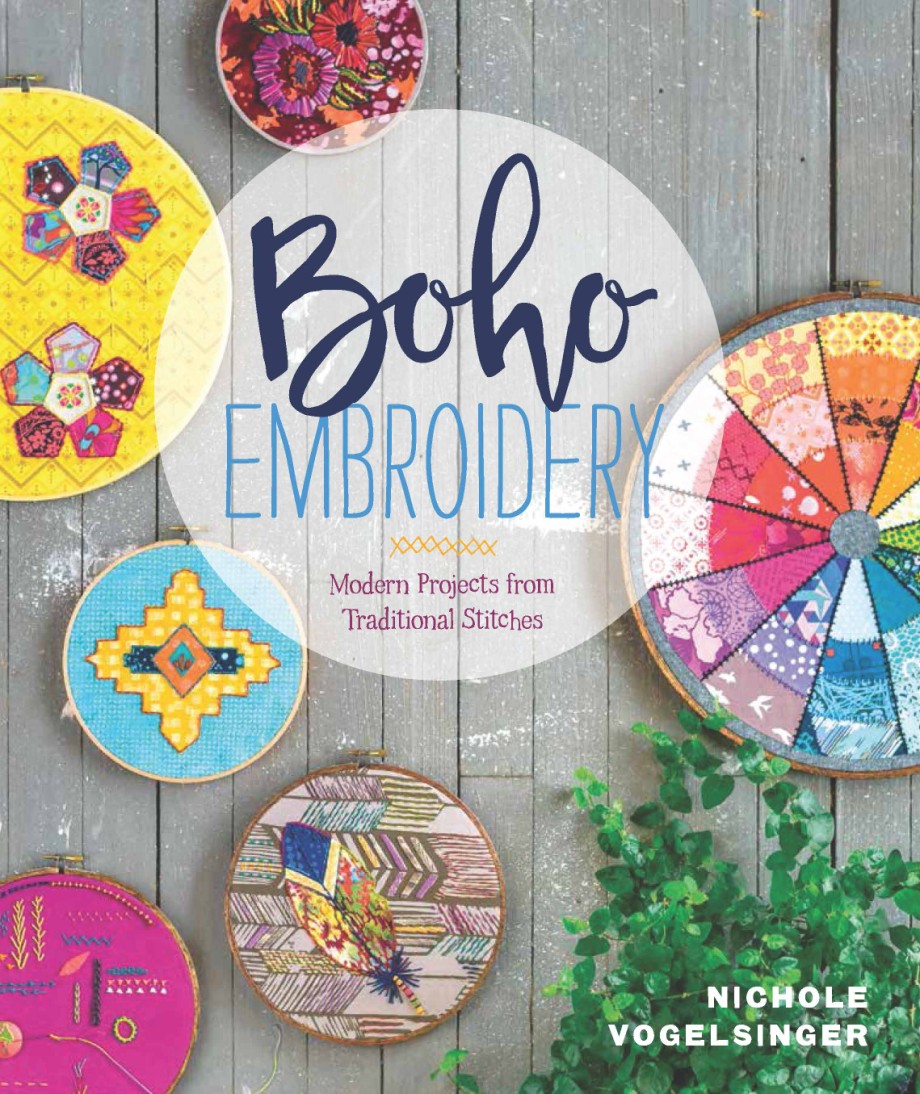 Boho Embroidery
Modern Projects from Traditional Stitches
Paperback
Price: $24.95
Also available from:
Publication Date: December 13, 2016
Imprint: Lucky Spool
Trim Size: 9 1⁄4 x 8 1⁄2
ISBN: 9781940655208
Page Count: 128
Illustrations: over 200 photos/illustrations
Rights: North America
Hello, embroidery. Meet textile art. Let's talk about the time when embroidery and textile art met... they formed a unique pairing of modern, chic design using traditional methods. Author Nichole Vogelsinger introduced these two mediums to each other, creating an entirely new way to play with needle, thread and fabric. You'll be amazed by the colorful, chic art you create both on and off the hoop. Bend the Rules! Embroidery and textile art meet with Nichole Vogelsinger's colorful, bold Boho Embroidery style. The colors and textures that Nichole packs into her stunning textile art creations will inspire you to expand your creativity. The small size of these projects takes the intimidation out of experimenting with patterns and stitch combinations. Nichole teaches you how to create 16 embroidery stitches. Then she sets you free to wander down your own creative path using her patterns and projects for guidance. Learn how to create simple hoops that feature just a single design, then move onto collage hoops with multiple elements. From there you can expand outside the hoop to wearable accessories and embellishments. Throughout the book you'll be inspired to find your muse through thrift store finds such as retro tablecloths and feed sacks, and in more typical places like on novelty fabric and in nature. The world becomes a celebration that you can capture with just bits of fabric, and without being confined to four walls. Grab a hoop, break out all of your favorite fabrics and threads, and explore your "boho" side!
About the author
Sewing is in Nichole Vogelsinger's blood, but it didn't always translate to her fingertips. She spent summers browsing the fabric shop where her grandmother worked, and her mother taught quilting classes, but her initial efforts at sewing were meager at best. The stitching bug finally bit when she received a hand-me-down sewing machine after her first son was born. Nichole began creating embroidery hoop designs in 2012 and has shared her images on Instagram (@wildboho) where her colorful, accessible style has inspired thousands. She is the author of Boho Embroidery: Modern Projects from Traditional Stitches, published by Lucky Spool Media. Nichole describes her work and style as a free-spirited blend of chaos and control and invites stitchers to be unafraid of bending the rules. Follow along with Nichole at wildboho.com.