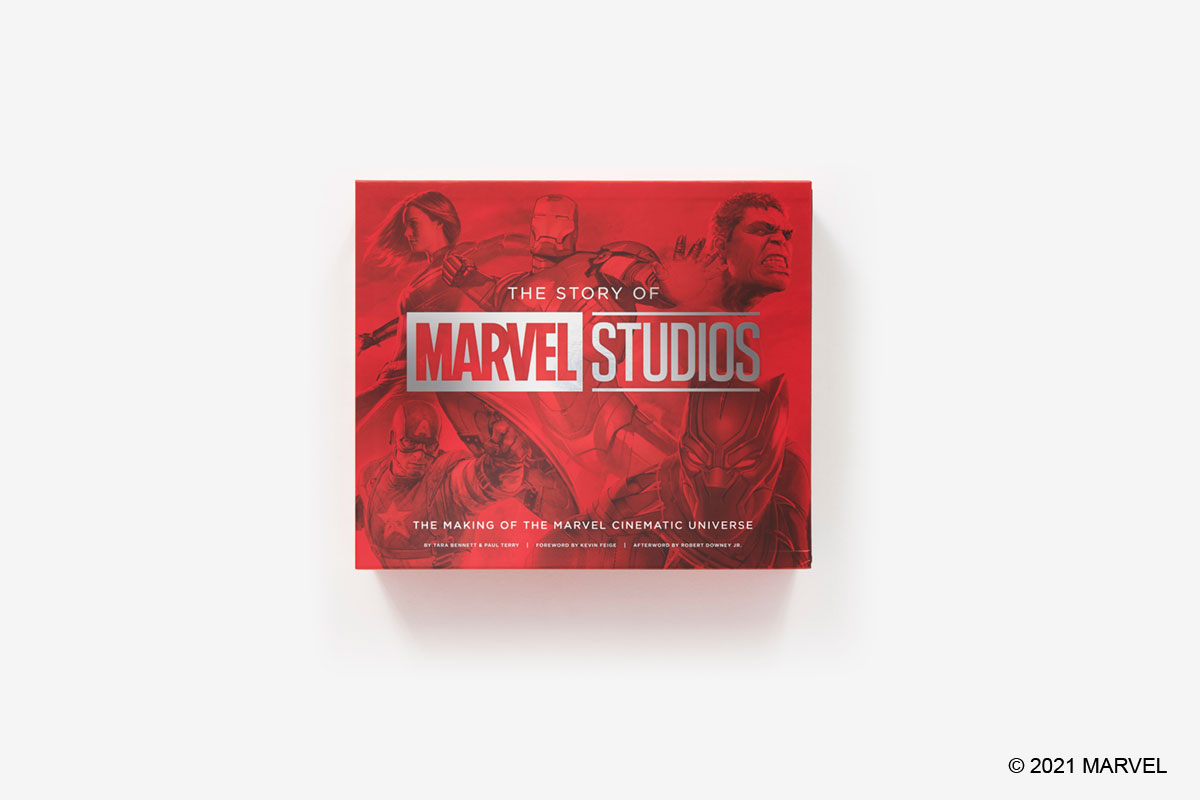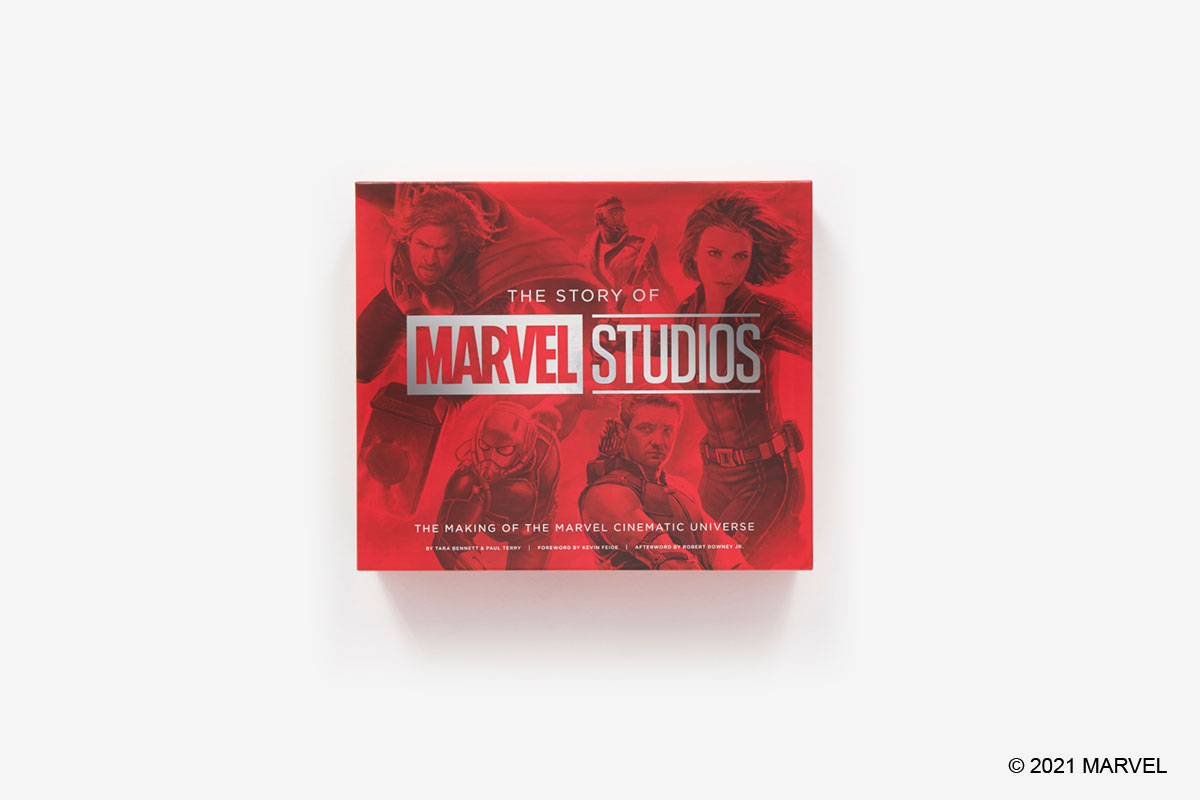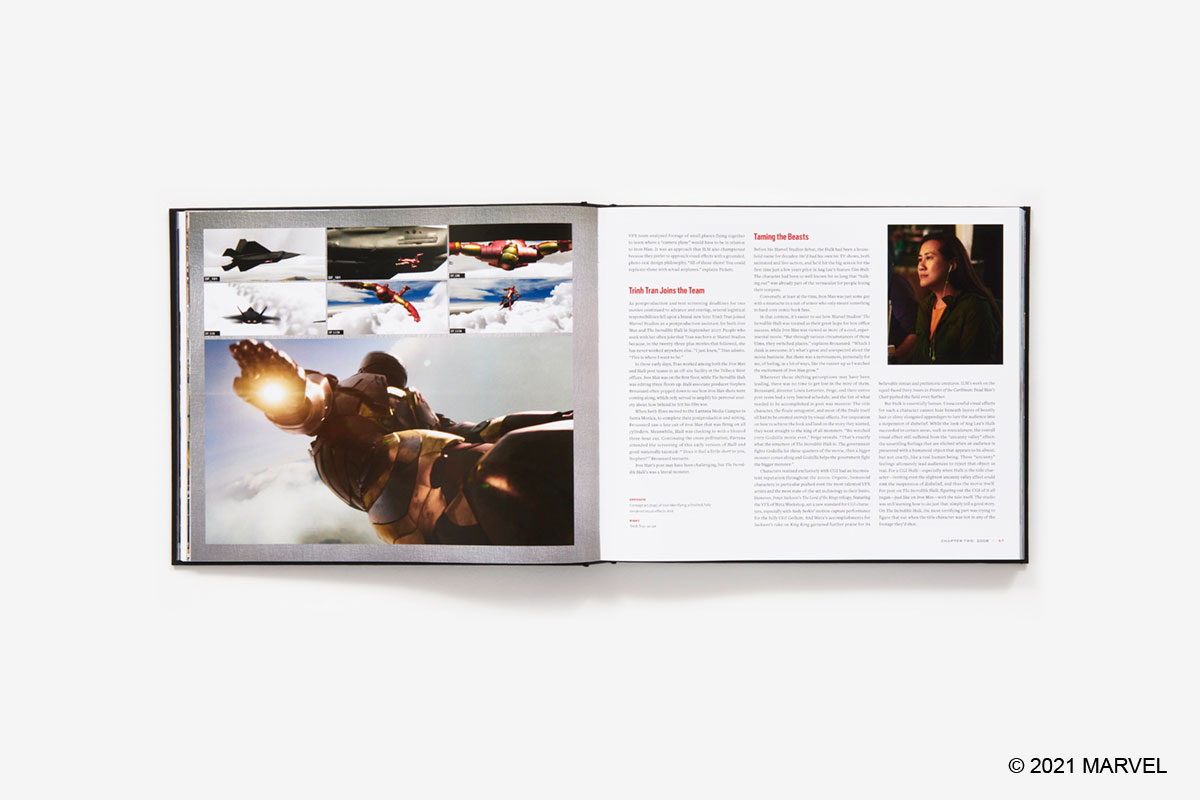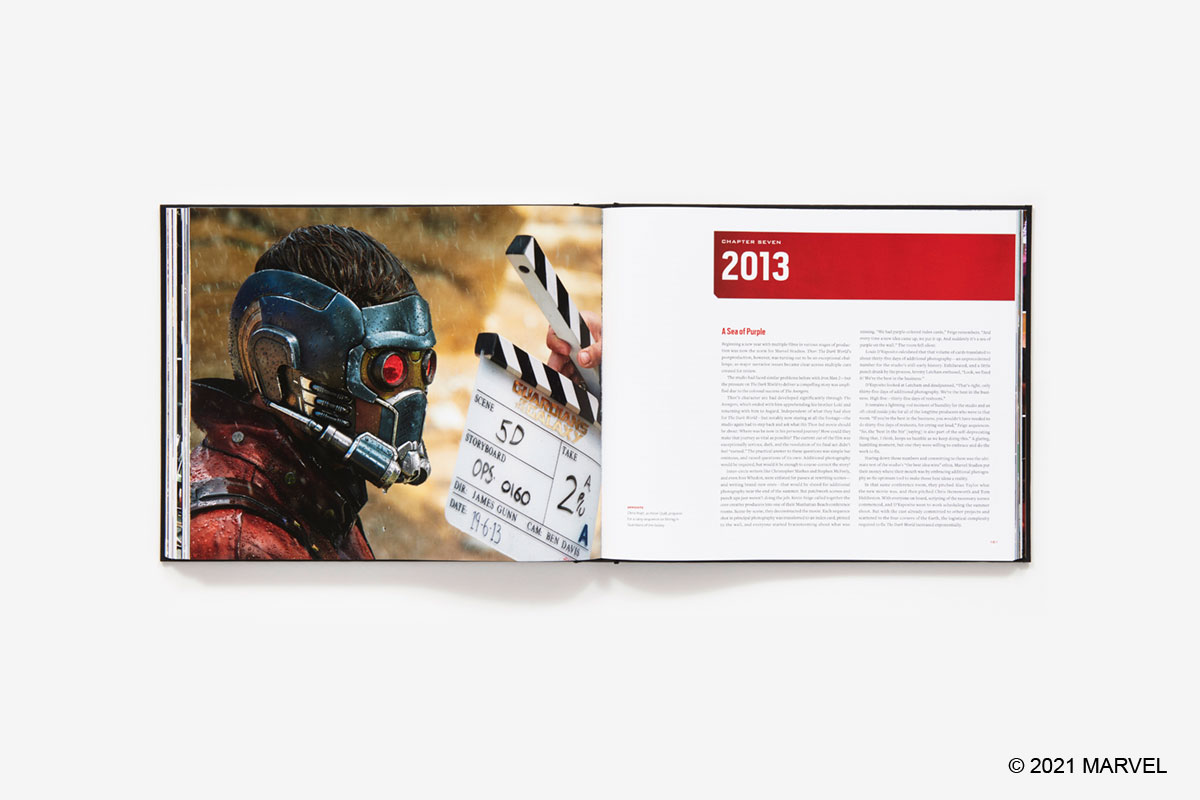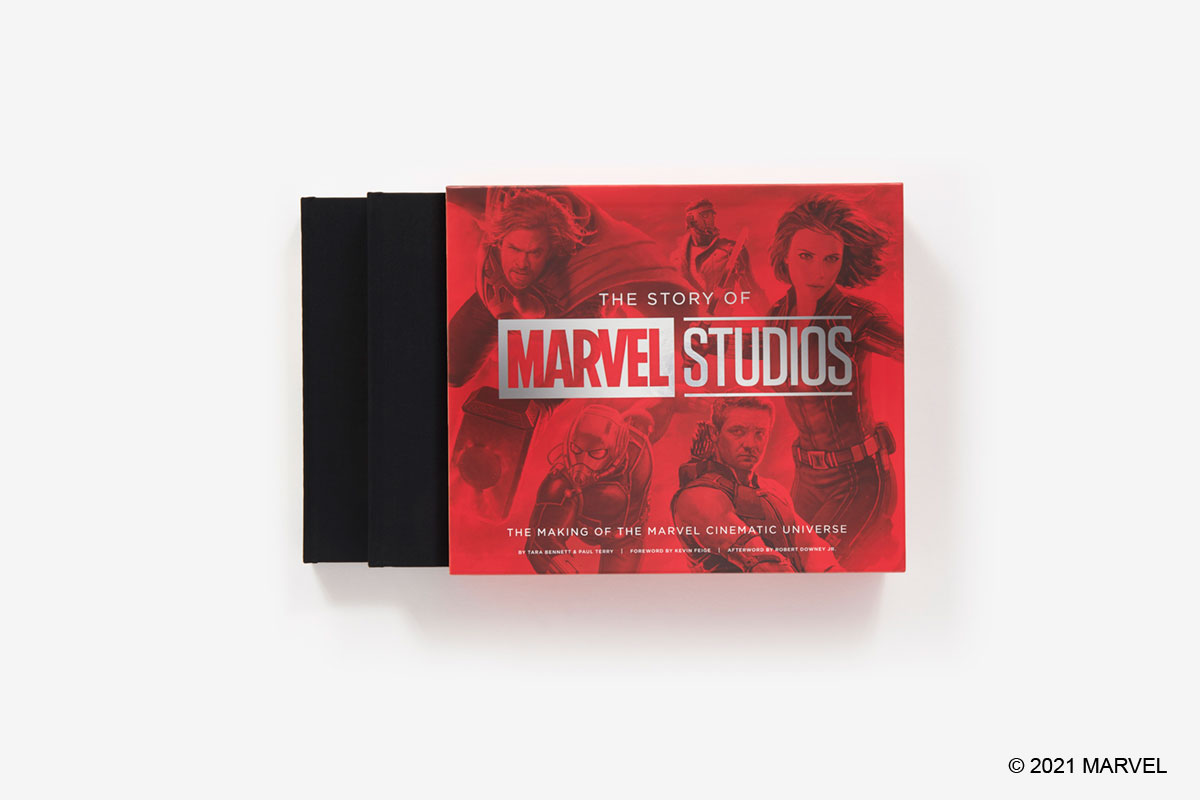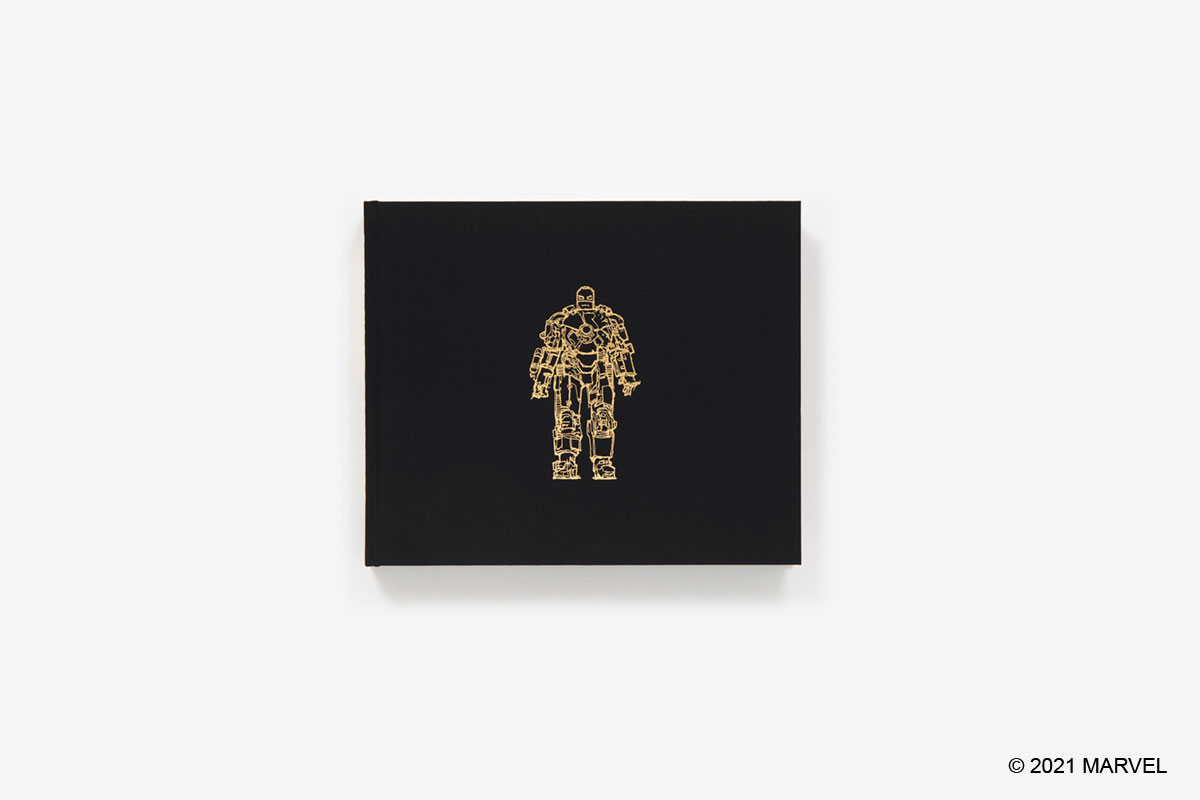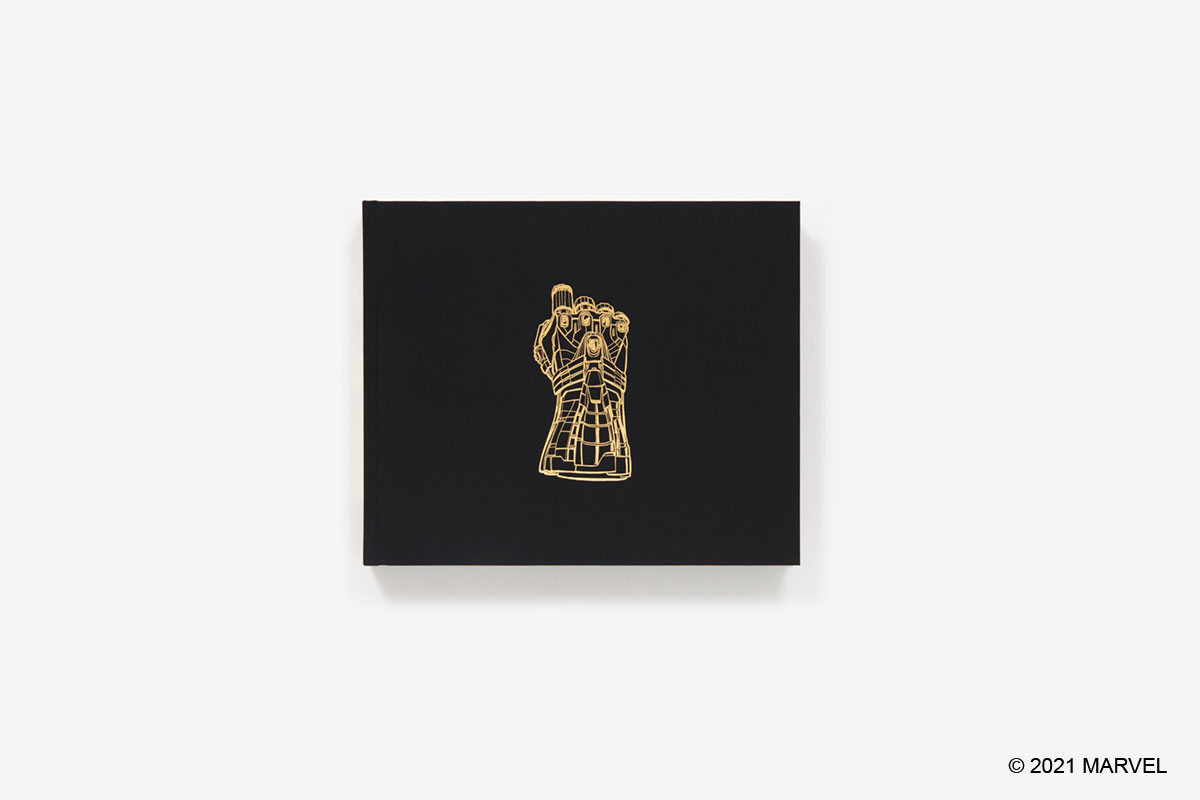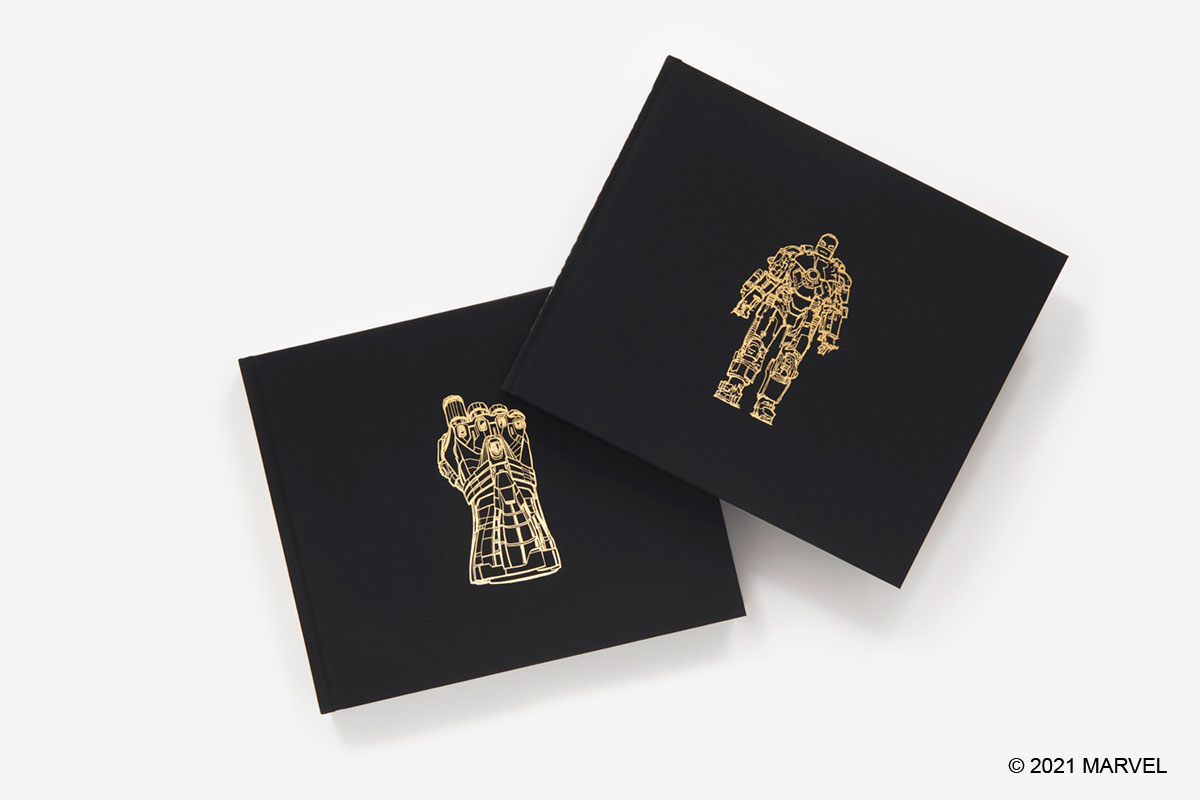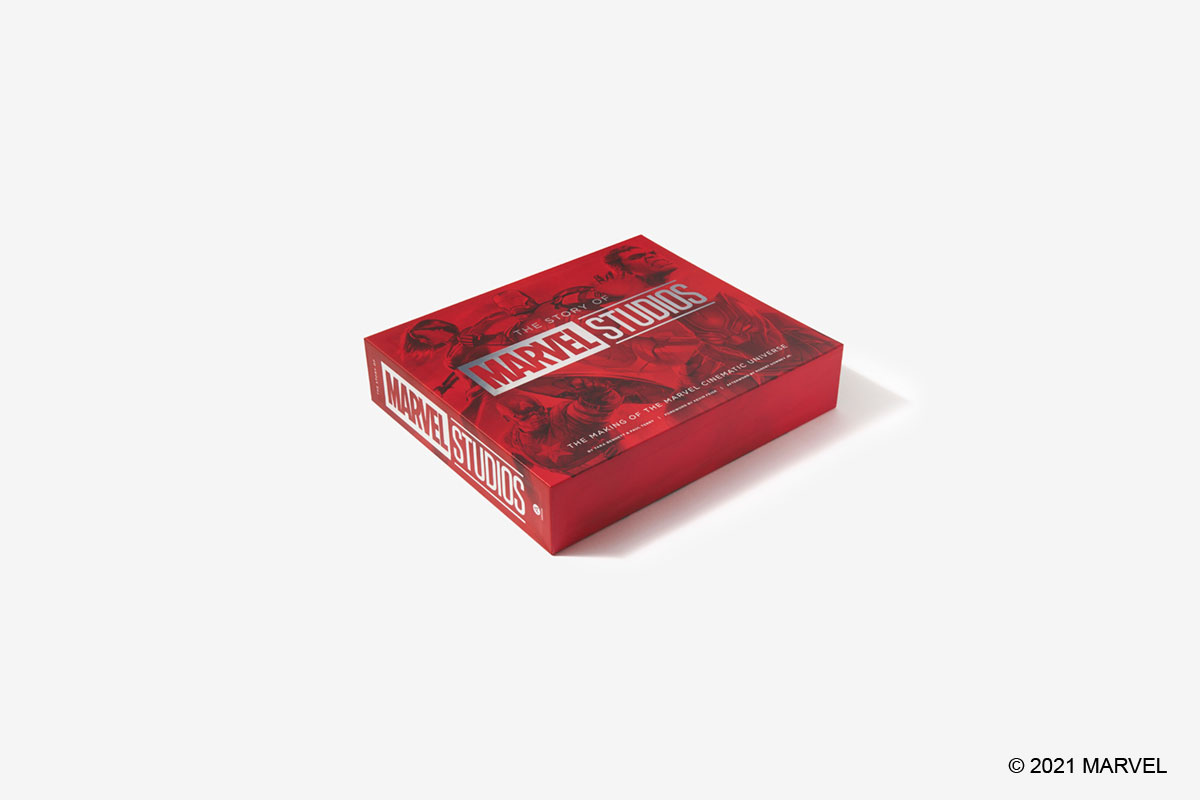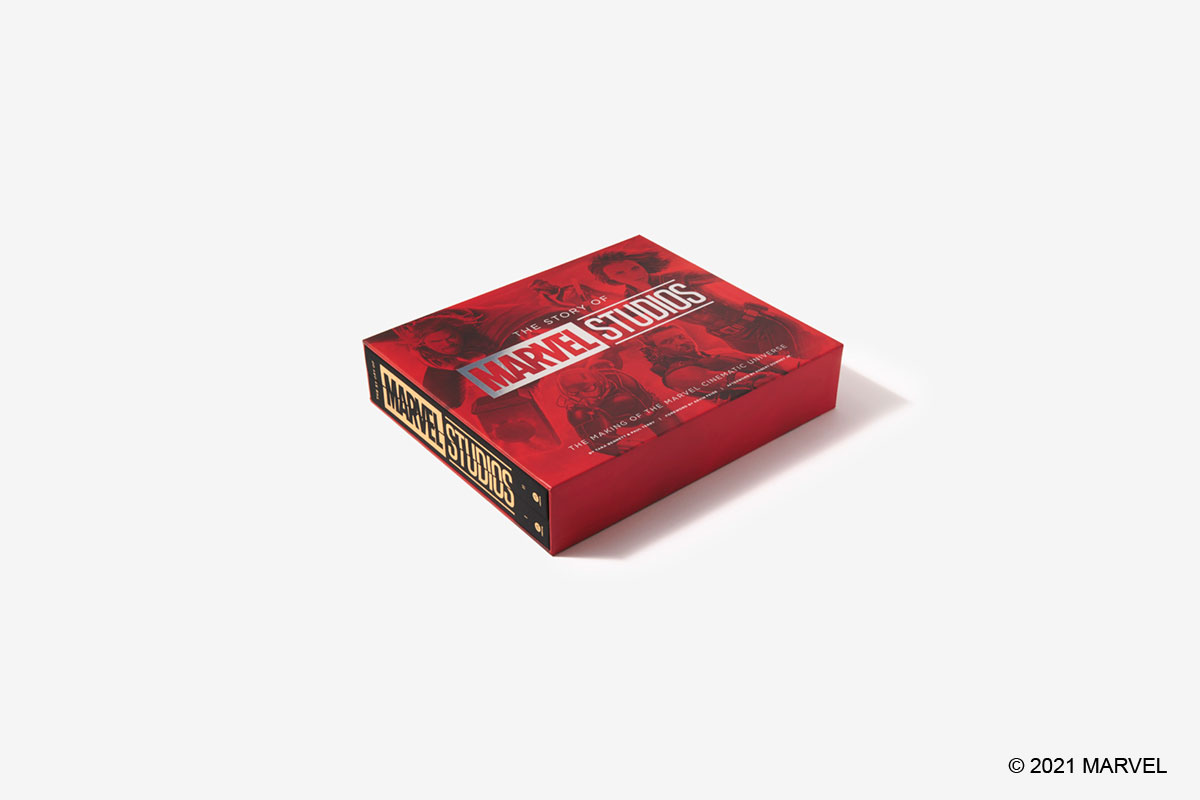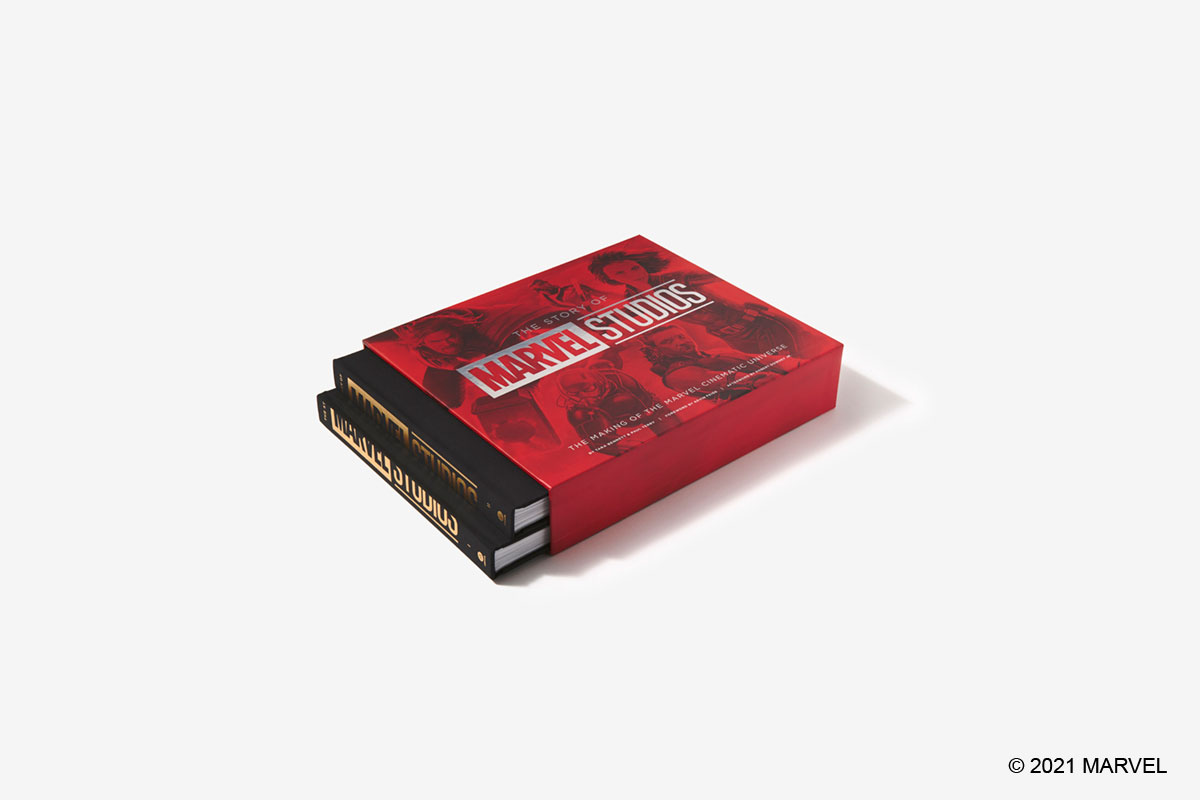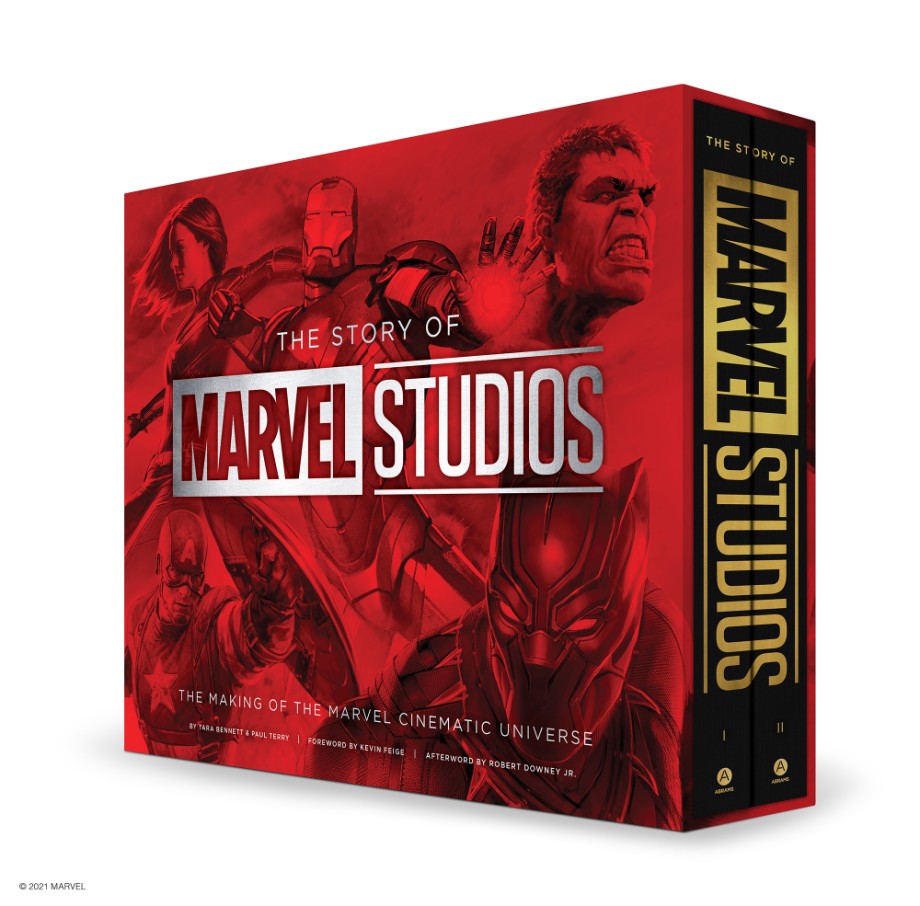 The Story of Marvel Studios
The Making of the Marvel Cinematic Universe
Two-volume set, hardcover with slipcase
Price: $150.00
Also available from:
Publication Date: October 19, 2021
Imprint: Abrams Books
Trim Size: 12 x 10
ISBN: 9781419732447
Page Count: 512
Illustrations: 500 color illustrations
Rights: World English, with exclusions
The definitive story of how Marvel Studios created the Marvel Cinematic Universe, as told by the studio's creatives, and the cast and crew of The Infinity Saga
The Story of Marvel Studios is the first-ever, fully authorized, all-access history of Marvel Studios' creation of the Marvel Cinematic Universe, as told by the producers, writers, directors, concept artists, VFX artists, cast, and crew who brought it to life. Year-by-year, project-by-project, the studio's founding and meteoric growth are described through detailed personal stories, anecdotes, and remembrances of noteworthy challenges, breakthrough milestones, and history-making successes. Together, these stories reveal how each of the films evolved into one ongoing cinematic narrative, as coauthors Tara Bennett and Paul Terry (The Official Making of Big Trouble in Little China, 2017) chart the complete production history of The Infinity Saga's 23 movies (from 2008's Iron Man all the way up to, and including, 2019's Avengers: Endgame and Spider-Man: Far From Home).
Bennett and Terry were granted unprecedented access to Marvel Studios, which led to this years-in-the-making tome containing personal stories from more than 200 interviews, including every Marvel Studios producer; MCU writers and directors; the stars of The Infinity Saga; concept artists, costume designers, composers, and the talents behind the MCU's dazzling visual effects; and more. Featuring previously unpublished behind-the-scenes photography and archival production material, as well as personal photos and memorabilia from cast and crew, The Story of Marvel Studios is the essential, collectible chronicle of how the Marvel Cinematic Universe was brought to life.
• 512 pages chart the entire history-making story of Marvel Studios—from its inception, through Phases One, Two, and Three, and to the dawn of Phase Four
• Featuring more than 200 interviews with the studio's staff, cast, and crew for all 23 movies in The Infinity Saga
• Includes more than 500 production photos, plus never-before-seen filmmakers' archival materials and personal memorabilia from the cast and crew
• Deluxe two-volume, foil-stamped cloth hardcover set, featuring exclusive cover art by Ryan Meinerding (Marvel Studios Head of Visual Development)
• Metallized reinforced slipcase with exclusive wrap-around MCU concept art montage, featuring art by Adi Granov, Ryan Meinerding, Andy Park, and Charlie Wen
• Foreword by Kevin Feige (President of Marvel Studios and Chief Creative Officer of Marvel)
• Afterword by Robert Downey Jr. (Tony Stark/Iron Man)
Praise
"Tailor-made for wide-eyed kids of today—and even some of their parents."

Wall Street Journal —
"For the Marvel super-fan who can't get enough of every aspect of the MCU."

The Hollywood Reporter —
"I cannot recommend this book more highly. It's the page turner you've been waiting for. All the warts are there right alongside the triumphs."

Rob Liefeld, creator of Deadpool —
"Packed with photos, interviews, and production history for each film, this is the definitive gift for the MCU diehard."

The Nerdist —
"A beautifully crafted and highly informative insider look at the first three phases of the MCU."

SYFY —
"Bennett and Terry talk to the [MCU] creators and explore what it all took to realize Marvel's grand vision."

Gizmodo/io9 —
"A serious purchase for serious Marvel fans."

Empire —
"A marvelously detailed account of how Kevin Feige and company brought the world of Marvel Comics to the big screen."

CBR —
"This massive set it is filled to the brim with never-before-heard stories, straight from the creatives who made it happen."

WinterisComing.net —
"A meticulous chronicle of the passion and struggles behind the MCU."

SlashFilm —
"A winning and fascinating look at a story that has rewritten moviemaking."

Forces of Geek —
"The story is fascinating... It's a book that you will find yourself going back to time and time again."

Basement of the Bizarre —
"The narrative is compelling... Any Marvel fan would be thrilled to have this in their collection."

Disney Nerds —
"A real feast for Marvel fans."

TV Digital —
"A must have."

Total Film —
About the authors
Tara Bennett is a New York Times–bestselling author who has written (or co-written) thirty official books on TV and film, including Sons of Anarchy: The Official Collector's Edition, Fringe: September's Notebook, Outlander: Official TV Series Companions, Showrunners: The Art of Making a TV Series, and The Official Making of Big Trouble in Little China. Based in Los Angeles, Tara covers television and film for online and print outlets such as SFX Magazine, Total Film, Syfy Wire, and Paste Magazine. She is also an adjunct professor at Rowan University in New Jersey. She lives in Los Angeles.

Paul Terry is a music artist, producer, and bestselling author. He has written/co-written numerous official books on film and television, including: The X-Files, Lost, Fringe, Big Trouble in Little China, and many more. As a composer, Paul's scores include: Sidney & Friends, the multi-award-winning feature documentary (which he also executive produced); the drama Emily (starring Felicity Jones and Christopher Eccleston); and the chiller Care. Under the moniker of Cellarscape, his albums include Exo Echo and the Independent Music Award nominated The Act of Letting Go. To date, Paul has composed and produced more than thirty albums. He lives in Los Angeles.