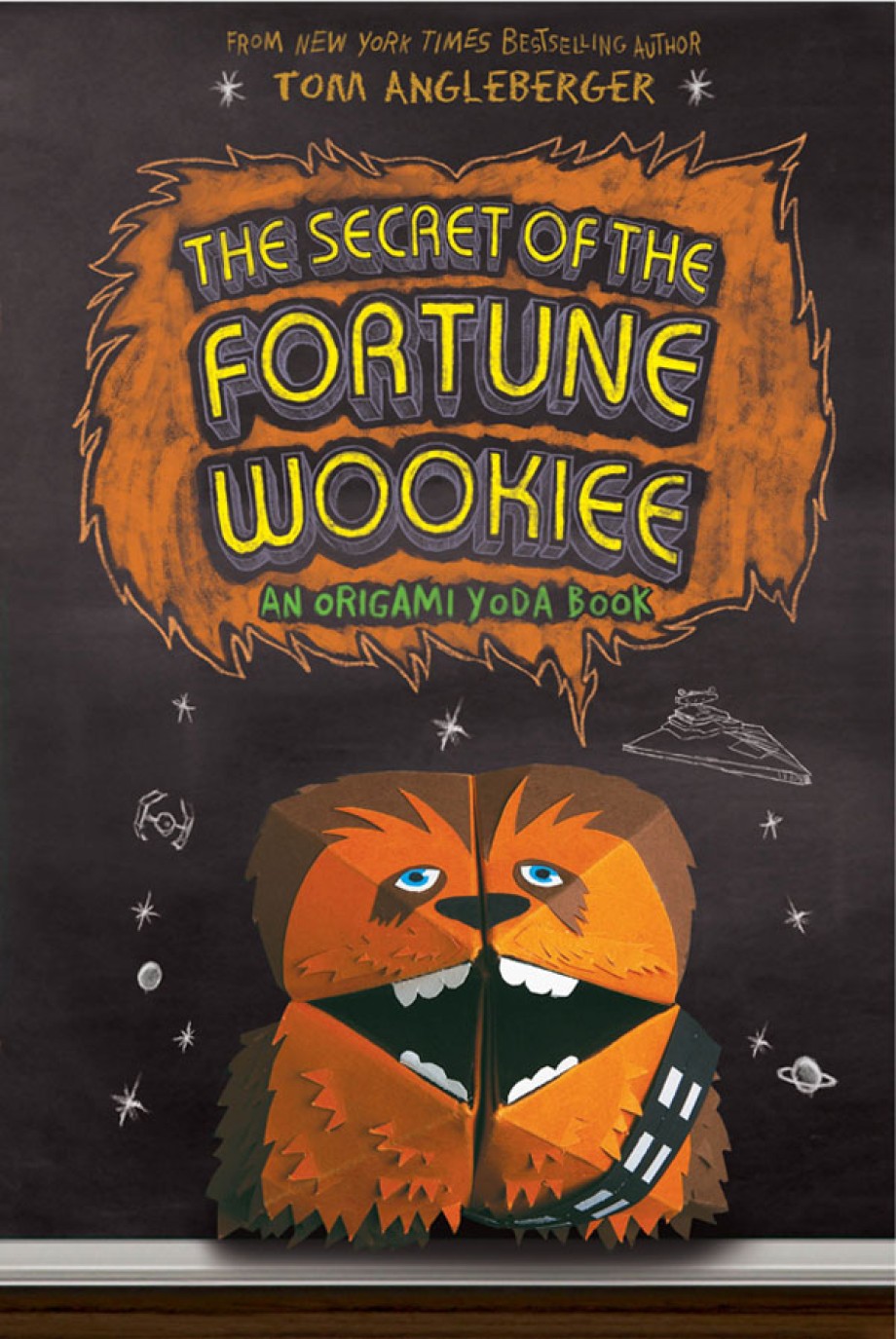 The Secret of the Fortune Wookiee (Origami Yoda #3)
Imprint: Amulet Books
Publication Date: August 7, 2012
Price: $13.95
Trim Size: 5 1⁄2 x 8 1⁄4
ISBN: 978-1-4197-0392-8
EAN: 9781419703928
Page Count: 208
Format: Hardcover
Rights: World English
Additional formats:
With Dwight attending Tippett Academy this semester, the kids of McQuarrie Middle School are on their own—no Origami Yoda to give advice and help them navigate the treacherous waters of middle school. Then Sara gets a gift she says is from Dwight—a paper fortune-teller in the form of Chewbacca. It's a Fortune Wookiee, and it seems to give advice that's just as good as Yoda's—even if, in the hands of the girls, it seems too preoccupied with romance. In the meantime, Dwight is fitting in a little too well at Tippett. Has the unimaginable happened? Has Dwight become normal? It's up to his old friends at McQuarrie to remind their kooky friend that it's in his weirdness that his greatness lies.
This is the third case file in the blockbuster bestselling Origami Yoda series, written by Tom Angleberger, author of Star Wars: Return of the Jedi: Beware the Power of the Dark Side, showcasing his proven knack for authentically capturing the intrigues, fads, and dramas of middle school in "a satisfying tale of friendship and just resistance to authority" (Kirkus Reviews, starred review).
Praise for The Secret of the Fortune Wookieehas crafted a worthy follow-up to his break
STARRED REVIEW
"Angleberger's third in the series continues the fun. A chorus of spot-on middle school voices and plenty of laughs are wrapped around this tale of friendship and seasoned with Star Wars references."
—Kirkus Reviews, starred review
"Tom Angleberger offers a hilarious third book in his best-selling series starring origami Star Wars characters. Angleberger's grasp of middle-school emotions, humor and behavior is spot-on, and parents who want to get a sense of what it's like be a preteen these days might consider reading this book. But you'll likely have to pry it out of your young reader's hands first."
—Scripps Howard News Service
Award
2013 ReadKiddoRead Kiddos - FINALIST
About the author
Tom Angleberger is the bestselling author of the Origami Yoda series, which includes The Strange Case of Origami Yoda and Darth Paper Strikes Back. He is also the author of Horton Halfpott and Fake Mustache. Visit him online at www.OrigamiYoda.com. He lives in Christiansburg, Virginia, with his wife, the author-illustrator Cece Bell.