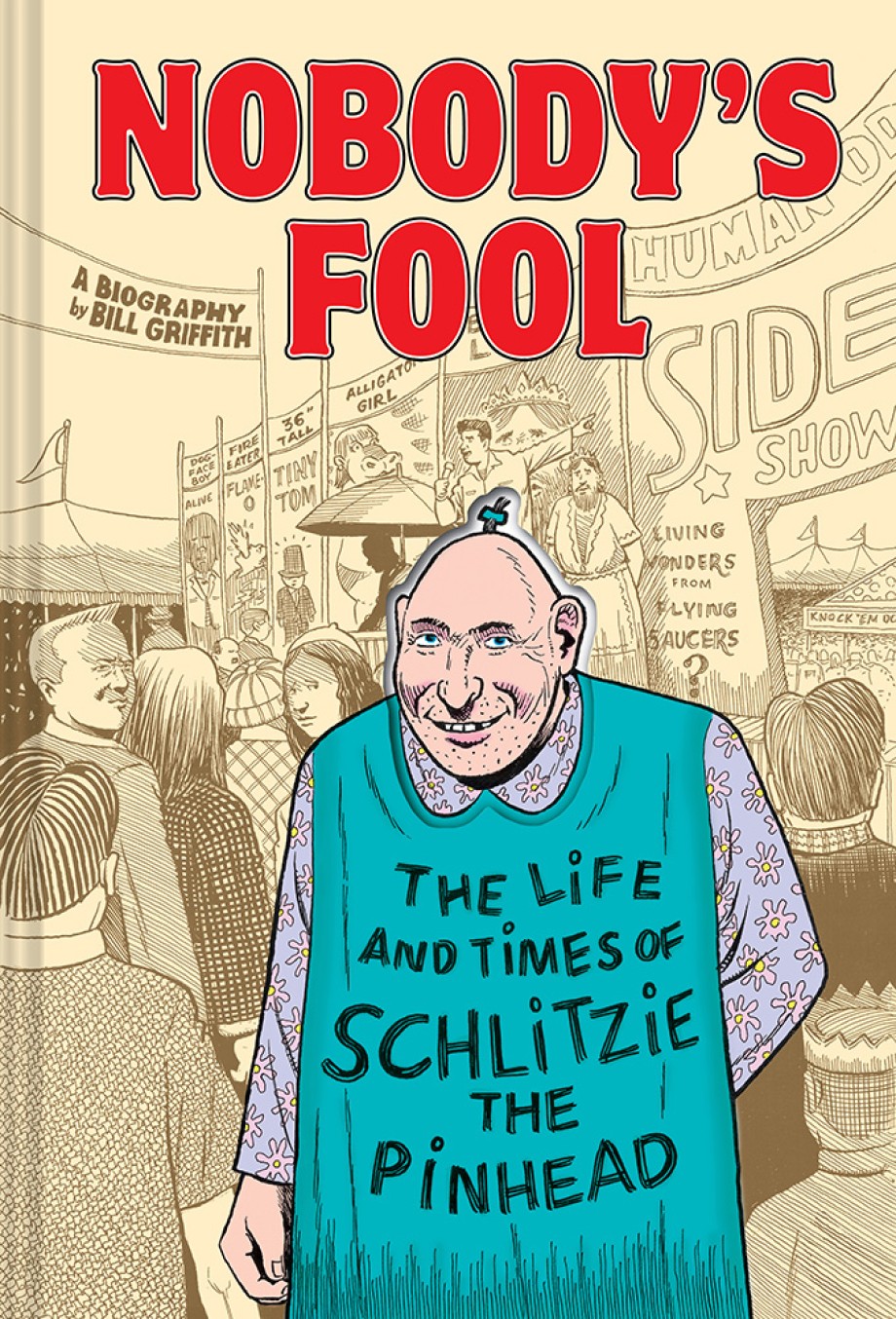 Nobody's Fool
The Life and Times of Schlitzie the Pinhead
Ebook
Price: $18.65
Available from:
Additional formats:
Publication Date: March 19, 2019
Imprint: Abrams ComicArts
ISBN: 9781683354529
Page Count: 256
Illustrations: Full-color illustrations throughout
Rights: World
Nobody's Fool follows the story of Schlitzie's long career—from Coney Island and the Ringling Bros. Circus to small-town carnivals and big-city sideshows—which is one of legend. Today, Schlitzie is most well-known for his appearance in the cult classic Freaks. The making of Freaks and Schlitzie's role in the film is a centerpiece of the book. In researching Schlitzie's life (1901–1971), Griffith has tracked down primary sources and archives throughout the country, including conducting interviews with those who worked with him and had intimate knowledge of his personality, his likes and dislikes, how he responded to being a sideshow "freak," and much more. This graphic novel biography provides never-before-revealed details of his life, offering a unique look into his world and restoring dignity to his life by recognizing his contributions to popular culture.

Praise
"The underlying message of Nobody's Fool? I get it—underneath our grandiose opinions of ourselves we're all pinheads and freaks! Nobody's Fool is boffo! The best graphic novel of the year!"

R. Crumb —
2 STARRED REVIEWS

"Griffith's graphic biography of sideshow "freak" Schiltzie the pinhead is a captivating labor of love that integrates American sideshow history and autobiographical segments drawn from Griffith's life and research process . . . an astonishing life, beautifully told. Or, as Schlitzie would say, it's boffo!"

Booklist, Starred Review —
"A tender biographical tribute to an artist's inspiration."

Kirkus Reviews —
"With dense cross-hatching and lively, expressive character design, Griffith's art straddles the line between absurdity and realism. Griffith gets at the central paradox at the heart of freak shows: while exploitative and demeaning, the shows created a loving, tight-knit community... Much like in Freaks, the revelation found in this illuminating work is that the true monsters are the "normal" people who line up to laugh at or abuse Schlitzie."

Publishers Weekly, Starred Review —
"…virtuoso comic-strip artist Bill Griffith gives voice to a true outcast — the sideshow attraction born Simon Metz (probably) in the Bronx (probably) in 1901. He fills the biographical lacunae with vivid info on the sideshow life, Hollywood in the '30s, and linework so rich you could eat it… this is an uplifting, wonderfully humane book."

The New York Times —
"Griffith is renowned for his absurdist comic strip Zippy the Pinhead, inspired by Schlitzie's iconic image, and on some level this biography seems to be an attempt at restoring some dignity to a life he's mined for his own purposes. He succeeds wonderfully."

Library Journal —
"This is the book Bill Griffith was destined to make. The tale of Schlitzie the Pinhead is one of surprising triumph—an uplifting and heartfelt portrait of a simple man who finds joy in the strangest of lives. Nobody's Fool is a brilliant and fascinating work by a master storyteller. Bill Griffith is a comics treasure!"

Derf Backderf, My Friend Dahmer and Trashed —
"Bill Griffith is amazing. While continuing to create one of the best daily comic strips, he has also produced a tour de force graphic novel. Nobody's Fool is wonderfully told with affectionate detail and exquisite pen lines—an obvious labor of love."

Patrick McDonnell, Mutts cartoonist —
"Bill Griffith's artistic investigation into the real life of Schlitzie Surtees in Nobody's Fool is as heartbreaking and poignant as his Zippy the Pinhead is hilarious and clever. The biography manages to be both gorgeous and tragic, a warts-and-all exploration of how this country has treated those with disabilities and challenges, while also being a meditation on the ephemerality of fame. The questions Griffith raises about the nature of exploitation, acceptance, and quality of life are haunting. A masterpiece of the medium."

Jake Tapper, anchor and chief Washington correspondent, CNN —
"A masterpiece of absurdity and humanity. After all these years Schlitzie still triggers laughter and tears."

Steve Heller, Print —
"Griffith is a champion of the overlooked and the out of place, and also an outstanding researcher . . . This kindhearted and thoroughly interesting tribute to the man who inspired Griffith's Zippy is also a history of 20th-century American culture and social mores."

Christian Science Monitor —
"In Nobody's Fool, published by Abrams ComicArts, Mr. Griffith has achieved a crowning achievement in the comics medium . . . This is one of those remarkable graphic novels that truly takes your breath away. It shares a space with the best that the comics medium has to offer. It's a utterly original and distinctive work of art . . . In the hands of a masterful cartoonist, profound beauty can be found in the darkest of places."

Comics Grinder —
"The book is a work of arduous, exhaustive research… the accurate illustrations and sensitivity of the author's drawings bring the reader into the story."

The Brooklyn Daily Eagle —
"Griffith has created a tour de force and provided an honest and dignified, but also playful, tribute to Schlitzie…but take in the complexities of Schlitizie's situation and make sure his experience means something now."

The Beat —
"…a sweetly compelling origin story."

The Village Voice online —
About the author
Bill Griffith is the creator of the syndicated daily comic strip Zippy. Griffith's prolific output has been included in such publications as the Village Voice, National Lampoon, and the New Yorker. According to Bartlett, Griffith coined the popular phrase "Are we having fun yet?" He lives in Hadlyme, Connecticut.