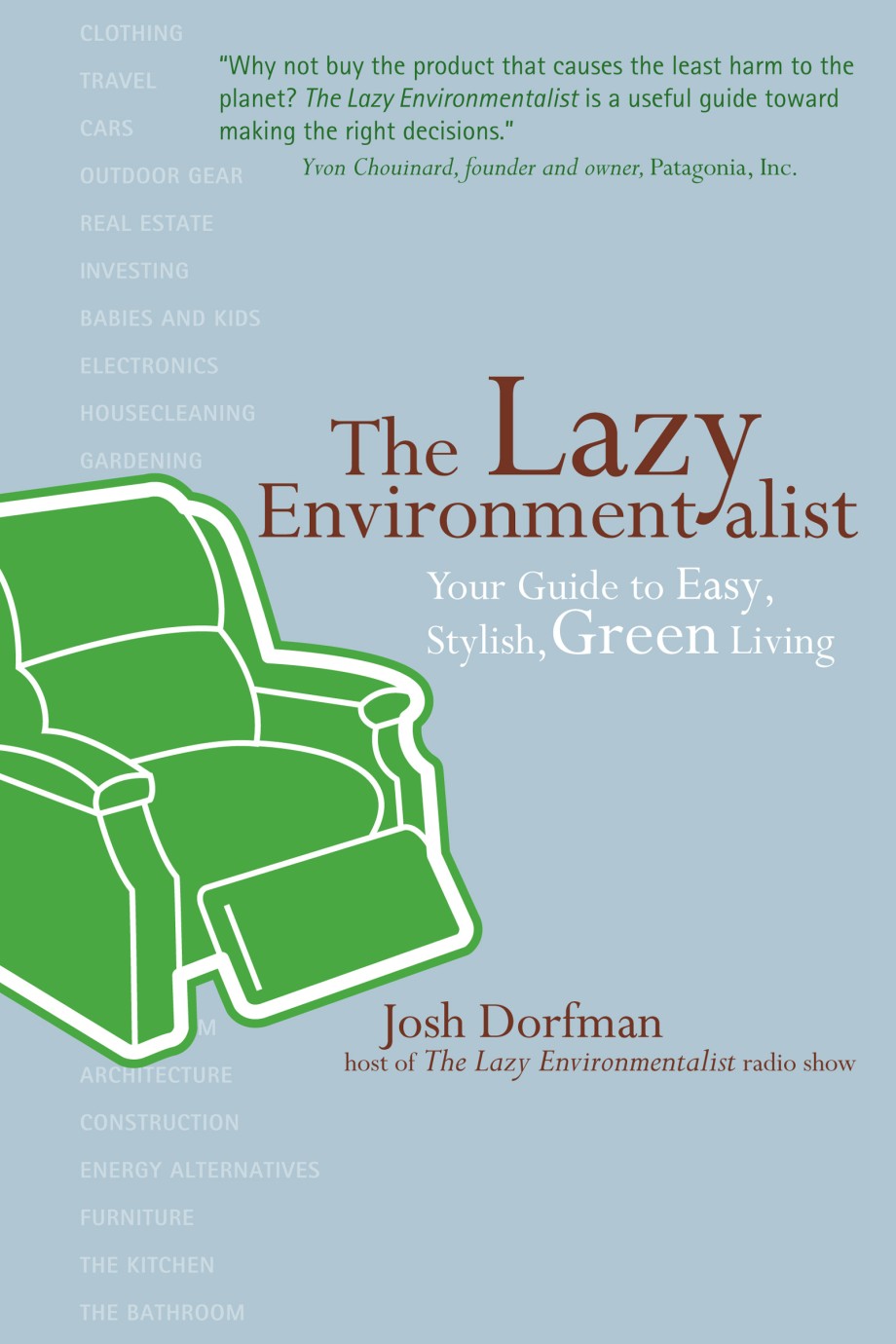 The Lazy Environmentalist
Your Guide to Easy, Stylish, Green Living
Ebook
Price: $13.46
Available from:
Additional formats:
Publication Date: December 31, 2010
Imprint: Stewart, Tabori & Chang
Trim Size: 5 1⁄2 x 8 1⁄4
ISBN: 9781613120439
Page Count: 272
Illustrations: 0 BW Illu 0 BW Photos 0 Color Illu 0 Color Photos
Rights: World/All
Josh Dorfman's perspective is a leading voice for anyone involved in new consumer-based environmentalism."—Tom Arnold, TerraPass
We can't all camp out in old-growth forests, lying down in front of the bulldozers. And it's not only that we're too busy: Some of us just don't want our fabulous threads to get caked with mud.
But that doesn't mean we don't care passionately about the environment. Luckily, the days when becoming environmentally aware entailed eating bread that tasted like dirt, wearing clothes that looked like frayed burlap sacks, and spending summer vacations assailing whaling ships with Greenpeace are passing away. It is now perfectly possible (and increasingly easy) to be well fed, well coiffed, well dressed, and well traveled while remaining deeply committed to an ecologically sustainable lifestyle.
In The Lazy Environmentalist, Josh Dorfman—host of the Sirius Satellite Radio program of the same name—provides comprehensive guidance to fashion-forward consumers who are as concerned about the long-term health of our planet as they are about the design of their bathroom fixtures. Covering topics that range from clothing to electronic gadgetry, home decor to recreation, and gardening to financial investment, Dorfman lets us know which trends to watch and which eco-conscious products—cars, toothbrushes, cell phones, pet accessories—to buy. Green, it turns out, can be an extremely stylish color.
Every day most of us have to choose between products that either look the same or do the same thing. So why not buy the product that causes the least harm to the planet? The Lazy Environmentalist is a useful guide toward making the right decisions."
- Yvon Chouinard, founder and owner, Patagonia, Inc.
"Everything you always wanted to know about greener living but were afraid to spend the rest of your life researching. Here's a great start."
- Chris Paine, writer and director, Who Killed the Electric Car?
"Instead of thinking about it ... DO IT. Buy this amazing book and get the scoop on products and ways to take care of this great planet. Become part of the movement that is loving the earth the way it truly deserves to be cared for!"
-Mariel Hemingway, actress and author of Healthy Living from the Inside Out
About the author
Josh Dorfman is the creator and host of The Lazy Environmentalist, a nationally broadcast radio show on Sirius Satellite Radio's LIME Network that informs consumers about cutting-edge, eco-friendly products and services. Also the founder of Vivavi, a furniture company that focuses on merging modern style with environmental awareness, Dorfman lives in Brooklyn, New York.