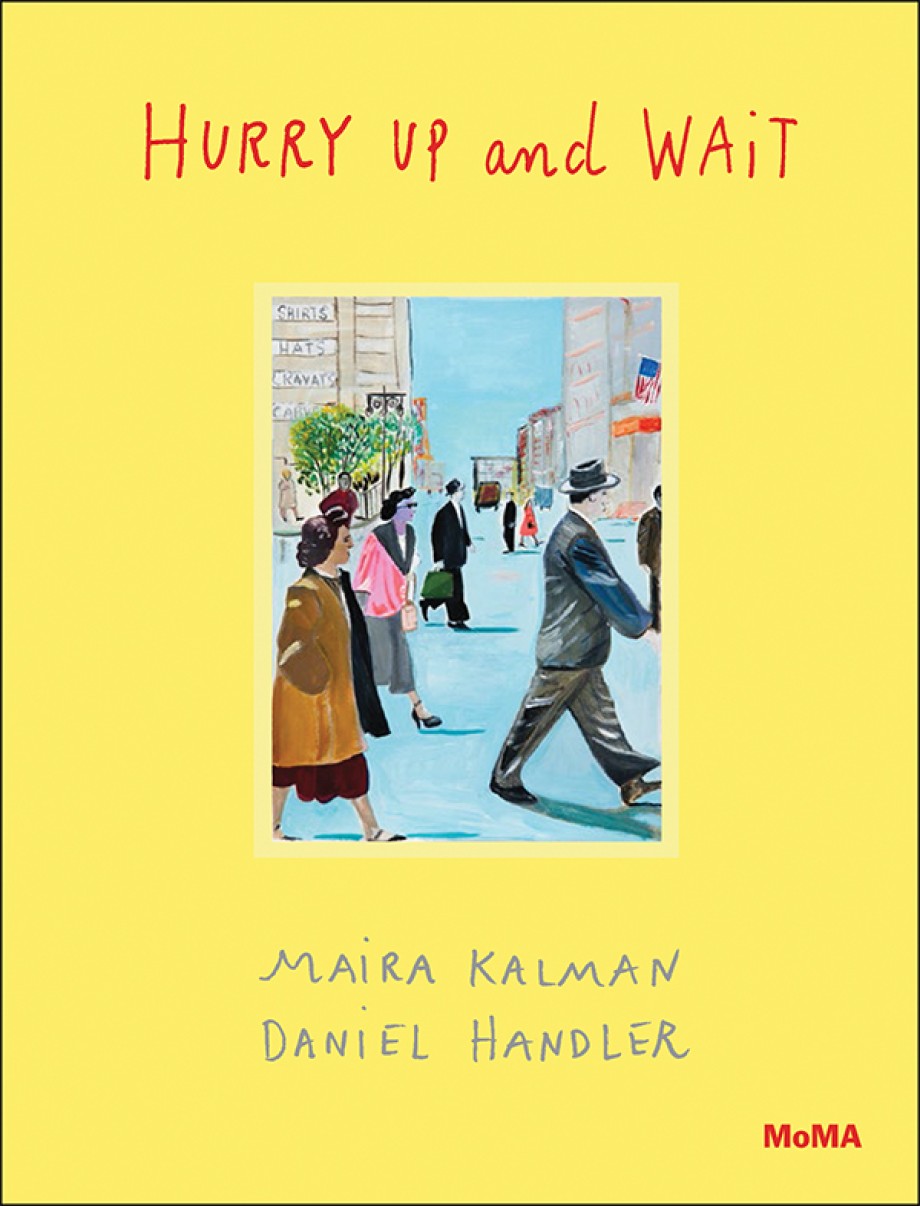 Hurry Up and Wait
Hardcover
Price: $15.95
Also available from:
Publication Date: April 7, 2015
Imprint: Museum of Modern Art, New York
Trim Size: 6 x 8
ISBN: 9780870709593
Page Count: 64
Illustrations: 38 photographs and 10 illustrations by Maira Kalman
Rights: North America
You're supposed to stop and smell the roses
but truth be told it doesn't take that long
to smell them. You hardly have to stop.
You can smell the roses and still have time to
run all those errands before the sun goes
down and it's dinner time.
Hurry Up and Wait is the second volume in a new series of collaborations between renowned artist and bestselling author Maira Kalman, New York Times bestselling writer Daniel Handler (a.k.a. Lemony Snicket), and The Museum of Modern Art, New York. This time a whimsical collection of images captures people in motion—or not. In snapshots by some of the world's most celebrated photographers, some people stride forth, dash across streets, race on bicycles, and jump over puddles, while others form snaking lines, daydream on park benches, and linger on sidewalks with friends. So what's the rush? With 11 vibrant new illustrations by Kalman inspired by the photographs, and thought-provoking prose by Handler that ponders the merits of action, Hurry Up and Wait will charm readers of all ages.
Praise
"An accessible introduction to looking at works of art and seeing the possibilities beyond the literal image, ideal for sparking ideas for writing or art assignments."

School Library Journal, Jessica Cline, New York Public Library —
"Kalman's rich gouaches delight, and viewers may find themselves unaccountably moved, even haunted, by the images."

Publishers Weekly —
About the authors
Maira Kalman is a bestselling and award-winning artist, illustrator, and writer whose books include 13 Words (with Daniel Handler), And the Pursuit of Happiness, and The Elements of Style. Her artwork has been the subject of 14 solo exhibitions and has also been featured in group exhibitions in major museums.
Daniel Handler is the internationally renowned author of the A Series of Unfortunate Events series, whose books have sold over 60 million copies in 44 languages.