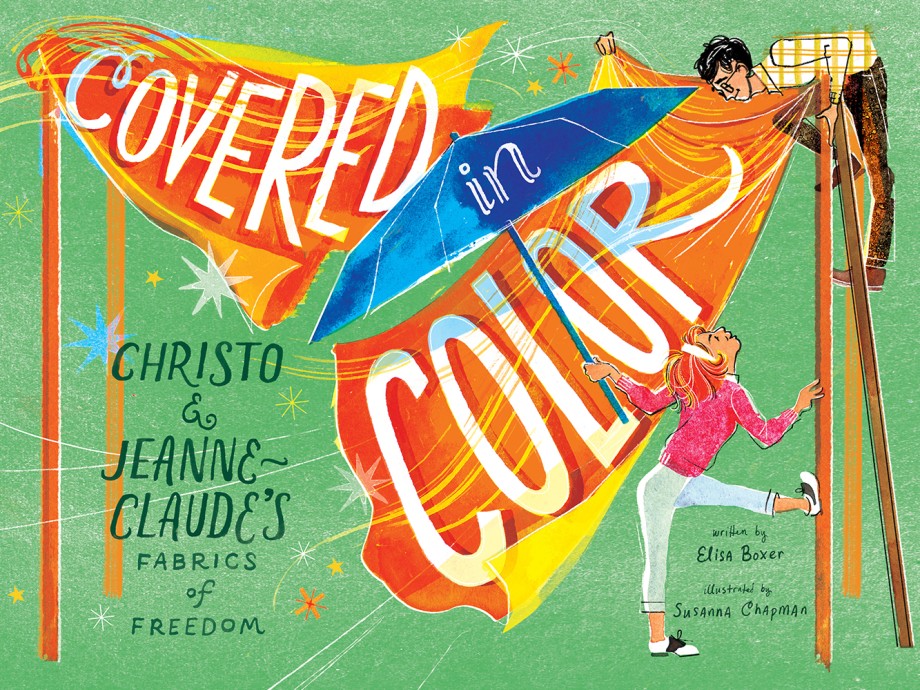 Covered in Color
Christo and Jeanne-Claude's Fabrics of Freedom
Ebook
Price: $15.54
Available from:
Additional formats:
Publication Date: August 16, 2022
Imprint: Abrams Books for Young Readers
ISBN: 9781647003746
Page Count: 48
Rights: World/All
A vibrantly illustrated biography about visionary artist Christo, encouraging creativity, perseverance, and appreciating the beauty all around us
Christo (1935–2020) and Jeanne-Claude (1935–2009) are renowned for their large-scale, ambitious art installations that wrapped landmarks and swaths of land in fabric, including Berlin's Wrapped Reichstag, Paris's The Pont Neuf Wrapped, and concluding with New York City's The Gates in Central Park (2005).
This lively biography chronicles Christo's humble childhood in Soviet-controlled Bulgaria—under a regime that suppressed individuality and creativity—to his international fame as a bold (and controversial) innovator in the art world. Christo discovered an early love of art and found a way to make a living out of his passion by wrapping bottles, cans, stacks of magazines, and even an air conditioner. When he met his wife, Jeanne-Claude, they moved to New York City as undocumented immigrants and became equal partners in both life and work—he, the artist, and she, the dealmaker.
Together, Christo and Jeanne-Claude made elaborate, visually stunning installations that transformed public spaces around the world, all free to the public. Christo never explained why he felt compelled to wrap things in fabric—rather, his work celebrated individual interpretation and the simple joy of seeing something familiar in a new way. And though each work was temporary, their awe-inspiring designs, uniting nature with the manmade, stayed with viewers long afterward. Covered in Color inspires readers to appreciate the beauty around us, however fleeting, and to push the boundaries of "possible."

Praise
**STARRED REVIEW**
"This one is perfect for storytimes and interdisciplinary curriculum units alike. . .Draped in striking hues and compelling from cover to cover—a gem of a biography!"

Kirkus Reviews —
"Chapman's fluid, rainbow-hued, predominantly watercolor and gouache illustrations burst with movement—an ideal accompaniment befitting the artists' aesthetic."

Publishers Weekly —
"The scale of the creations alone make for interesting study; young readers will be enthralled by the thinking and planning that went along with these massive undertakings."

School Library Journal —
"Chapman's loose, diaphanous illustrations capture the whimsy and exuberance of Christo and Jeanne-Claude's art."

The Horn Book —
About the author
Elisa Boxer is an Emmy-winning journalist and columnist whose work has been featured in publications including The New York Times and Fast Company. She has reported for newspapers, magazines and TV stations, and has a passion for telling stories about people finding the courage to create change. Elisa lives with her family in Maine. Susanna Chapman is an illustrator, muralist, and designer. Her illustrated picture books include Elizabeth Warren's Big, Bold Plans; The Girl Who Ran; and Ada and the Galaxies. She lives in Nashville.