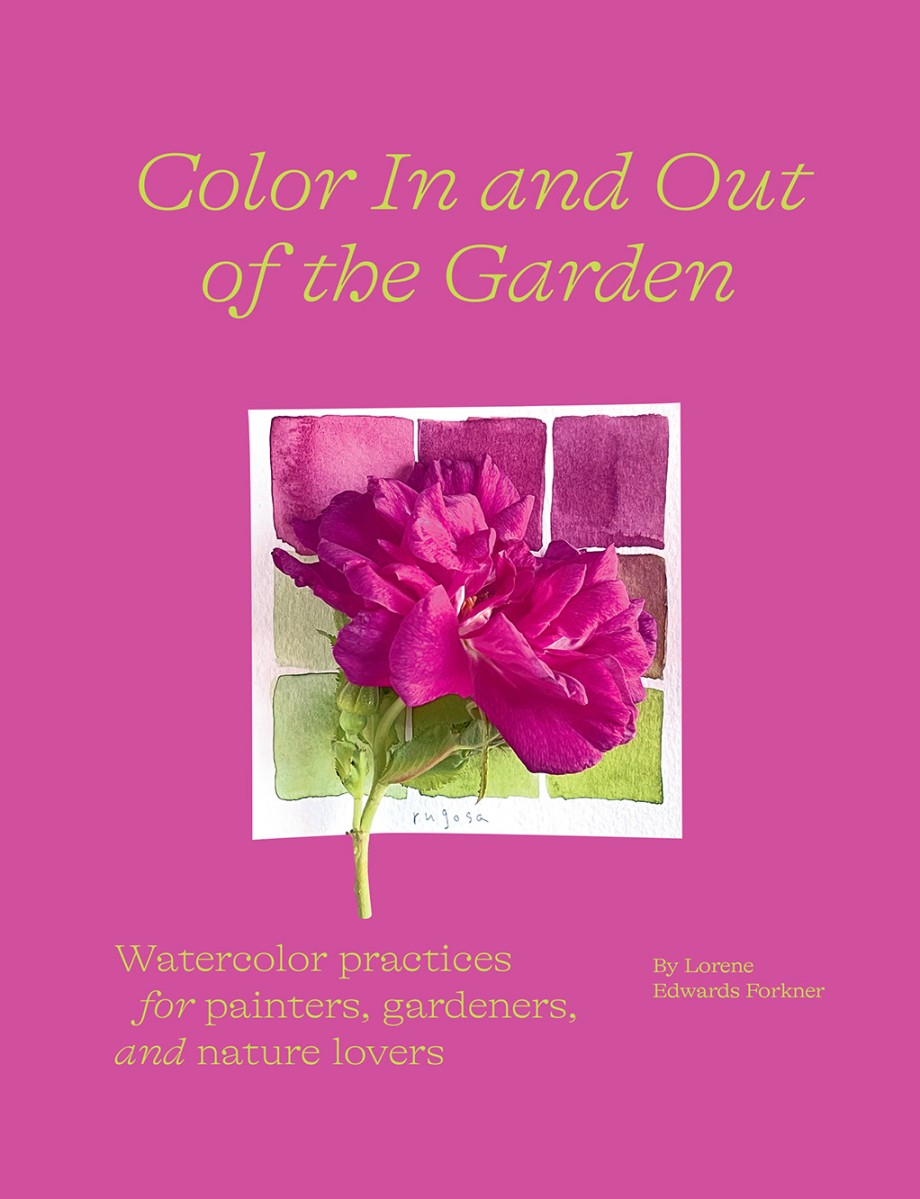 Color In and Out of the Garden
Watercolor Practices for Painters, Gardeners, and Nature Lovers
Hardcover
Price: $24.99
Also available from:
Additional formats:
Publication Date: April 26, 2022
Imprint: Abrams Books
Trim Size: 7 x 9
ISBN: 9781419758768
Page Count: 192
Illustrations: 160 color images throughout
Rights: World/All
Capture all the hues of the garden with a few simple brushtrokes and Lorene Edwards Forkner's inspirational advice on observing color in nature, painting with watercolor, and gardening with joy and intention
If you love flowers and the rich colors of the garden, Color In and Out of the Garden is for you. Artist and garden expert Lorene Edwards Forkner shares her simple watercolor techniques for capturing every lovely hue in a miniature artwork. Along the way, she also offers practical advice on topics from painting (no matter your skill level) to gardening mindfully to celebrating life. This delightfully useful and addictively readable little book may just inspire you to begin keeping a garden journal of your own, so you can record favorite plants with just a few simple brushstrokes.
Arranged by color, each chapter helps readers sharpen their powers of observation and capture nature's lovely palette. Plant profiles and personal reflections mingle with creative prompts for making a simple watercolor that helps focus one's attention. Both a mindfulness exercise for seeing garden colors and an easy guide to reproducing them on the page, Forkner guides you through the spectrum with her own watercolors while offering inspiration and a delightful garden respite from everyday stress.
Praise
"Color In and Out of the Garden pays homage to plants and processes, to seeing and believing in small acts of creativity as a means connecting to ourselves and the natural world. A gem of a book."


author of Cultivated: The Elements of Floral Style, Christin Geall —
"Color In and Out of the Garden so honestly taps into our visceral yearning to experience nature. Lorene Edwards Forkner's watercolor studies give the gift of sight and insight, inspiring any of us to make a personal practice of observing the palettes of our environment—during any season and at any place on this planet."


Founder/Creative Director, Slow Flowers Society, Debra Prinzing —
"Color In and Out of the Garden is a rich visual feast for gardeners and artists alike. Lorene Edwards Forkner brings horticultural wisdom to the daily, restorative practice of painting. With a few tubes of paint and a bit of time and attention, she immerses herself in the wonder that can be found in her own backyard. What began as a hundred-day project in the aftermath of a devastating loss has become a personal journey, sustained over many years. With this gem of a book, we are all invited to take that journey with her."


New York Times bestselling author, Amy Stewart —
"From the evocative title of this heavenly missive, you might think you need to be a gardener or a painter to harvest the full richness of its many gifts, but you do not. You need only be human—as worried and full of wonder, as pained and patient (or impatient), peculiar and particular as all of us. This collection of careful color studies of botanical (flowers, leaves, seeds, stems) and botanically adjacent (think time worn stones, beach bleached shells) treasures is offered out to us by the knowing hands of a gardener, the refined eye of an artist, the time-tested taste of a cook, and the heart of a compassionate mother. On one level it is an encouragement to practice being present to practice paying attention and taking good care in and of the natural world, to practice really seeing; but on its highest level, it is a much needed (longed for?) reminder born of both joy and deep grief to live your own days (and thus life) in full color, in and out of the garden. A plea to savor and cherish every last living vibrant cell of it in the process: the extraordinary, the quotidian, the steadfast constants, and the heartbreakingly fleeting. A sometimes funny, sometimes sobering prayer to notice and celebrate all the variations and permutations of green (for survival), red (for ripeness), pink (for extravagance), yellow (for luminosity), orange (for energy) and brown—the foundation of all living things—in all their colorful diversity. As Lorene might say, "Yes, please." See for yourself. You will never see your garden, food, art, sky, ground (life) quite the same again."

creator of the Cultivating Place, Conversations on Natural History and the Human Impulse to Garden p, Jennifer Jewell —
"While I walk away from this book with some [ideas for] plants I'd like to find room for (and a new appreciation of the role of color in my garden), the real lessons of the book are in the insights gleaned—and so generously shared with us—from blending a daily painting practice with a lifelong love of plants. Edwards's poignant wisdom leaves me feeling grounded, grateful, and in really good company, whether with her words or with the living things right outside my door."

gardener and author, Johanna Silver —
"Lorene Edwards Forkner's Color In and Out of the Garden is a gentle call to attention, 'looking in and looking out.' Open it anywhere to find yourself transported to the lush offerings of a garden, to 'seeing' color you hadn't noticed, and the poetry, philosophy, and natural history of plants: revelations with life lessons that will expand your view."

creator of Improvised Life, Sally Schneider —
About the author
Lorene Edwards Forkner is the author of five books and the garden columnist for the Seattle Times, where her column is read by more than 700,000 gardening enthusiasts.