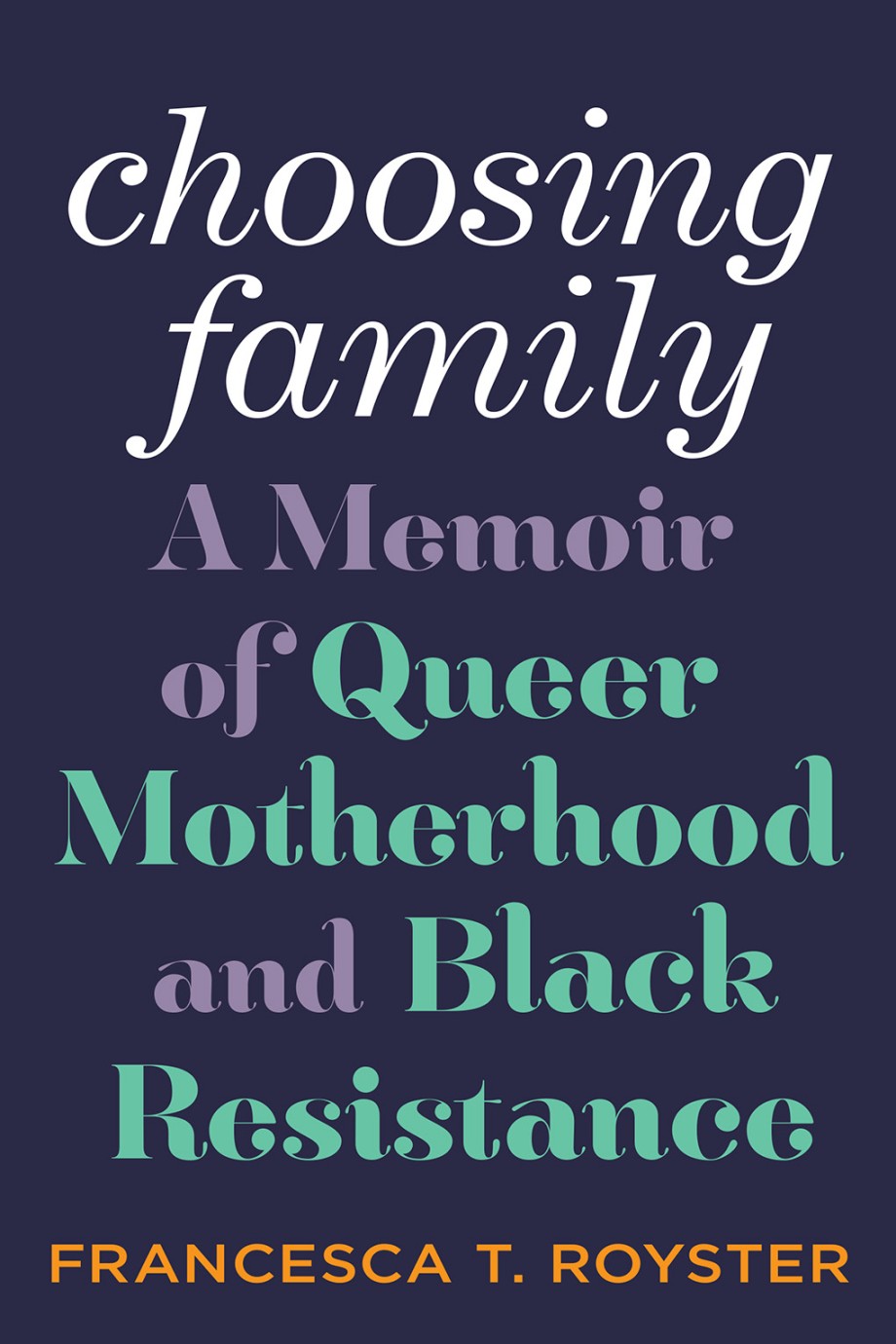 Choosing Family
A Memoir of Queer Motherhood and Black Resistance
Ebook
Price: $20.21
Available from:
Additional formats:
Publication Date: February 7, 2023
Imprint: Abrams Press
ISBN: 9781647003760
Page Count: 272
Rights: World/All
A brilliant literary memoir of chosen family and chosen heritage, told against the backdrop of Chicago's North and South Sides
As a multiracial household in Chicago's North Side community of Rogers Park, race is at the core of Francesca T. Royster and her family's world, influencing everyday acts of parenting and the conception of what family truly means. Like Maggie Nelson's The Argonauts, this lyrical and affecting memoir focuses on a unit of three: the author; her wife Annie, who's white; and Cecilia, the Black daughter they adopt as a couple in their forties and fifties. Choosing Family chronicles this journey to motherhood while examining the messiness and complexity of adoption and parenthood from a Black, queer, and feminist perspective. Royster also explores her memories of the matriarchs of her childhood and the homes these women created in Chicago's South Side—itself a dynamic character in the memoir—where "family" was fluid, inclusive, and not necessarily defined by marriage or other socially recognized contracts.
Calling upon the work of some of her favorite queer thinkers, including José Esteban Muñoz and Audre Lorde, Royster interweaves her experiences and memories with queer and gender theory to argue that many Black families, certainly her own, have historically had a "queer" attitude toward family: configurations that sit outside the white normative experience and are the richer for their flexibility and generosity of spirit. A powerful, genre-bending memoir of family, identity, and acceptance, Choosing Family, ultimately, is about joy—about claiming the joy that society did not intend to assign to you, or to those like you.
Praise
"Affecting . . . Insightful and reflective, this is a moving tribute to the power of chosen family."


Publishers Weekly —
"Memorable and fluid, professor Francesca T. Royster's memoir Choosing Family blends her family's history with her story of adopting an infant girl, juxtaposing personal life with political life and allowing each to illuminate the other. . . . In the lyrical memoir, the personal and political unite in a queer, interracial couple's celebration of
choosing to adopt an infant."


Foreword Reviews —
"The book builds on an intergenerational lineage of powerful women whose strength Royster brings to her own mothering. . . . A potent love letter to community in all its forms."


Kirkus Reviews —
"[An] evocative, memorable memoir . . . This reflection on family dynamics is an important addition to reading material on queer parenting, motherhood, and racial dynamics in modern society."

The Bay Area Reporter —
"The latest book by Francesca Royster will have you Feeling. The. Love. This insightful memoir celebrates the author's chosen family, which includes her white wife and their Black adopted daughter, and illustrates the ups and downs of adoption, parenthood and queer, interracial relationships."


Ms. Magazine —
"Francesca Royster's moving memoir is a testament to creating the life and the family that you want . . . The book wonderfully illustrates that readers can give themselves permission to live life on their own terms and that family is what you make it."

Sisters from AARP —
"Choosing Family is a memoir as a chorus. Not only do we hear the stories of generations of Black people in Chicago, mothers and grandmothers, who fought to make their way in the world, but Royster shows us how she survived and thrived when her very being as a queer Black woman pushed her to the margins. It turns out that chosen families are the key, and the diversity, dignity, and care they provide save lives and make remarkable storytelling."

Salamishah Tillet, Pulitzer Prize–winning writer and author of In Search of The Color Purple: The St —
"Royster's evocative and profound memoir will make you believe in love again. It will make you know that love—in its ethical, courageous, vulnerable, and committed forms—can lead us to freedom. And for that reason, this book is absolutely necessary and right on time. I'm grateful."

Imani Perry, National Book Award–winning author of South to America: A Journey Below the Mason-Dixon —
"In Choosing Family, Royster explores the rich legacies of queer connection, storytelling, and survival enacted by Black mothers. Eschewing dominant narratives of the nuclear family as an ideal, she joins her story with a chorus of others in the past. Her memoir reaches into history and beyond it to testify to the beautiful, varied, and profound traditions of Black love and family-making."

Anna Malaika Tubbs, New York Times bestselling author of The Three Mothers: How the Mothers of Marti —
"This is the most beautiful love story I've read in a long time. Royster describes and cultivates a love that moves across generations, across loss, across doubt, across every social construct of separation [and] dwells in the lessons of the small and large revolutionary choices involved in being a daughter, a partner, an aunt, a community member, and a seeker."

Alexis Pauline Gumbs, coeditor of Revolutionary Mothering: Love on the Front Lines —
"A joyful and compassionate memoir. . . . A beautifully written work of personal reflection, Choosing Family is actually a guide to life for those of us who are interested in learning the meaning of resilience and finding happiness wherever we land."

Emily Bernard, author of Black Is the Body: Stories from My Grandmother's Time, My Mother's Time, an —
"In this powerful, incisive, and deeply personal memoir, Royster explores the beauty and challenges of creating family and the tenets of community necessary to sustain and nurture said family. With precision and heart-wrenching details, she calls into question everything one thinks about generational wisdom, queerness, partnering, parenting, and the consummate fear and the proportional courage that shadow it all. I savored every word."

Cheryl L. West, award-winning playwright of Fannie, Pullman Porter Blues, Before It Hits Home, and J —
"In her memoir, Choosing Family, Royster places herself in conversation with both familial ancestors and intellectual muses in order to make an honest reckoning of her own experiences as a queer Black woman and an adoptive parent. Aptly named, this book highlights the power of choice, particularly when it comes to building family and community of all kinds, and making meaning that serves the future while honoring the past."

Nishta J. Mehra, author of Brown White Black: An American Family at the Intersection of Race, Gender —
"DePaul University professor Francesca Royster provides a look at what family really means . . . Parenthood is complex, and readers will feel Royster's anticipation, joy and deep love, along with her fear. Her writing style has a smooth cadence and makes you feel like you're with her every step of the way as she raises her daughter in a family that is Black, queer and chosen."

BookPage —
About the author
Francesca T. Royster is a native of Chicago's South Side and a professor of English literature at DePaul University in Chicago, where she teaches classes on African American literature and culture, Shakespeare, and gender and queer theory. She is the author of two academic books, Becoming Cleopatra: The Shifting Image of an Icon and Sounding Like a No-No: Queer Sounds and Eccentric Acts in the Post-Soul Era. She received her PhD in English literature from the University of California, Berkeley. Her essays have appeared in the Los Angeles Review of Books, Chicago Literati, and Feminist Studies, among others. She lives in Chicago.