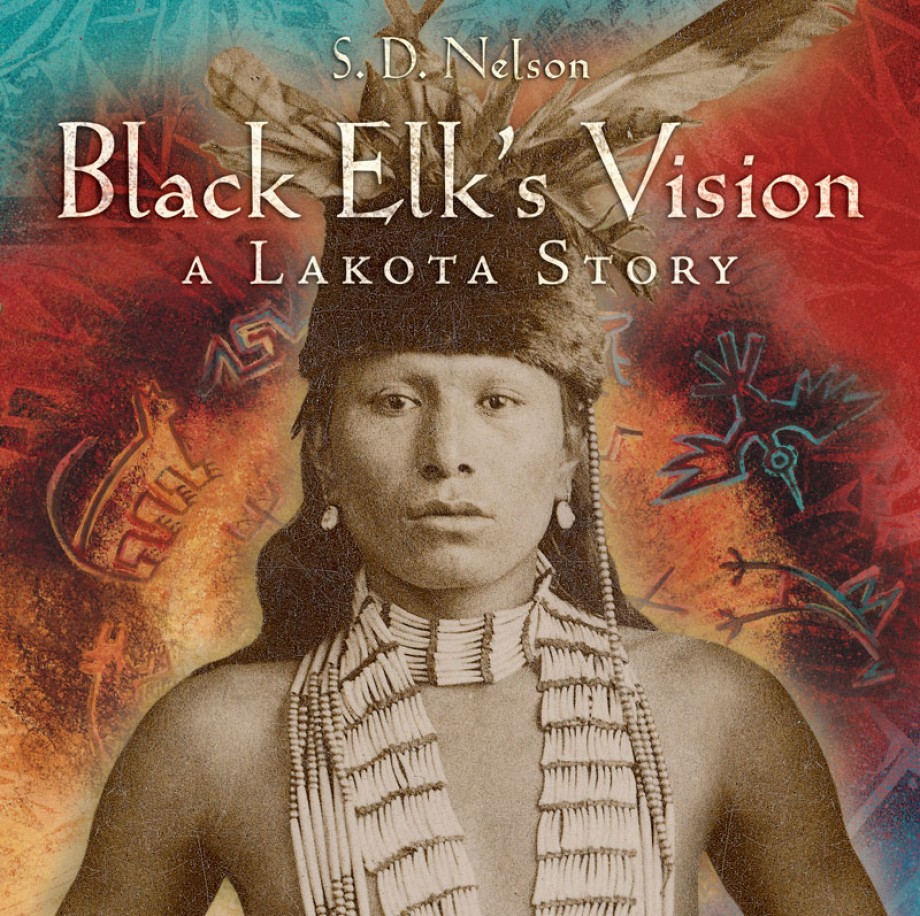 Black Elk's Vision
A Lakota Story
Imprint: Abrams Books for Young Readers
Publication Date: May 6, 2014
Price: $8.96
Trim Size: 10 x 10
ISBN: 978-1-61312-439-0
EAN: 9781613124390
Page Count: 56
Illustrations: 56 pages of full-color illustrations
Format: Ebook
Rights: World/All
Additional formats:
Told from the Native American point of view, Black Elk's Vision provides a unique perspective on American history.
From recounting the visions Black Elk had as a young boy, to his involvement in the battles of Little Big Horn and Wounded Knee, as well as his journeys to New York City and Europe with Buffalo Bill's Wild West Show, this biographical account of Black Elk—an Oglala-Lakota medicine man (1863–1950)—follows him from childhood through adulthood.
S. D. Nelson tells the story of Black Elk through the medicine man's voice, bringing to life what it was like to be Native American in the mid-to-late nineteenth century and early twentieth century. The Native people found their land overrun by the Wha-shi-choos, or White Man, the buffalo slaughtered for sport and to purposely eliminate their main food source, and their people gathered onto reservations. Through it all, Black Elk clung to his childhood visions that planted the seeds to help his people—and all people—understand their place in the circle of life.
The book includes archival images, a timeline, a bibliography, an index, and Nelson's signature art.

Praise for the work of S. D. Nelson
Western Writers of America Spur Storyteller Award
Chicago Public Library Best of the Best
Oppenheim Toy Portfolio Gold Award
"An appealing story full of excitement, warmth, and wisdom." —The Five Owls, starred review
"A fine choice for story hours, this will also find wide curricular use." —Booklist
"A modern-day story in the Sioux tradition of storytelling." —Winston-Salem Journal
"Splendid acrylic artwork captures the action, humor, and spirit of the tale. A solid addition to collections of Native American tales and an enjoyable read-aloud." —School Library Journal
"Nelson pulls it off with his confident style as a storyteller . . . polished illustrations . . . informative, well written." —Kirkus Reviews

F&P level: U
F&P genre: B
About the author
S. D. Nelson is a member of the Standing Rock Sioux tribe of the Dakotas. He is the author of three previous children's books for Abrams. School Library Journal called Gift Horse "fluid in both narrative and illustrations," and Kirkus said Star People was "an exemplary offering." He lives in Flagstaff, Arizona.