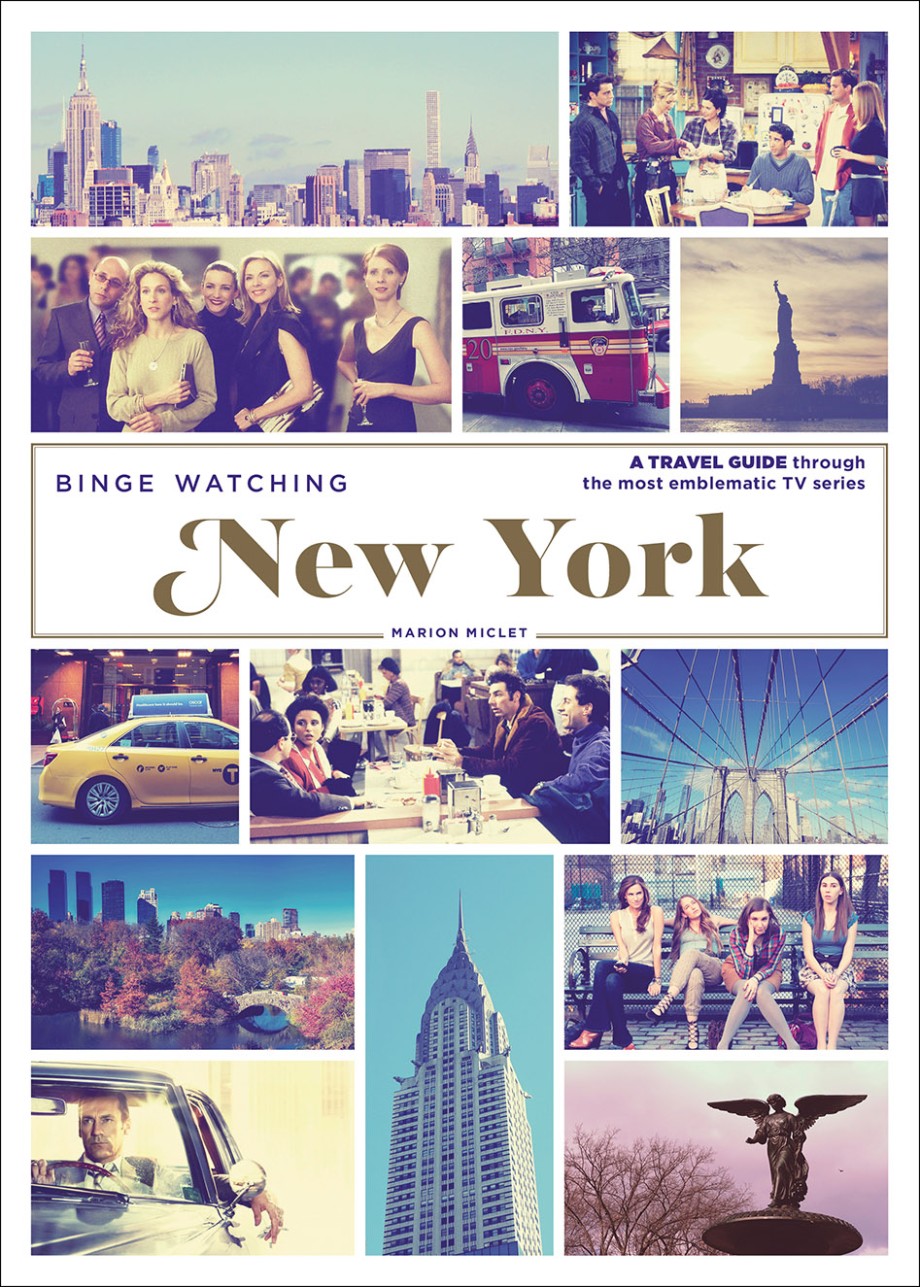 Binge Watching New York
Paperback
Price: $19.95
Also available from:
Publication Date: May 28, 2019
Imprint: Cernunnos
ISBN: 9782374950969
Page Count: 384
Illustrations: 500 color photographs
Rights: North America
Step behind the scenes to discover New York City through its most emblematic television incarnations, from Seinfeld to Billions, in this one-of-a-kind, innovative guide. Order a latte in the West Village coffee shops reminiscent of Friends' Central Perk, travel back in time to visit the iconic Manhattan landmarks of Mad Men, learn the rules of stand-up comedy with Seinfeld in the Upper West Side, enter the hipster heartland of Brooklyn with Girls, and follow Daredevil in Hell's Kitchen or Luke Cage in Harlem...
Countless films have been set in New York, and it is also an incredibly popular backdrop for television series. The city's best-known landmarks, and many bars, restaurants, stores, hotels—even entire neighborhoods—have become extremely familiar to TV viewers. So join us as we uncover these iconic locations and recommend new addresses inspired by the lifestyle of the most beloved fictional New Yorkers.
Easy to navigate, this travel guide is illustrated with exclusive maps and hundreds of photos. All of the chapters are constructed as original tours, organized by series and themes. It's all in here: the New York you have come to know through the eyes of your favorite characters and the scary, funny, emotional, and unforgettable TV moments.
Wanna be the hero of your own adventure? Let our unmatched enthusiasm for New York series be your guide.
BONUS: interactive maps accessible online
CONTENTS:
1. The American Dream: Billions, How to Make It in America, 2 Broke Girls, The Get Down, The Deuce, The Marvelous Mrs. Maisel
2. Mad Men: Suit up in Midtown Manhattan
3. Gossip Girl and Odd Mom Out: Class is out on the Upper East Side
4. Dating and romance: How I Met Your Mother, Master of None, Will & Grace, The Mindy Project, The Affair
5. Sex and the City: Strutting through Soho, the Meatpacking District, and Chelsea
6. Girls: The hipster heartland of Greenpoint, Williamsburg, and Bushwick
7. Cops and criminals: Law & Order, NYPD Blue, Shades of Blue, Brooklyn Nine-Nine, The Night Of
8. Heroes and superheroes: Rescue Me, The Knick, Nurse Jackie, Gotham, Luke Cage, Jessica Jones
9. Seinfeld: Giddy Up on the Upper West Side
10. Friends: The one where we explore the West Village
11. Only in New York: Bonus quiz
ABOUT THE BINGE WATCHING COLLECTION
The Binge Watching collection takes you on an exploration of a city through its most emblematic TV series. The unassuming supporting character is the iconic location where compelling shows are set. Discover the essence of New York, London, Los Angeles or Chicago, as depicted in the golden age of television. The books are organized by chapters focusing on major TV shows, neighborhoods and themes, with an introduction to the sociocultural significance of the area portrayed on the small screen. They present a guided tour of must-see filming locations and personalized recommendations to get acquainted with the lifestyle of your favorite characters. With the passion of a fan and the eye of an anthropologist, the author accompanies you behind the scenes to deliver an informative, entertaining, interactive, and unique visit to a place that is so much more than a backdrop.
Also Available:
Binge Watching London
Next volumes:
Binge Watching Los Angeles
Binge Watching New Orleans
Praise
"Much has been written about how we see New York City on the big screen. . . . But what about the small screen? From

Sex and the City

and

Friends

to

The Sopranos

and

NYPD Blue

, many a classic television series has made New York its home . . . . In her new book

Binge Watching New York

, author Marion Miclet explores the nooks and crannies of the New York we know from the teevee (and she performs similar geographic archaeology in its companion book,

Binge Watching London

). " –

Flavorwire

Flavorwire —
"I always find it interesting when a writer tries to reinvent something that once dominated culture and make it relevant to a new generation. How can you make a travel guide fun in a way that makes it interesting to young people? Merge the very concept with something that has become a key part of modern culture: binge watching." --Brian Tallerico, RogerEbert.com.

RogerEbert.com, Brian Tallerico —
About the author
Marion Miclet is a French-Irish writer who lives in London. She studied American film and television history at UCLA and the University of Pennsylvania and is passionate about editorial recommendations for film and television content. Since 2015, she has worked at Sky TV in London.