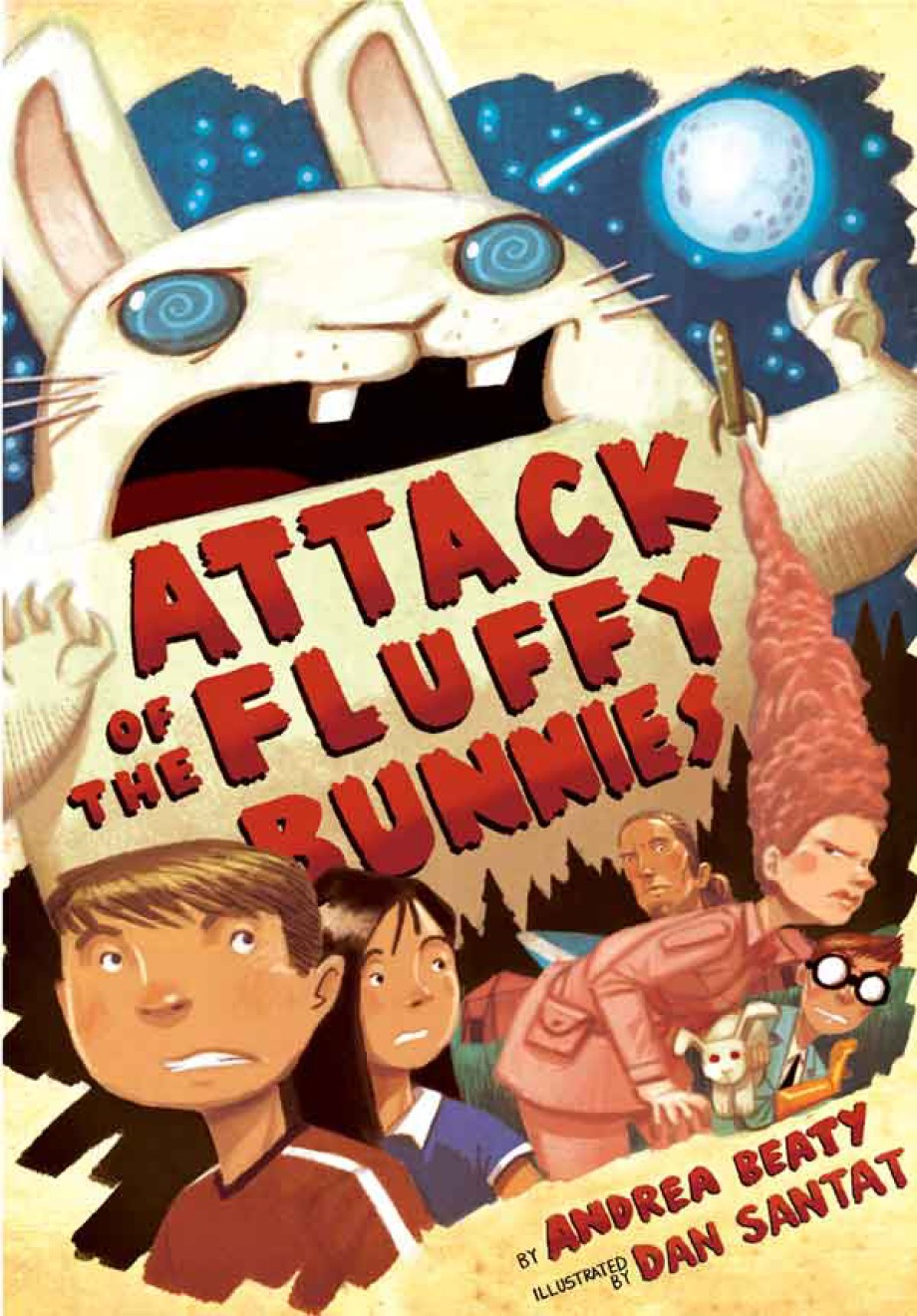 Attack of the Fluffy Bunnies
Ebook
Price: $7.16
Available from:
Publication Date: December 31, 2010
Imprint: Amulet Books
ISBN: 9781613120057
Page Count: 192
Illustrations: 15-20 B&W illustrations
Rights: North American English
When Joules and Kevin Rockman's parents drop them off at Camp Whatsitooya on their way to an International Spamathon, the twins expect a summer of marshmallows, campfires, and canoe trips. What they do not expect is to defend the earth from an invasion of sugar-addicted, murderous, seven-foot-tall rabbits from another galaxy. Happily, the Rockman twins, veteran watchers of the Late, Late, Late Creepy Show for Insomniacs, are unusually well-prepared for dealing with monstrous beings from outer space. If only their fellow campers were so lucky.
Andrea Beaty, author of several very funny picture books and a mysterious novel, here reaches new heights of hilarity and verbal dexterity in a novel sure to become a camp—ba-dum-dum—classic.
About the author
Andrea Beaty was raised in a small southern Illinois town, where her family ran a tiny grocery store. When she wasn't roaming the nearby fields with her brothers and sisters, she was reading Nancy Drew mysteries up in the branches of a maple tree. Andrea now lives outside Chicago with her family. She is the author of When Giants Come to Play, illustrated by Kevin Hawkes, and Iggy Peck, Architect, illustrated by David Roberts. Andrea blogs about funny books for kids at www.ThreeSillyChicks.com. Learn more about her at www.AndreaBeaty.com. Dan Santat's Guild of Geniuses (2004) won the Marion Vannett Ridgeway Award for best debut author/illustrator. He has since illustrated The Secret Life of Walter Kitty, by Barbara Jean Hicks; the Otto Undercover series, by Rhea Perlman; The Ghosts of Luckless Gulch, by Anne Isaacs; and Chicken Dance, by Tammi Sauer. He is also the creator of the Disney animated series The Replacements, and is at work on a graphic novel, The Domesticated Four. He lives with his wife and two children in Southern California. Visit him at www.dantat.com.