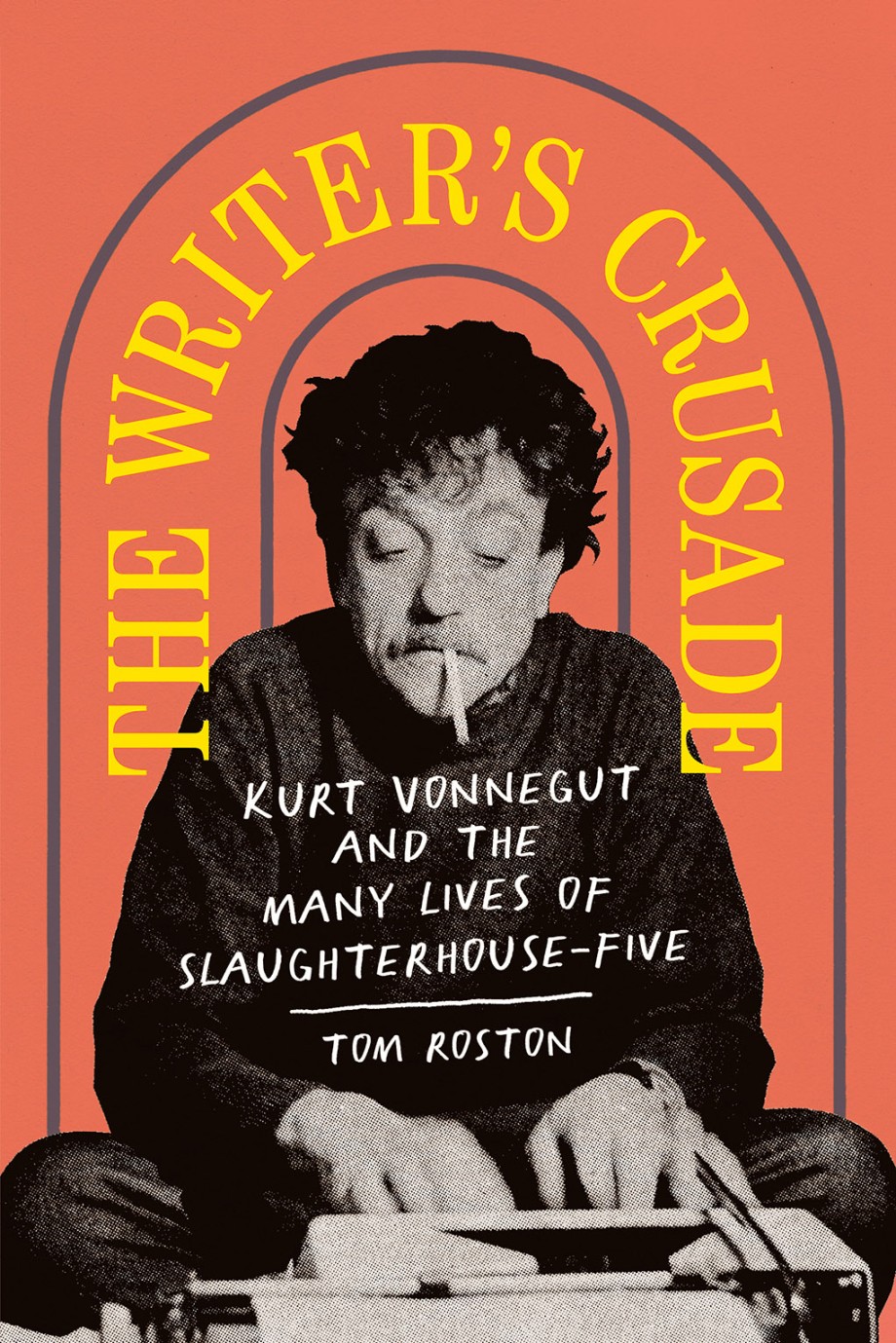 The Writer's Crusade
Kurt Vonnegut and the Many Lives of Slaughterhouse-Five
Hardcover
Price: $26.00
Also available from:
Additional formats:
Publication Date: November 9, 2021
Imprint: Abrams Press
Trim Size: 5 1⁄2 x 8 1⁄4
ISBN: 9781419744891
Page Count: 272
Rights: World/All
The story of Kurt Vonnegut and Slaughterhouse-Five, an enduring masterpiece on trauma and memory
Kurt Vonnegut was twenty years old when he enlisted in the United States Army. Less than two years later, he was captured by the Germans in the single deadliest US engagement of the war, the Battle of the Bulge. He was taken to a POW camp, then transferred to a work camp near Dresden, and held in a slaughterhouse called Schlachthof Fünf where he survived the horrific firebombing that killed thousands and destroyed the city.
To the millions of fans of Vonnegut's great novel Slaughterhouse-Five, these details are familiar. They're told by the book's author/narrator, and experienced by his enduring character Billy Pilgrim, a war veteran who "has come unstuck in time." Writing during the tumultuous days of the Vietnam conflict, with the novel, Vonnegut had, after more than two decades of struggle, taken trauma and created a work of art, one that still resonates today.
In The Writer's Crusade, author Tom Roston examines the connection between Vonnegut's life and Slaughterhouse-Five. Did Vonnegut suffer from Post-Traumatic Stress Disorder? Did Billy Pilgrim? Roston probes Vonnegut's work, his personal history, and discarded drafts of the novel, as well as original interviews with the writer's family, friends, scholars, psychologists, and other novelists including Karl Marlantes, Kevin Powers, and Tim O'Brien. The Writer's Crusade is a literary and biographical journey that asks fundamental questions about trauma, creativity, and the power of storytelling.
Praise
"A fresh look at Kurt Vonnegut's classic 1969 novel through the lens of PTSD...[Roston] successfully reenergizes a major work from a writer whose star has faded somewhat. New wars, and more recent fiction about them, may have overshadowed Slaughterhouse-Five, but Roston persuasively shows how the novel speaks both to Vonnegut's moment and to our own."


Kirkus Reviews —
"Part biography, part literary interpretation, and part fan notes, The Writer's Crusade is a spellbinding reexamination of both Slaughterhouse-Five and its author, Kurt Vonnegut. Although the emphasis of this marvelous book is on PTSD, Tom Roston never loses sight of the intuitive, imaginative genius of a boldly original prose stylist. Any Vonnegut enthusiast, and anyone interested in the sources of fine literature, will find pleasure in these pages."

Tim O'Brien —
"[An] engrossing tale...an absorbing biographical study...Roston [makes] a strong case that the roots of the novel—and its ultimate message—stem from Vonnegut's attempts to process all he had witnessed in the war."


Bookpage —
"[Roston's] passion for Vonnegut's writing is contagious. … a fresh take on a classic."


Publishers Weekly —
"I read Slaughterhouse-Five when I had just returned from my war in Vietnam. I didn't understand it until I read The Writer's Crusade. Tom Roston's insightful exploration of Vonnegut's struggle to write the novel, and its significant place in our ongoing task of better understanding and treating the trauma of war should be read by all fans of Vonnegut, and all who suffer from trauma, no matter what the source."

Karl Marlantes —
"The Writer's Crusade is a multifaceted look at one of the great modern novels. It's part history of how the book came to be, part Vonnegut biography, and a thoughtful consideration of the book's impact on America's post-WWII combat vets...The Writer's Crusade is an important consideration of Kurt Vonnegut and the legacy of Slaughterhouse-Five. Even better, Roston's work will send readers back to the original novel, and with fresh new insights on Vonnegut's complex masterpiece."

New York Journal of Books —
"Kurt Vonnegut's dogged pursuit of the truth about his war experiences in writing what would become Slaughterhouse-Five is fully rendered in Tom Roston's perfectly titled The Writer's Crusade. In readable and probing prose, Roston illuminates Vonnegut as a veteran, writer, and human being, and investigates haunting questions about war and human nature. For anyone touched by war, Slaughterhouse-Five, or intrigued by the intersection of creativity with trauma and recovery, this superb book is for you."

Suzanne McConnell, coauthor, with Kurt Vonnegut, of Pity the Reader: On Writing with Style —
"I absolutely loved The Writer's Crusade. As soon as I finished it, I picked up Slaughterhouse-Fiveagain. Tom Roston's excellent book has given me the great gift of getting to read Vonnegut's masterpiece as though it were my first time."

Kevin Powers —
About the author
Journalist Tom Roston worked at The Nation and Vanity Fair, and was a senior editor at Premiere for more than a decade. His work has appeared in the New York Times, New York magazine, LitHub, and more. He is the author of two previous books, I Lost It at the Video Store: A Filmmaker's Oral History of a Vanished Era and The Most Spectacular Restaurant in the World. He lives in Brooklyn.