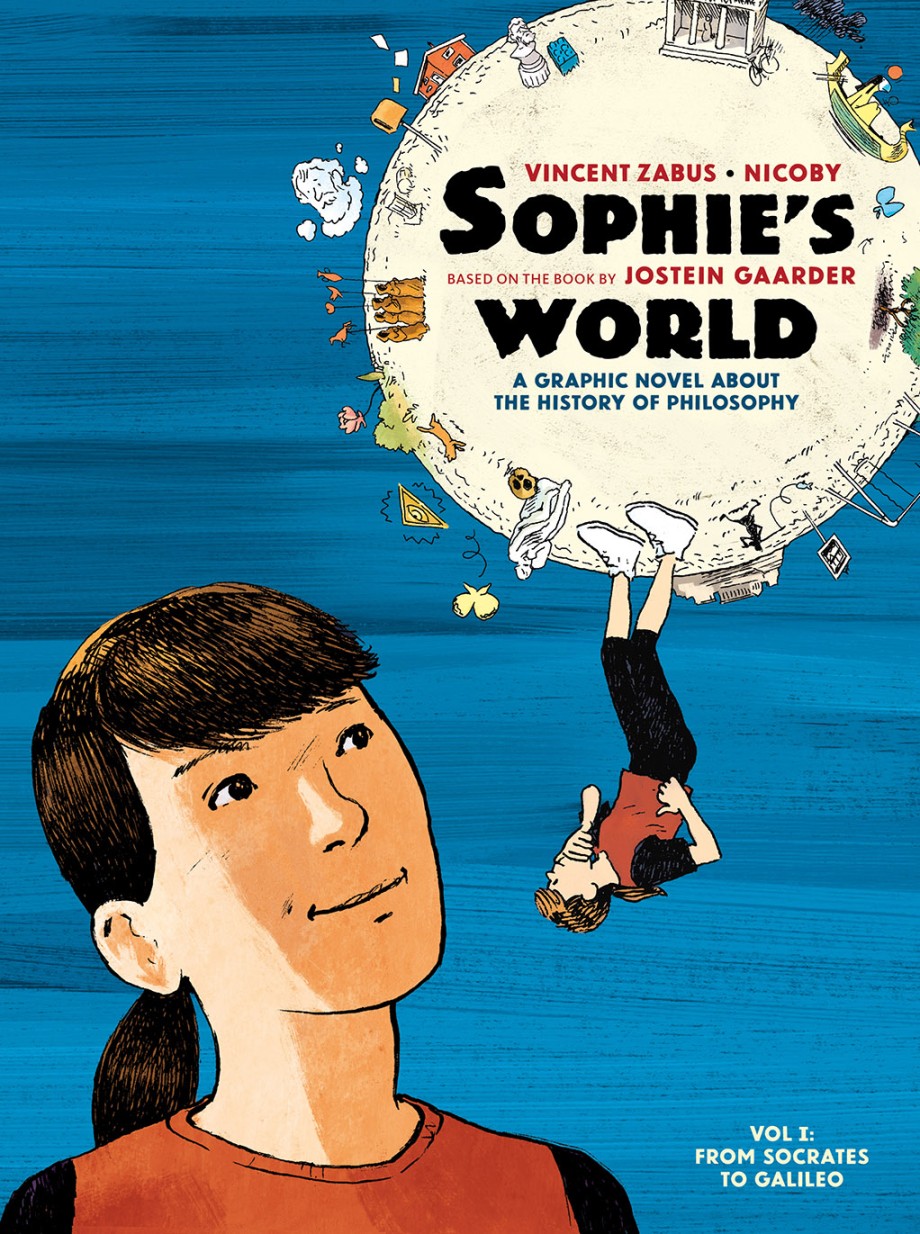 Sophie's World
A Graphic Novel About the History of Philosophy Vol I: From Socrates to Galileo
Paperback
Price: $22.99
Also available from:
Publication Date: November 8, 2022
Imprint: SelfMadeHero
Trim Size: 8 2⁄3 x 10 3⁄4
ISBN: 9781914224119
Page Count: 264
Illustrations: Full-color Illustrations throughout
Rights: North America, LAMC
The worldwide philosophy bestseller reimagined as a graphic novel
One day, Sophie receives a cryptic letter posing an intriguing question: "Who are you?" A second message soon follows: "Where does the world come from?" It is the beginning of an unusual correspondence between our curious young heroine and her mysterious penpal. As the questions begin to pile up, Sophie is propelled headlong into a startling adventure through the history of Western philosophy. Her search for answers will see her explore each of the major schools of thought, as she tries to uncover the true nature of the letters, her secretive teacher… and, above all, herself! In this witty comics adaptation, Zabus and Nicoby have reinvented Jostein Gaarder's novel of ideas – a beloved bestseller that has already won the hearts of over 50 million readers around the world – to bring Sophie's charming exploration of meaning and existence to a whole new medium.
O

Praise
"...its endlessly inventive artwork and increasingly meta approach are an unexpected treat. In encouraging readers to find their own philosophical voice, this slyly subversive history book reveals it's actually far more interested in the future than the past and is far more entertaining for it."

Buzz —
"It's back again in a new avatar bringing back Sophie's enchanted, philosophical expedition to a whole new spirit. In this extensive witty graphic compilation, Zabus and Nicoby have rediscovered Sophie's World and creatively adapted it for the readers of current times. "

Cent Magazine —
"… Via the creative adaption team of Vincent Zabus and Nicoby (Nicolas Bidet) he transmits thoughts and ideas in brief snippets, accompanied by funny illustrations that hold the attention."

The Sling and Arrows Graphic Novel Guide —
About the authors
Jostein Gaarder was born in Oslo, Norway, in 1952. After teaching philosophy and the history of ideas in Bergen, he devoted himself to writing. His worldwide bestseller Sophie's World: A Novel About the History of Philosophy was hailed as a masterpiece by critics and readers alike. He put a significant portion of his rights earnings towards establishing a foundation for sustainable environmental development.

Playwright and comics writer Vincent Zabus lives in Namur, Belgium. He became well-known penning children's series for the long-running and beloved Spirou magazine. He went on to create the prizewinning tales Les Ombres and Incroyable!, which debuted as plays and then became graphic novels in collaboration with the artist Hippolyte. His adaptation of Sophie's World combines his passions for storytelling and philosophy.

A product of the mid-1970s, artist Nicoby has published over 40 works in a variety of genres, styles and formats, ranging from memoir to humour to adventure to reportage to observations of social foibles, both in book form and in periodicals such as La Revue Dessinée and Spirou, to which he is a regular contributor. He lives in the Breton countryside near Rennes, far from car exhaust and electric scooters.