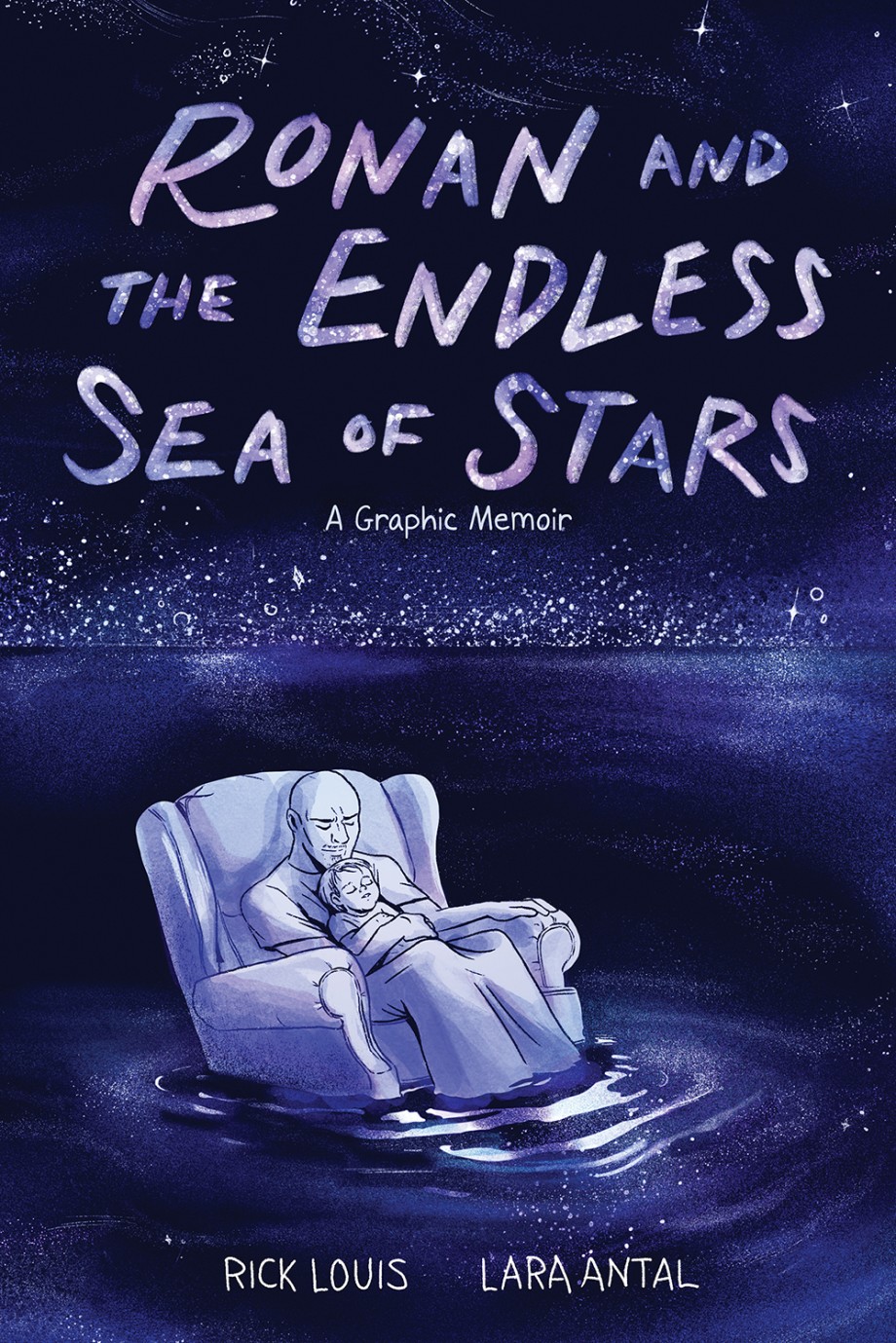 Ronan and the Endless Sea of Stars
A Graphic Memoir
Ebook
Price: $18.65
Available from:
Additional formats:
Publication Date: November 15, 2022
Imprint: Abrams ComicArts
ISBN: 9781647001360
Page Count: 160
Rights: World/All
A graphic novel memoir recounting one parent's unique and wrenching journey caring for a child with a terminal diagnosis
When Rick and Emily's infant son Ronan is diagnosed with Tay-Sachs, an incurable neurological disorder, they are faced with the practical and emotional hurdles of parenting and loving their son—despite the shadow of inevitable loss. Rick Louis narrates this original graphic memoir, with illustrator Lara Antal translating the space that Ronan occupies before, during, and after his life, using flights of fancy and imagination to express the bizarre, heartbreaking, and sometimes even silly reality of human beings suddenly trapped in an impossible situation.
Ronan and the Endless Sea of Stars is a graphic memoir for fans of Liana Finck's Passing for Human and Tom Hart's Rosalie Lightning, which was a Goodreads Choice Award semifinalist, Amazon Best Book of 2016, on the Washington Post's Best Graphic Novels of 2016 list, and one of Publishers Weekly's 100 Best Books of 2016.
Ronan and the Endless Sea of Stars is a story of warmth and of heartbreak—about finding joy in life, no matter how long or short that life might be.

Praise
"A spare account of a short life that will leave readers feeling both uplifted and emotionally drained."

Kirkus Reviews STARRED Review —
"[A] painful but spirited graphic memoir debut . . . Antal's art balances the lighter tone, sometimes to disarming effect . . . In this frank telling of a devastating ordeal, it's the beauty of the too-brief loving moments that lingers."


Publishers Weekly —
"I found it a deeply affecting work. An honest and unsentimental account of a family's tragedy. The book charts Rick Louis's struggle to find the tiniest amounts of solace in this devastating event, and his ultimate belief that every second he spent with his son was life-affirming. He finds light in the darkest of places, and that is a message we can all learn from."

Darryl Cunningham, author of Putin's Russia: The Rise of a Dictator —
"Ronan and The Endless Sea of Stars, like the best nonfiction, is honest and observant. Only someone who had lived this story could have written it, and only a writer as brave as Rick Louis would have been as truthful, with a sharp eye for tiny, telling details. Louis and artist Lara Antal understand that graphic novels have the unique ability to show the negative space left by things that are no longer there, holes that can never be filled. It's a heartbreakingly beautiful book."

Brian Fies, author of Mom's Cancer and A Fire Story —
"Even for the hypervigilant parent-to-be, author Rick Louis reminds us that there are situations you just can't prepare for. Lara Antal's art guides the reader into the soaring, starry sky of dreams and profound darkness of nightmares, in this story of the huge love and unimaginable heartbreak of losing a child."

Ellen Forney, author of Marbles —
"A moving meditation on death and grieving. This book illustrates the resilience of the human spirit through beautiful visual metaphors and subtle humor."

Robin Ha, author of Almost American Girl —
"For anyone who's been tasked with loving someone who is leaving—a book about being as present as you can for them."

Tom Hart, author of Rosalie Lightning —
"Ronan and the Endless Sea of Stars is a powerful, touching, honest portrayal . . . [the] mix of humor and sadness makes Ronan all the more poignant . . . Please read Ronan for its very human story presented with sensitivity, caring, lightness, and powerful imagery."


Graphic Medicine —
About the author
Rick Louis was born in New York City and raised by Star Trek. After college and a year on the road as a circus roustabout, he managed to get a couple of plays produced off-off-Broadway. Relocating to Los Angeles, he worked as a writer on movie scripts and sketch comedy. As a tattooed vegan on a bike, he eventually moved to Portland, Oregon, where he lives to this day, working as a freelance writer and editor. Lara Antal is an artist who loves black humor, black coffee, and colorful characters. Her work has appeared in places like the Washington Post and the Skimm, and she has been featured in the Wall Street Journal, WNYC-NPR, the Huffington Post, Bustle, and more. If you dine in New York City, you may have seen one of her infamous Choking Victim posters. She currently resides in Brooklyn with her almost-toothless chihuahua, Chuck.