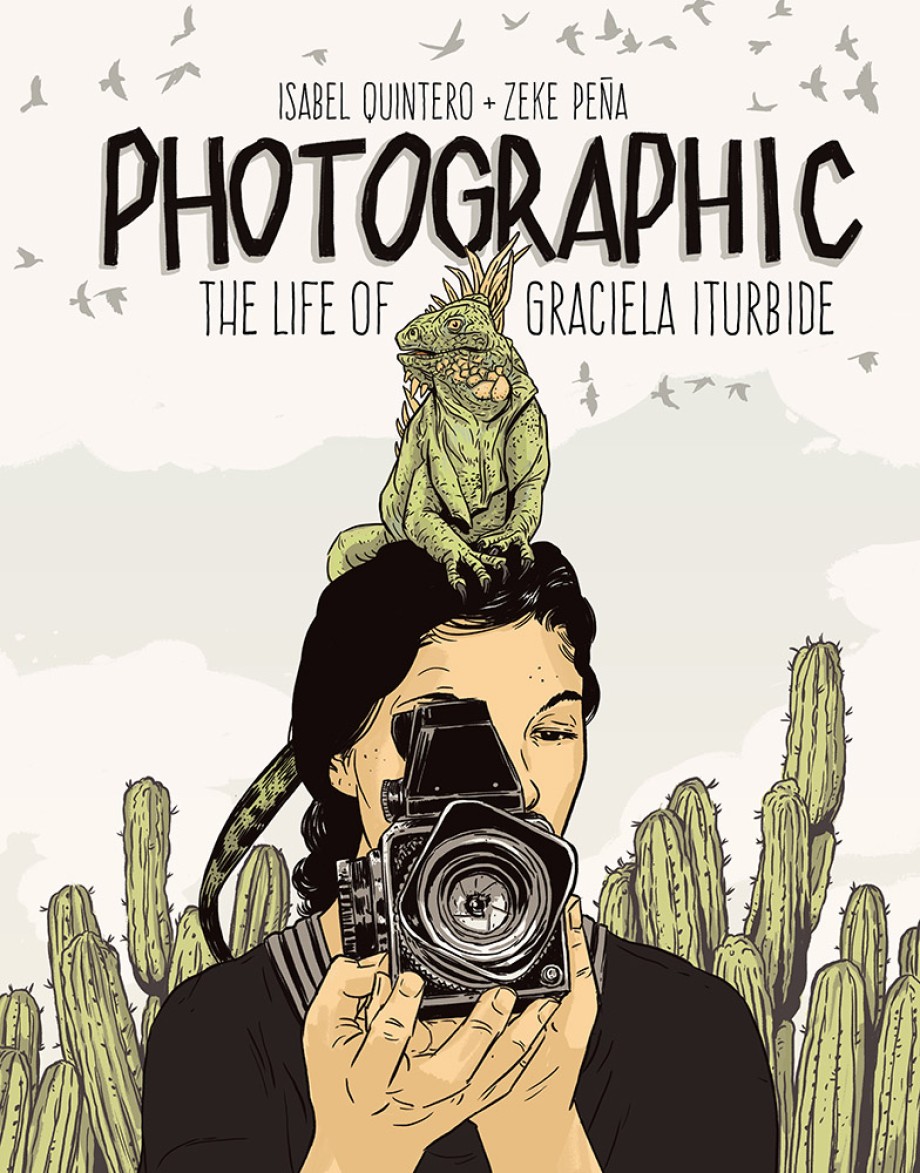 Photographic
The Life of Graciela Iturbide
Hardcover
Price: $19.95
Also available from:
Publication Date: March 6, 2018
Imprint: Getty Publications
Trim Size: 7 x 9
ISBN: 9781947440005
Page Count: 96
Illustrations: 24 duotones and 96 black-and-white line drawings
Rights: North America
A 2018 Boston Globe Horn Book Nonfiction Award Winner and a 2018 Moonbeam Children's Books Gold Award Winner!
Graciela Iturbide was born in Mexico City in 1942, the oldest of 13 children. When tragedy struck Iturbide as a young mother, she turned to photography for solace and understanding. From then on Iturbide embarked on a photographic journey that has taken her throughout her native Mexico, from the Sonora Desert to Juchitán to Frida Kahlo's bathroom, to the United States, India, and beyond. Photographic is a symbolic, poetic, and deeply personal graphic biography of this iconic photographer. Iturbide's journey will excite readers of all ages as well as budding photographers, who will be inspired by her resolve, talent, and curiosity.
Praise
**STARRED REVIEW**
"Mixing original illustrations, first-person prose, and lyrical interludes with gorgeous reproductions of photographer Graciela Iturbide's work, Quintero and Peña patiently reveal their subject's many angles, producing a "kaleidoscopic unraveling" of the artists… Teens will come away with an evolved sense of how to look at a creator's life and work and how to think critically about art as a process. The importance of being seen, specifically in regard to indigenous communities in Mexico and Mexican Americans in the United States, as a narrative thread will resonate strongly with readers. VERDICT Quintero and Peña have set a new standard in artist biographies. A must for teen collections."

School Library Journal —
**STARRED REVIEW**
"Striking black and white illustrations. . . . A powerful homage to the five-decade evolution of an artist still working—and still evolving—today."

The Horn Book —
**STARRED REVIEW**
"Quintero and Peña's biography of Mexican photographer Graciela Iturbide is far more than an account of her life . . . Eye-opening and masterfully rendered."

Booklist —
"Quintero and Peña strike a good compromise, featuring many of Iturbide's photographs as a complement to the biography, but without being dependent on them. The result is a book that expertly combines various aspects to become something utterly unique."

Foreword Reviews —
"The graphic novel honors a provocative life by taking a provocative form."

Publishers Weekly —
"From pieces such as Our Lady of the Iguanas, Juchitán, Oaxaca (1979) to Rosario and Boo Boo in Their Home, East L.A. (1986), we see Iturbide become one with her subjects, somehow transcending her role as photographer and entering into a relationship with everything her camera captures. The artwork of Penã, which depicts these interactions, seems to do the same, joining audiences to Iturbide's experiences. . . . Recommended to anyone interested in fine art photography, particularly of Mexican and Southwestern American subjects, and for library collections with a focus on this area."

Library Journal —
"I would recommend this book to pretty much anyone… There's darkness and death; but it's not a morbid story. It's about learning to find who you are and be brave and true to yourself, and finding beauty in forgotten places and people."

Bleeding Cool —
"It is a rare feat when a writer and illustrator are able to capture the creative magnitude of an iconic photographer. With poetic prose by Isabel Quintero and luminary illustrations by Zeke Peña, the stunning biography Photographic: The Life of Graciela Iturbide will guide readers through a compelling visionary journey. Photographic is a worthy homage to an important and influential photographer and will stand alone as a truly creative piece of work."

Lilliam Rivera, author of The Education of Margot Sanchez —
"[Graciela] Iturbide's artistic vision and story are conveyed with poetry, a simple sophistication, and a dollop of bold swagger"

Mary McCoy, Senior Librarian, Los Angeles Public Library and Author of Camp So-and-So —
"This extraordinary biography captures the poetry of Graciela Iturbide's photography. The brilliant pairing of Isabel Quintero's words and Zeke Peña's art creates a graphic biography that evokes the process and meaning of what it is to create. Highly recom­mended!"

Cathy Camper, author of Lowriders in Space and Lowriders to the Center of the Earth —
"A fascinating book that blends the story of Iturbide's life with poetic interpretations of pivotal moments in her career. . . . Even if you're not already a fan of Iturbide, Quintero's story of the photographer's journey as an artist is incredibly inspiring. Like Frida Kahlo, Iturbide was born into a life of privilege, which came with the burden of overwhelming expectations. Her decision to reject that life in order to pursue her art is nothing short of courageous."

San Diego City Beat —
"Photographic is one of the most creative and original nonfiction books I've read this year. . . .Quintero and Peña expertly convey the meanings behind Iturbide's photographs."

nonfictiondetectives.com —
"A personal history that's as remarkable as any of the photographer's portraits."

NBC —
"[A] superlative graphic account of the life of a Mexican legend."

Digital Camera World —
"Should win an Eisner for best work based on reality."

The MNT —
About the author
Isabel Quintero's first novel, Gabi, A Girl in Pieces, was one of School Library Journal and Kirkus Reviews Best Books of 2014, and won the American Library Association's William C. Morris YA Debut Award prize. Her second book, Ugly Cat & Pablo, was published in April 2017. She lives in Southern California.

Zeke Peña is an artist and illustrator whose work about the U.S./Mexico border community explores universal themes by remixing contemporary and historical narratives. He has exhibited at the National Museum of Mexican Art in Chicago, Albuquerque Hispanic Cultural Center, Houston Center of Photography, El Paso Museum of Art, and Museo de Arte Ciudad Juárez, as well as in galleries across the United States and Mexico.