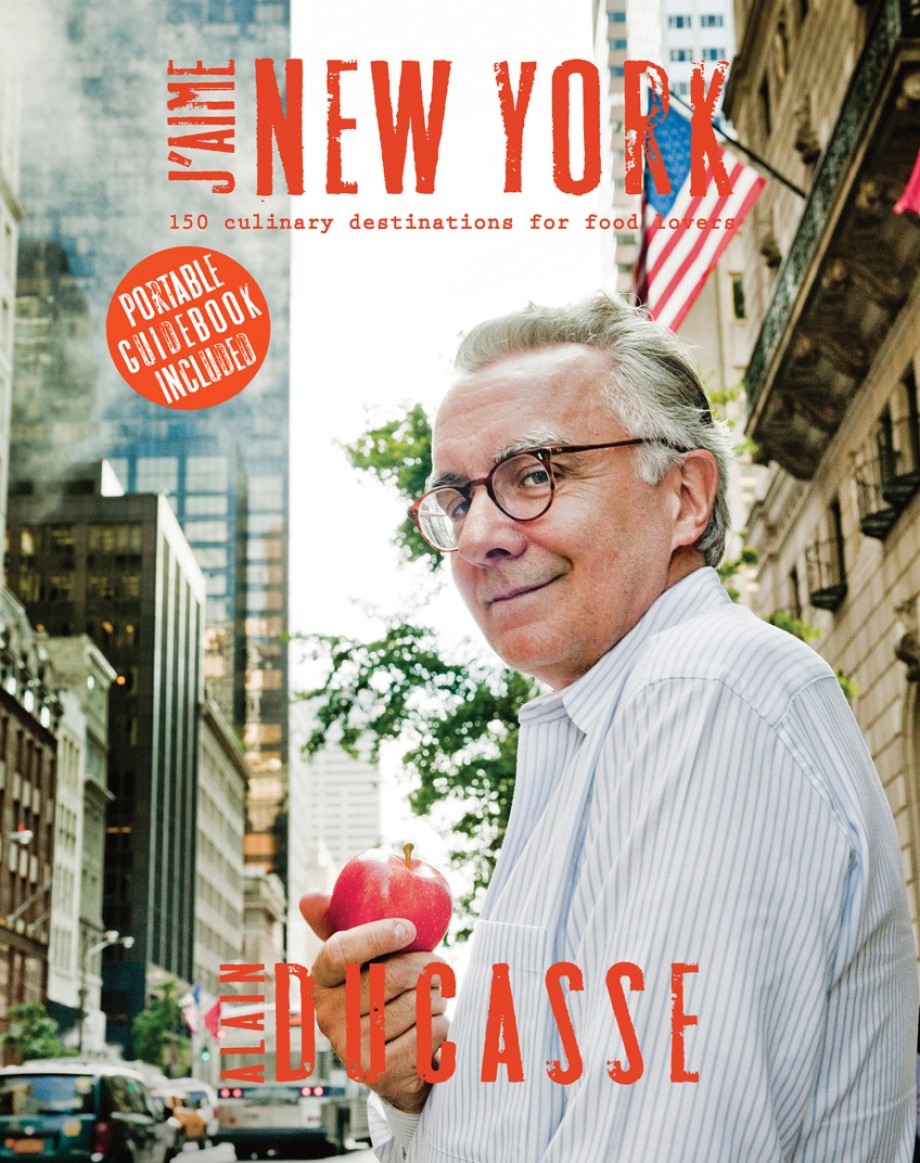 J'aime New York
150 Culinary Destinations for Food Lovers
Hardcover
Price: $100.00
Also available from:
Publication Date: November 1, 2012
Imprint: Editions Alain Ducasse
Trim Size: 10 1⁄2 x 13 3⁄8
ISBN: 9782841234028
Page Count: 620
Illustrations: color photographs throughout + 60-page portable guidebook
Rights: North America
"Travel is one of my greatest passions. Not simply for my love of discovery and pastures new, but also for the pleasures of "stumbling across" objects, products, or unusual, novel ways of doing things; it all stimulates my curiosity before inhabiting my memories, imagination and pleasures."--Alain Ducasse
From Brooklyn hot dogs to Manhattan's most chic restaurants, world-renowned chef Alain Ducasse reveals a palette of flavors, colors, images, and aromas from all four corners of the globe: his own gourmet New York. This large-format, beautiful work of photographic reportage reveals his favorite spots, his special finds, and his gourmet delights. He reveals New York's finest products, the histories of places and people, and his encounters with them in this personal culinary voyage around a city with an important place in Ducasse's heart. Complete with a handy removable guidebook to all the restaurants and other venues listed, this large, gorgeously illustrated book is a treasure trove for all food lovers in New York or anywhere.
Advance Praise:
"J'aime Ducasse — He has an extraordinarily creative and curious mind. This beautiful book exemplifies that." --Nina and Tim Zagat
"Alain Ducasse has thought long and hard about all the elements of atmosphere, light and color that make a meal memorable as well as the nature of the food itself. In this regard he observes things that are frequently ignored. Once they are pointed out, however, they become an essential part of our critical appreciation. In the complex and contradictory food universe that New York represents, Alain's observations are unique and essential." --Milton Glaser
"He has broken as many molds as he has created. With his new book Alain Ducasse does so again. It is rare that such an extraordinary and celebrated talent has the wisdom and generosity to celebrate others in his field who inspire him. This gorgeous book is a welcome and heartfelt guide to the restaurant world of NYC by one the world's culinary leaders. It is a requisite for any food-obsessed New Yorker." --Stanley Tucci
"J'aime New York takes us on a delectable journey of the city's vibrant culinary landscape. Alain Ducasse's cross-disciplinary range stands as inspiration for those who share a passion for good living and all its permutations." --David Rockwell
About the authors
Alain Ducasse comes from the Landes region of southwestern France and is one of the most renowned chefs of his generation. He is also a restaurant designer, hotelier, and teacher of the culinary arts. Over thirty years, he has developed a unique savoir faire, which has helped define the contemporary art of living and eating. He believes strongly in sharing his passion and knowledge and developing his constant curiosity, which helps him soak up the cultural diversity of the world.
Alex Vallis is the digital features editor of Food & Wine Magazine, focusing her attention on chefs and restaurants. Vallis also writes for New York Magazine, Grub Street, NBC Online, and Saveur. She has been a James Beard Award nominee.
Dan Barber is a chef and owner of several restaurants including Blue Hill in Manhattan and Blue Hill at Stone Barns in Pocantico Hills, New York.  He writes frequently on food and agricultural policy.
Pierre Monetta, a young Paris-based photographer, loves to watch and capture what daily life has to offer. He specializes in fashion, food, and travel photography and produced a series of photographs for Alain Ducasse's restaurants in the Plaza Athénée, Paris, and the Dorchester, London. He is the photographer of all the titles in Alain Ducasse's "J'Aime" collection.