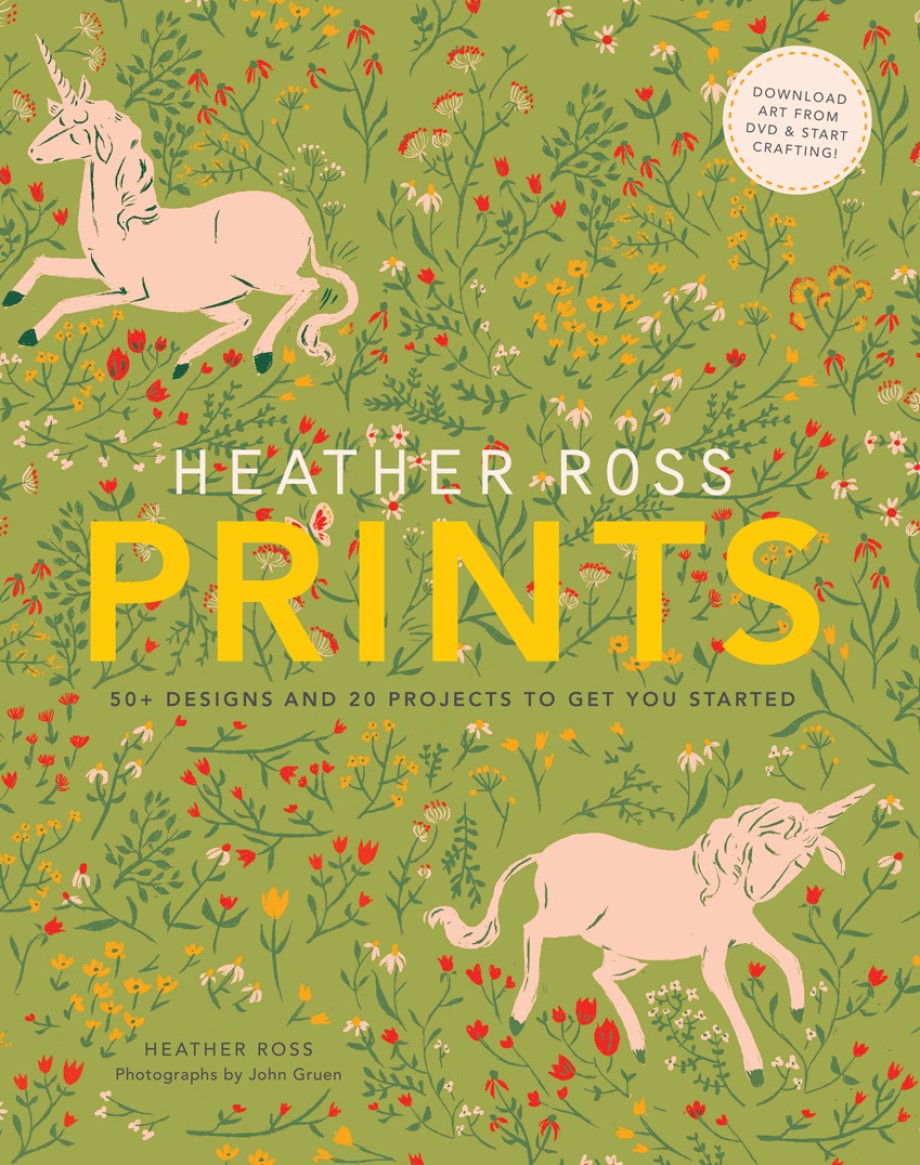 Heather Ross Prints
50+ Designs and 20 Projects to Get You Started
Paperback
Price: $25.95
Also available from:
Publication Date: September 1, 2012
Imprint: STC Craft
Trim Size: 8 1⁄2 x 10 3⁄4
ISBN: 9781584799955
Page Count: 144
Illustrations: 42 color photographs and 144 illustrations
Rights: World/All
Frog princes, VW buses, and big bad wolves—these are the sorts of subjects that Heather Ross depicts on the fabrics she designs, which the sewing and quilting communities feverishly collect (with many fabrics going for huge sums on eBay once they sell out at traditional retail outlets). In Heather Ross Prints, a book-and-DVD package, Ross shares reproducible artwork for more than 50 of her most popular prints. She provides step-by-step instructions for 20 craft projects using the prints on the DVD—everything from sea turtle stationery to a shower curtain covered with swirling mermaids. Crafters can use the artwork on the DVD as they wish, printing on fabric, paper, or whatever surface they choose. Plus, Ross teaches her process for designing fabric using Photoshop—a boon to anyone who has ever dreamed of following in her footsteps.
Praise for Heather Ross Prints:
"Wow. I get so excited flipping through page after page of amazing craft projects." —Babble.com
"Crafters who like Ross's aesthetic will appreciate her generous approach to sharing her art, as well as the creative ideas for incorporating unique, custom-made designs into their home's décor." —Library Journal
"Ross's 'Step-by-Step Guide to Creating Digital Designs in Photoshop' is terrific, and will have you feeling creative and confident in no time. Not only will you know how to use the digital art on the DVD, you'll learn how to create your own!" —Scrapbooking & Beyond magazine
"The resources and ideas in this book will make any fabric-holic's head just explode. So refreshing for an artist to offer up her designs and allow you to PLAY!" —Generation Q Magazine
"Heather Ross brings you to a magical place. Her illustrations immediately transport you to a dream world filled with unicorns, flowers and gnomes." —Babble.com
"Nothing is more fulfilling than making things by hand for your baby's nursery. But what to make? The answer to that question lies inside Heather Ross Prints, the latest craft book by celebrated designer Heather Ross. It's filled with highly original projects that will bring the handmade stamp of approval to your home." —DisneyBaby.com
"The most interesting section of the book reveals Heather's step-by-step process of creating designs in Photoshop. With screenshots of the entire process, it is quite informative to snoop over her shoulder and see a scanned pencil sketch turn into a wonderful illustration and pattern design. For me, this section is the reason to purchase the book." —Uppercase magazine
"The last section of the book, titled "Resources," would more aptly be called "Free Awesomeness." . . . Craft books are so plentiful these days that it can be hard to stand out from the pack, but Heather Ross Prints is, quite simply, a game changer." —Apartment Therapy
"Heather Ross Prints includes cheerful and enchanting projects for interior decoration, small gifts and garments that are an inexpensive, easy and exciting way to introduce yourself to crafts or delve into new projects if you're a DIY veteran." —Eco Salon
"Flipping through gave me ideas I want to try…." —DesignMom.com
"Most crafters will admit to elbowing someone out of the way at the fabric store to score the last yard of Heather Ross fabric. Guilty? Then you know why sewers and printmakers alike are going crazy for Heather's new book, Heather Ross Prints
—MarthaStewartLiving.com
"What really makes the book worth buying is her willingness to walk you step by step through the process of designing and having your own fabric printed."
—Santa Cruz Sentinel
 
About the author
Heather Ross is a celebrated illustrator, sewist, fabric designer, blogger (heatherross.squarespace.com), and storyteller. She is the author of STC Craft's Weekend Sewing and the illustrator of the Crafty Chloe book series, among other children's titles. She lives in New York City.