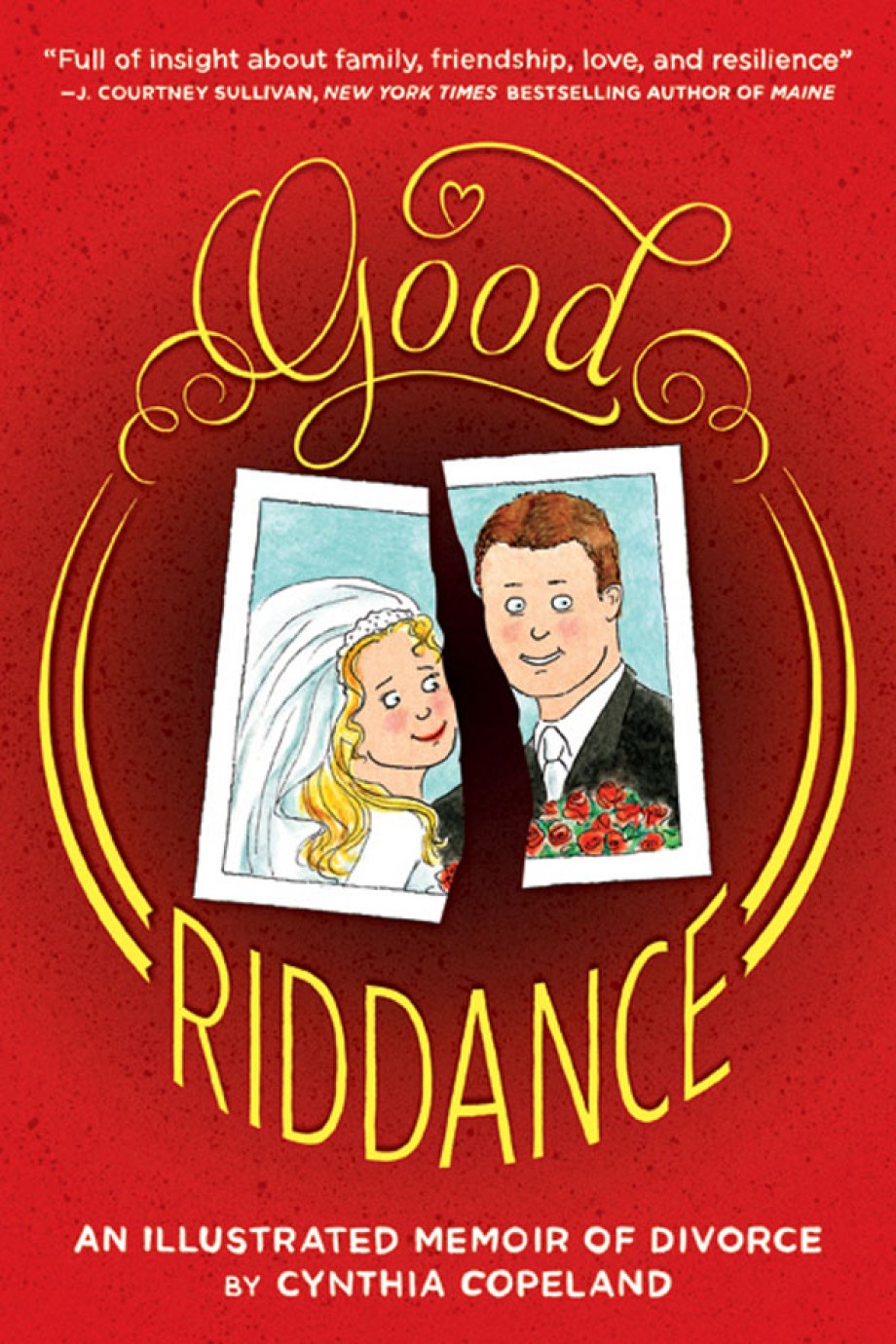 Good Riddance
An Illustrated Memoir of Divorce
Paperback
Price: $17.95
Out of stock
Available from:
Additional formats:
Publication Date: May 7, 2013
Imprint: Abrams ComicArts
Trim Size: 6 x 9
ISBN: 9781419706707
Page Count: 224
Illustrations: 220 two-color illustrations
Rights: World/All
When you think you live in a Norman Rockwell painting—married 18 years, three kids, beautiful old house in the country, successful career as a writer—you don't expect there's another side to the canvas. Until you read a lovesick e-mail to your husband . . . that didn't come from you!
Good Riddance is an honest and funny graphic memoir about suffering through and surviving divorce. New York Times bestselling author Cynthia Copeland chronicles the deep pain, confusion, awkwardness, and breakthroughs she experiences in the "new normal" as a wife who's been deceived, a mom who's now single, a divorcée who's dating, and a woman who's on her own figuring out what she truly wants from her life. Copeland tells her story with an emotional candor and spot-on humor that makes Good Riddance poignant, painful, and hilarious all at once.
Praise
"Copeland's light-hearted and comical artwork, reminiscent of Roz Chast's, takes some of the sting out of her sorrows, allowing readers to nod in sympathy or chuckle at her missteps."

Publishers Weekly —
"Even as she tells a story that is sometimes heartbreaking, Copeland has a way of making you laugh out loud. Full of insight about family, friendship, love, and resilience, Good Riddance is essential reading for anyone who has ever gone through a divorce."

J. Courtney Sullivan, New York Times bestselling author of Maine and Commencement —
"Copeland takes us gently through a tough chronicle of divorce with wit, humor and more than a little hope."

Phoebe Potts, author of Good Eggs —
"For anyone who's ever been dumped and had to start over, this charming book should be required reading. Grab a glass (ok, bottle) of wine and settle in. There's a light at the end of your tunnel and it starts with Good Riddance."

Jill Smokler, New York Times bestselling author —
"Copeland has a charming art style . . . and because of her experience in the self-help/instructional publishing field, she brings a welcome specificity to the subject. Good Riddance isn't a rant against cheating spouses; it's more a step-by-step breakdown on how it feels to have a comfortable life upended overnight."

The A.V. Club —
"I was struck by a page on which Copeland sends her youngest off for his first overnight in the home of T.J. and his new wife. The author-artist uses just a few words and images to convey an entire world of maternal despair. Copeland and other 'graphic memoirists' have me convinced that illustrated books—unlike Trix®—aren't just for kids anymore."

AARP.com —
"Works such as Copeland's deserve your attention even if you aren't married or divorced, because the human experience can be entertaining and moving."

ComicMix —
About the author
Cynthia L. Copeland is the author/illustrator of more than twenty-five books for adults and children. She has sold more than three-quarters of a million books in seven languages, and her books have been recommended by Oprah, Regis Philbin, Ann Landers, Parents magazine, and the hosts of Good Morning America. Her 2014 book, Really Important Stuff My Dog Has Taught Me, was a New York Times, Los Angeles Times, Boston Globe, and Indie Bestseller. Copeland lives in Keene, New Hampshire with her family.