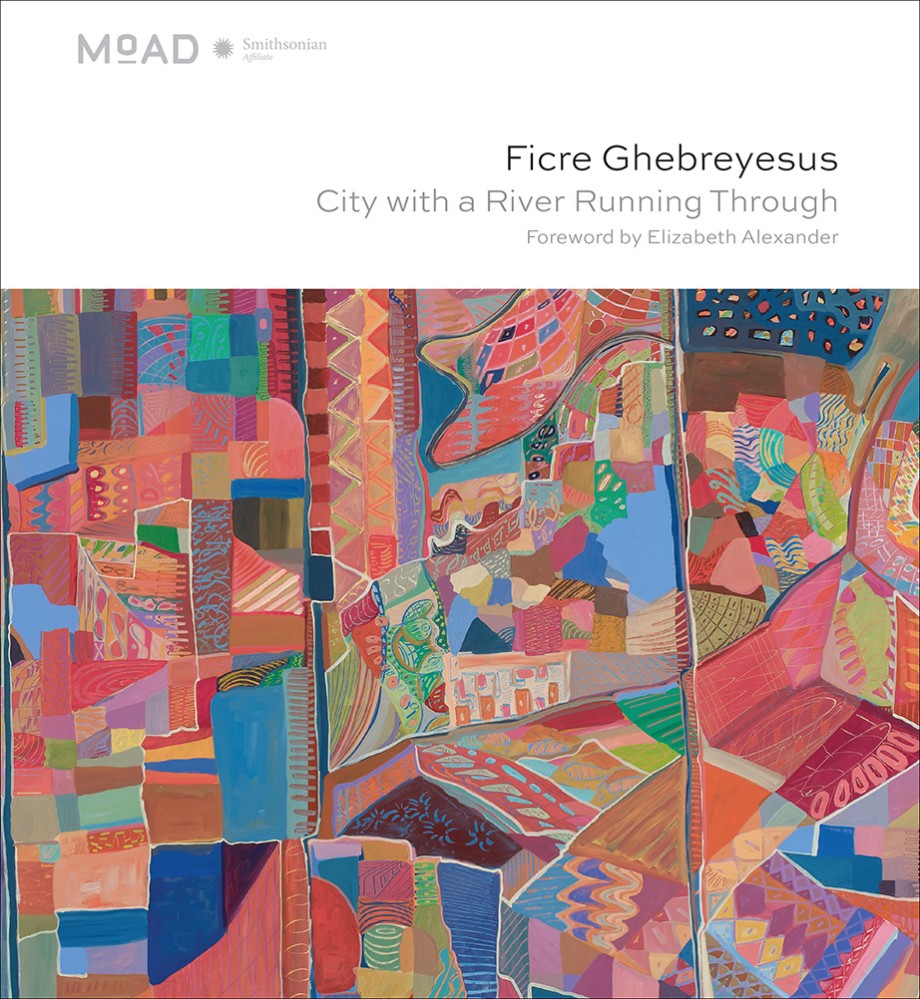 Ficre Ghebreyesus
City with a River Running Through
Hardcover
Price: $23.95
Also available from:
Publication Date: March 19, 2019
Imprint: Cameron Books
Trim Size: 10 x 11
ISBN: 9781944903701
Page Count: 64
Rights: World/All
Published to accompany an exhibition presented by the Museum of the African Diaspora (MoAD) in San Francisco, this new volume showcases the work of Eritrean-born artist Ficre Ghebreyesus. Many of the paintings featured are abstracts, studies of geometric color that highlight the artist's delight in the material qualities of oil paint on canvas. This collection brings together more than a dozen of Ghebreyesus' finest works, focusing on abstractly rendered and vivid painted landscapes, replete with water imagery and aquatic life. In all of these evocative, and often surreal, landscapes, the viewer senses myriad influences, from the craft markets of Eritrea to the musical polyrhythms of the black diaspora, the cultural layering speaking directly to the forces that shaped the artist's life.
Ghebreyesus left Eritrea as a political refugee, eventually settling in the United States, where he earned his undergraduate degree and worked as a humanitarian activist on behalf of Eritrean independence and ongoing relief issues. Along with that work on behalf of his country and its people, he studied painting at the Art Students' League and printmaking at the Bob Blackburn Printmaking Workshop, both in New York City. He died unexpectedly in April 2012.

About the author
The Museum of the African Diaspora (MoAD), based in San Francisco, is uniquely positioned as one of the few museums in the world to focus exclusively on African diaspora culture. A contemporary art museum, MoAD celebrates black cultures, ignites challenging conversations, and inspires learning through the global lens of the African diaspora. Playing a vital role in the local arts community, MoAD presents the rich cultural heritage of the people of Africa and of African descendant cultures all across the globe.

Elizabeth Alexander is a poet, essayist, playwright, and teacher. In 2009, she composed and delivered "Praise Song for the Day," for the inauguration of President Barack Obama. She has published six books of poems, two collections of essays, and a play. She has been recently appointed President of the Andrew H. Mellon Foundation, the nation's biggest funder in the arts and humanities. She previously served as the inaugural Frederick Iseman Professor of Poetry at Yale University, where she taught for fifteen years and chaired the African American Studies Department. Her memoir, The Light of the World, was released to widespread acclaim in April 2015. In the book, Pulitzer Prize finalist Alexander gave her devoted readers a tender portrait of Ghebreyesus (1962–2012), the artist she loved, married, and unexpectedly lost in 2012. Alexander's poignant meditation on the sudden death of her husband familiarized many with the harrowing story of his flight from war in his natal Eritrea, his long journey as a political refugee to the United States, and the life of love and art he found here. And yet, despite this widespread intimacy, few have seen the work of this prolific and singular painter and photographer.

Julie Mehretu (b. 1970) is a world-renowned painter born in Addis Ababa, Ethiopia. She lives and works in New York City and Berlin. Mehretu is the recipient of many awards, including the MacArthur Award (2005) and the US Department of State Medal of Arts Award (2015). She is best known for her large-scale paintings that take the abstract energy, topography, and sensibility of global urban landscapes and political unrest as a source of inspiration. Recent projects include completing two large-scale paintings, entitled HOWL eon (I, II), for the San Francisco Museum of Modern Art's Evelyn and Walter Haas, Jr. Atrium.

Emily Kuhlmann has been engaged at MoAD in various capacities since 2011 where she organized exhibitions such as The Grace Jones Project (2016), Where is Here (2017) and The Ease of Fiction (2017). As Director of Exhibitions and Curatorial Affairs she has curated the following solo artist's exhibitions: Alison Saar: Bearing (2016), A Matter of Fact: Toyin Ojih Odutola (2016) and Todd Gray: My Life in the Bush with MJ and Iggy (2017). She received her Bachelor of Arts from the University of California, Irvine, in Art History with a minor in Women's Studies and a Master of Arts in Visual and Critical Studies from California College of the Arts. Her research interests include performance studies and critical race art history.

Lowery Stokes Sims is Curator Emerita for the Museum of Arts and Design where she served as Senior Curator between 2007 and 2014 and as Chief Curator in 2014–2015. Sims was on the education and curatorial staff of The Metropolitan Museum of Art from 1972 to 1999; she curated over thirty exhibitions. Sims then served as executive director, president and adjunct curator for the permanent collection at The Studio Museum in Harlem from 2000 to 2007. A specialist in modern and contemporary art, Sims is known for her particular expertise in the work of African, Latino, Native and Asian American artists.