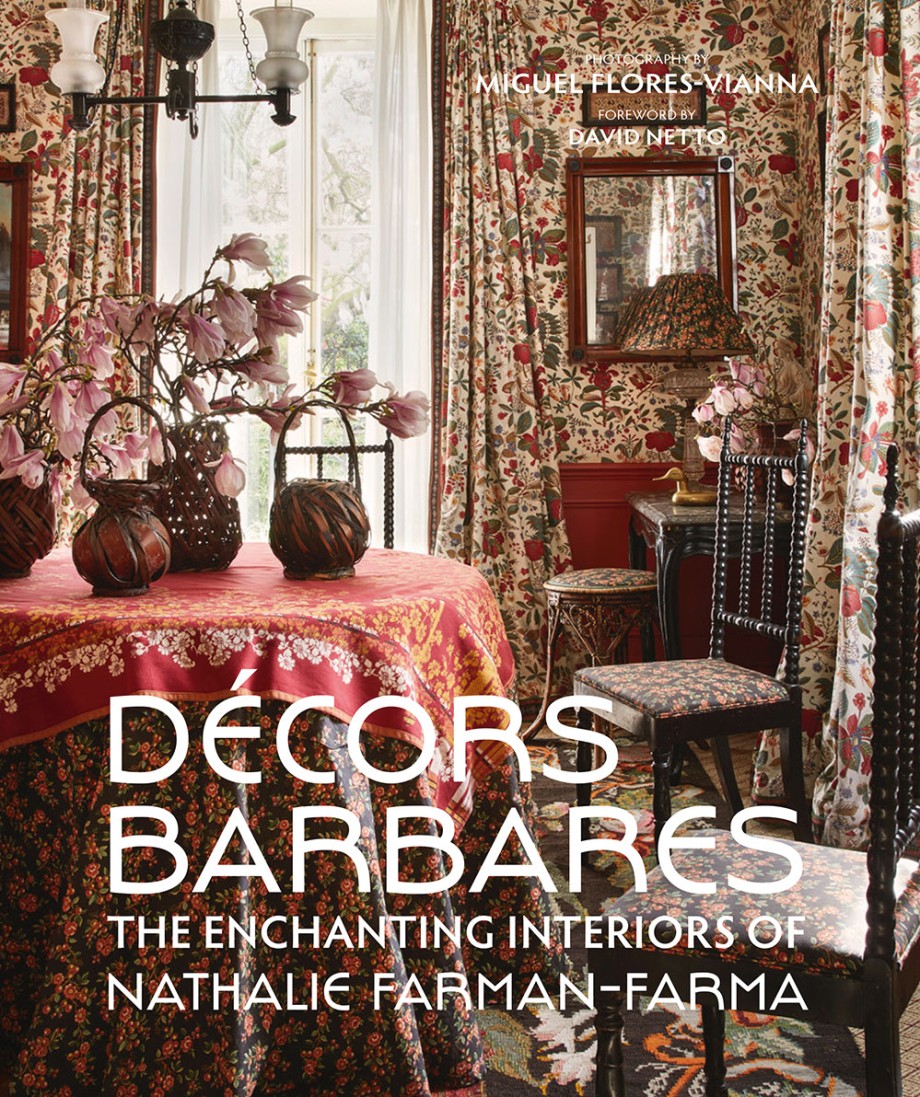 Decors Barbares
The Enchanting Interiors of Nathalie Farman-Farma
Imprint: Vendome Press
Publication Date: September 15, 2020
Price: $60.00
Trim Size: 10 x 12
ISBN: 978-0-86565-389-4
EAN: 9780865653894
Page Count: 240
Illustrations: 225 color photographs
Format: Hardcover
An enchanting design bible showcasing textile designer Nathalie Farman-Farma's much sought-after bohemian-inspired interior stylings
A refreshing antidote to the contrived nature of much contemporary interior design, the textiles and decoration of Nathalie Farman-Farma have gained a devoted following among celebrity and socialite clients for their folkloric charm and romantic exuberance. Drawing on the enchantment of fairy tales and cultures spanning Persia, Central Asia, and Russia, Farman-Farma creates exquisitely detailed fabrics and uses them to conjure interiors infused with warmth and natural charisma. Farman-Farma's townhouse and studio in London and her family homes in Connecticut and Lake Tahoe feature in this captivating volume, forming the backdrop for her Décors Barbares range of fabrics, as well as her vast collection of antique textiles, costumes, and jewelry.

Praise
"Décors Barbares costars [Farman-Farma's] personal spaces from the atelier at her London residence to an 1890s house in Greenwich, Connecticut. The addresses may be far-flung, but each celebrates her Silk Road chicwith a spiritedmarriage of the vibrant palettes of Central Asia to the plum silhouettes of 19th-century Europe." —Architectural Digest
"Of all the big-gun design books coming out this season, none has been more hotly anticipated than that of the textile designer and alchemist Nathalie Farman-Farma. The pages ofDécors Barbares: The Enchanting Interiors of Nathalie Farman-Farmadepict a world of pattern upon pattern, of nostalgia for a past that Mongiardino made grand, Zeffirelli made fantastical, but only Nathalie made sweet, cool, and relatable." —Elle Décor
"In devising the opulent fabrics and textiles for her company, Décors Barbares, Nathalie Farman-Farma often looks to fairytales for inspiration, as well as particular regions of the world, such as Persia, Central Asia, and Russia. . . . Her interiors are real-life fairytales." —Milieu
"Maximalists will drool over Nathalie Farman-Farma's richly-layered interiors, swathed in the patterns of her fabric house, Décors Barbares." —House Beautiful
"Nathalie Farman-Farma draws from ancient Eastern and Western influences with scholarly respect and stylish abandon." —T: The New York Times Style Magazine
"A deep well of references and a wonderful eye for color lie at the heart of this book from Nathalie Farman-Farma, the much sought-after decorator and textile designer." —Vogue
"Farman-Farma welcomes readers into her own family homes. Spanning fromLondon to Connecticut to the shores of Lake Tahoe, the rooms she has created allow viewers to travel further still thanks to her rich and worldly array of inspiration." —Architectural Digest
"Featuring her London townhouse and studio, as well as her family homes in Connecticut and Lake Tahoe, this volume goes inside the mind and mesmerizing spaces of the designer and her delectable Décors Barbares range of fabrics, antique textiles, costumes and jewelry." —Porter
"Décors Barbaresfeatures the author's own homes, where her folkloric textiles and romantic decoration are on full display." —Remodelista
About the author
Nathalie Farman-Farma was raised in Paris and Greenwich, Connecticut. She studied at Brown and Columbia before working as associate editor for The New Yorker. She founded her studio, Décors Barbares, in 2010 in London, where she lives with her husband, Amir, and their two children. Miguel Flores-Vianna has been a photographer, writer, and editor for more than 20 years. His work is regularly published in AD and Cabana. He lives in London.