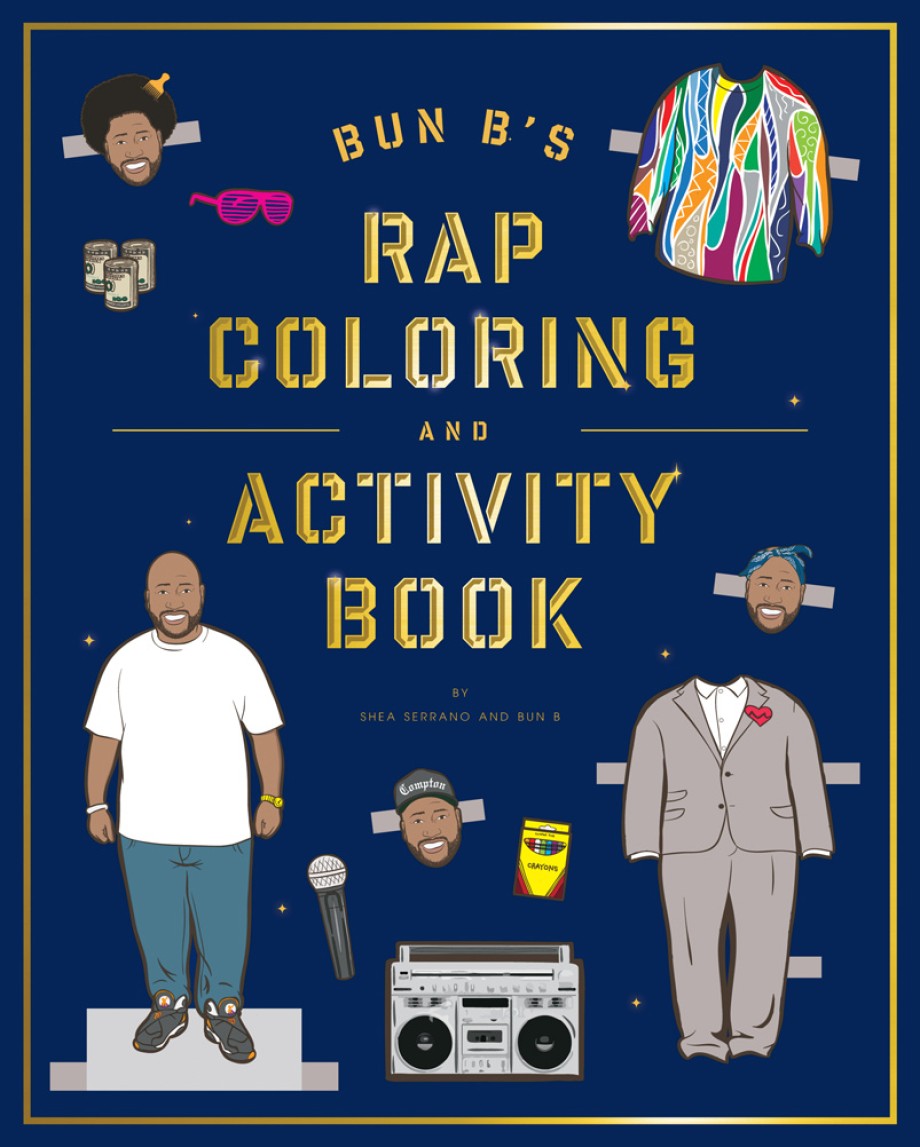 Bun B's Rap Coloring and Activity Book
Paperback
Price: $14.99
Also available from:
Publication Date: September 17, 2013
Imprint: Abrams Image
Trim Size: 8 x 10
ISBN: 9781419710414
Page Count: 48
Rights: World/All
Rapper Bun B lends his street cred and occasionally his face to the creative, hilarious, and just flat-out fun imaginings of Shea Serrano in Bun B's Rap Coloring and Activity Book. Described by the Washington Post as "what every hip-hop head wishes they had as a child," this imaginative work started as a series of printable rap-related coloring and activity images. The 48-page, fully interactive book of coloring pages, unbelievably clever activities, and smart plays on rap culture brings these stars and their music right into your living room.Featured rappers include:
Bun B
Queen Latifah
Drake
Talib Kweli
Ice-T
Common
Wiz Khalifa
Ludacris
LL COOL J
Big Boi
Childish Gambino
Questlove
B.o.B
Mac Miller
And many, many more!
Praise for Bun B's Rap Coloring and Activity Book:
"A star-studded cast of some of the biggest names in rap, all in one book."  —Fast Company's Co.Create blog
"It's 48 pages long, and that's the exact same number of pages the Bible has, and that's not an accident. That's a little thing called God's will." —Vice.com
"The book is funny, smart, and as kid-tested, mother-approved as some of these guys get." —Vulture.com
"Hilarious…razor sharp." —XXL
"If you've spent any kind of time on the Internet, chances are something Shea Serrano has written, drawn, or created has made you smile . . . The book's a load of fun, and is sure to please rap nerds and crayon-wielding tykes alike." —Village Voice
 
"There's art, humor and education, fun for young and old." —Paste magazine
 
"This is one of the few Tumblr-to-book projects that doesn't make me want to punch my computer in disgust. If the phrase 'see if you can build a Budden' doesn't make you chuckle, then you should stay away from hip-hop or jokes." —Christopher R. Weingarten, SPIN
 
"Bun B's Rap Coloring and Activity Book is gangsta!" —Mass Appeal.com
 
"48 pages of MC worship mixed with a generous measure of the kind of casual dissing of its star players that hip-hop excels at." —Esquire
 
"When I'm listening to Drake, I sometimes feel blue. Now, thanks to Bun B's Rap Coloring and Activity Book, I can make Drake blue, too. And for that, I am eternally grateful." —Ryan Dombal, Pitchfork.com
 
"The hip-hop coloring book is the single most important thing to happen to color since Cam's pink Range Rover. Everyone should want a Serrano in their baño." —Nate Erickson, GQ
 
"Like the old saying goes, the crayon is mightier than the sword. Bun B and Shea have assembled a perfect collection of today's brightest hip hop stars for fans of all ages to create, color and remix. The Rap Coloring and Activity Book is like your own personal mixtape that you can hang on your fridge and impress everyone with." —Mike Ayers, Rolling Stone
"Fans can now color inside the lines of hip-hop greats." —LA Times' Jacket Copy blog
"It's gotta be a first—for rap and for coloring." —Houston Chronicle
 
"For rap aficionados young and old." —GQ.com
"You may want to buy two copies—one to color, and one to keep fresh and new." —Buzzfeed
"The perfect coloring book for any hip-hop nerd." —Complex magazine
"If you have not already purchased a copy, put down this magazine immediately and go buy Bun B's Rap Coloring and Activity Book." —Kindling Quarterly
"A playful celebration of rap
About the author
Shea Serrano is a Houston-based writer who has written about music and popular culture for the past five years for magazines, newspapers, and websites. Bun B is a legendary figure in rap, currently the most popular form of music on the planet. As part of the groundbreaking group UGK, he helped pioneer Southern rap in the 1990s.