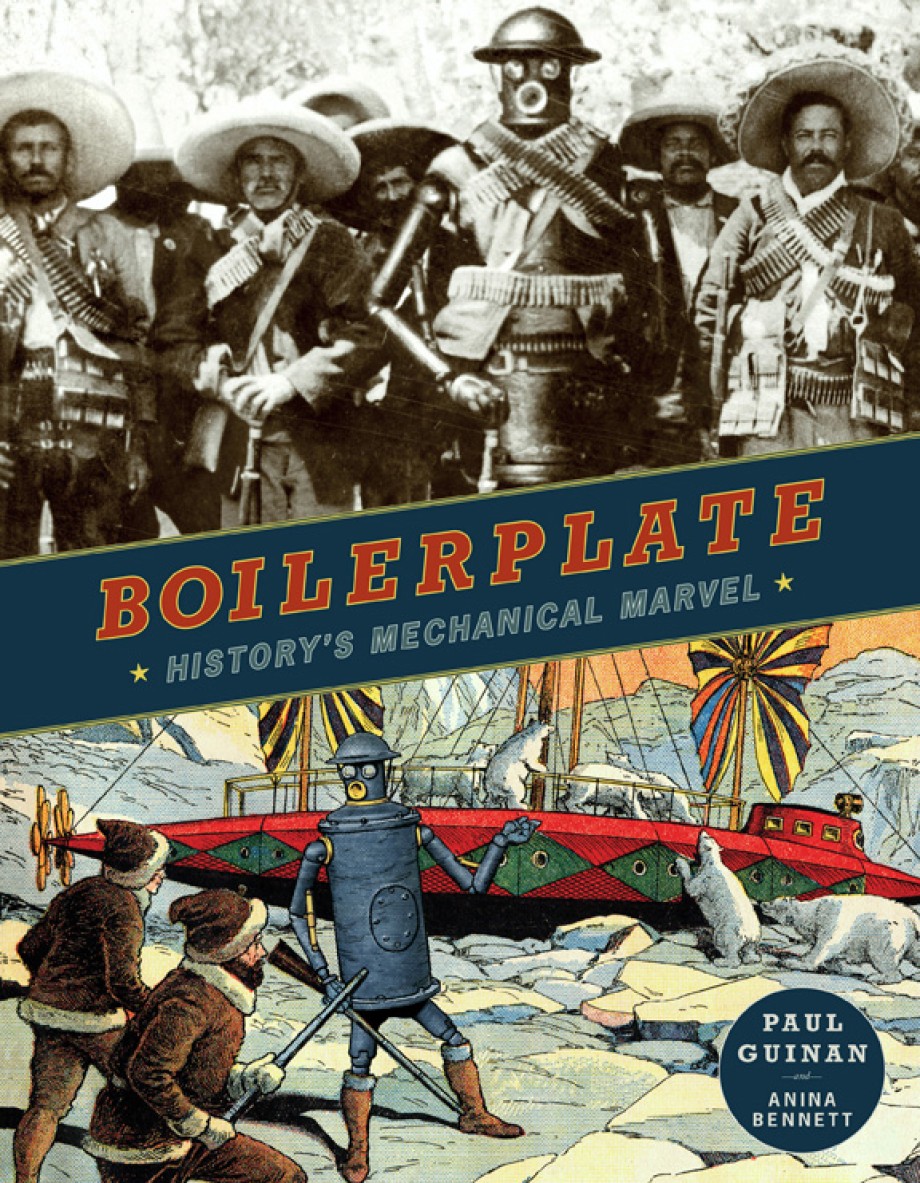 Boilerplate
History's Mechanical Marvel
Ebook
Price: $22.46
Available from:
Publication Date: May 1, 2012
Imprint: Abrams Image
Trim Size: 8 1⁄2 x 11
ISBN: 9781613120316
Page Count: 168
Illustrations: 350 full-color and black-and-white illustrations
Rights: World English
Meet Boilerplate, the world's first robot soldier—not in a present-day military lab or a science-fiction movie, but in the past, during one of the most fascinating periods of U.S. history. Designed by Professor Archibald Campion in 1893 as a prototype, for the self-proclaimed purpose of "preventing the deaths of men in the conflicts of nations," Boilerplate charged into combat alongside such notables as Teddy Roosevelt and Lawrence of Arabia. Campion and his robot also circled the planet with the U.S. Navy, trekked to the South Pole, made silent movies, and hobnobbed with the likes of Mark Twain and Nikola Tesla.
You say you've never heard of Boilerplate before? That's because this book is the fanciful creation of a husbandand-wife team who have richly imagined these characters and inserted them into accurate retellings of history. This full-color chronicle is profusely illustrated with graphics mimicking period style, including photos, paintings, posters, cartoons, maps, and even stereoscope cards. Part Jules Verne and part Zelig, it's a great volume for a broad range of fans of science fiction, history, and robots.

About the authors
Paul Guinan and Anina Bennett have been collaborating on comics and graphic novels since 1989, including the Eisner Award–nominated science-fiction comic series Heartbreakers. Paul is an artist and writer whose clients include the History Channel and the Cartoon Network. Anina is a writer and editor who has worked with Dark Horse Comics and international publisher Egmont. They live in Portland, Oregon.