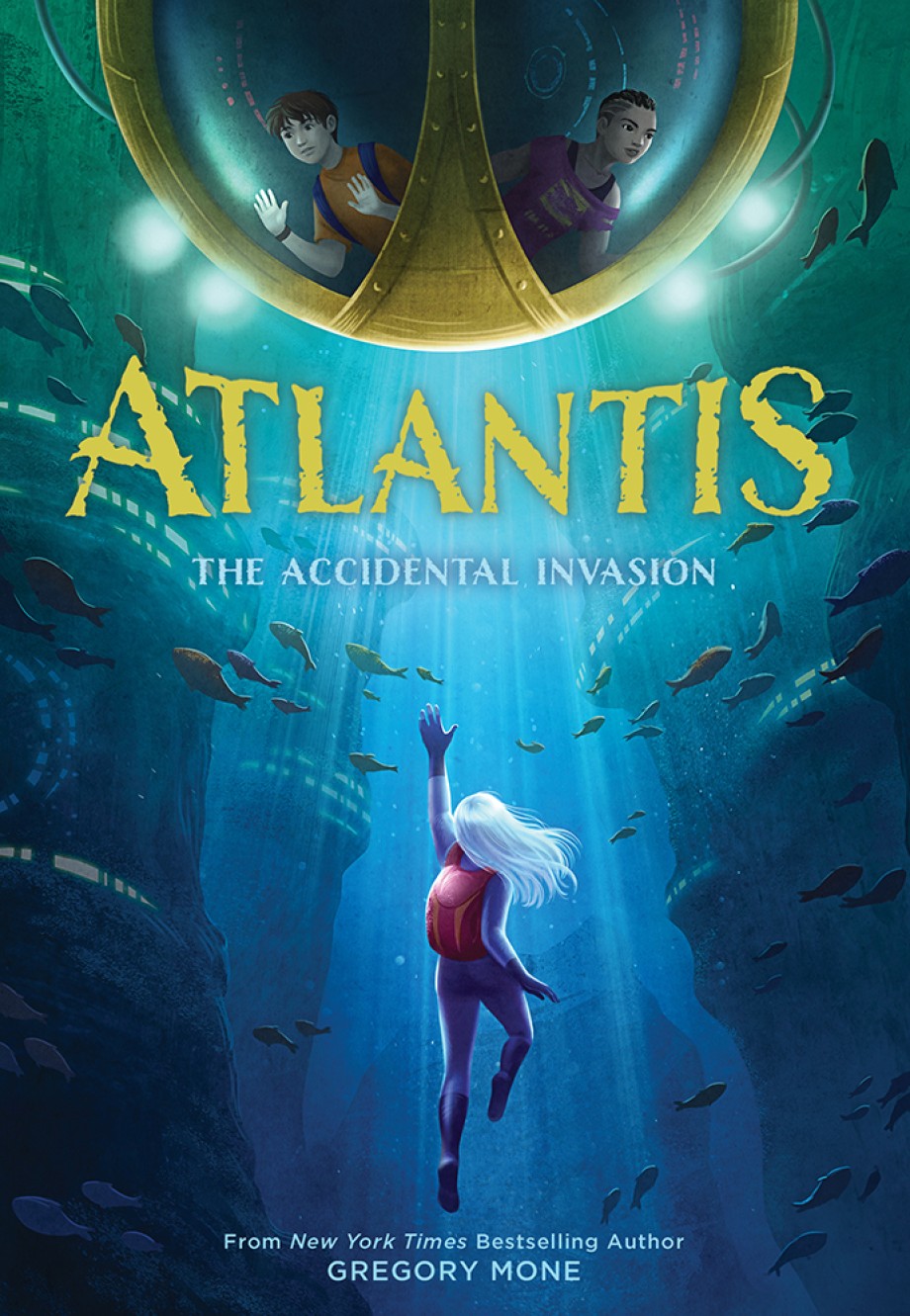 Atlantis: The Accidental Invasion (Atlantis Book #1)
Ebook
Price: $8.09
Available from:
Additional formats:
Publication Date: April 20, 2021
Imprint: Amulet Books
ISBN: 9781647000363
Page Count: 312
Rights: World/All
Perfect for fans of Percy Jackson and Mr. Lemoncello's Library, Atlantis: The Accidental Invasion launches an exciting, action-packed new series about the underwater lost city
Kaya, raised in the undersea, high-tech world of Atlantis, has always been fascinated by the legends about life above the water. Despite the government's insistence that they're only stories, she can't help but dream about the Sun People—and when a group of officials known as Erasers move to bury those legends for good, Kaya sets out to the surface to uncover the truth once and for all.
In the world above, giant tsunamis threaten Earth's coasts, and all Lewis wants is to spend more time with his scientist father. When he stows away on his dad's top-secret research trip, he finds himself thrown headfirst into an adventure much bigger than he bargained for.
Fast-paced and action-packed, The Accidental Invasion brings readers into a world unlike anything they've seen before. Bonus content includes real scientific information about genetic modification, earthquakes, nuclear power, and plate tectonics.
Praise
"Features expeditious pacing, ample secrets, and imaginative science and tech creations that are zippy indeed"

Kirkus Reviews —
"A fascinating twist on the Atlantis legend. Filled with action, adventure, and a great deal of heart."

Stuart Gibbs, New York Times bestselling author of the Spy School series —
"A triumph! The book is smart, current, compelling, funny, and full of heart. There is so much to love. The premise is brilliant. I love the characters (especially those who transform into heroes as the adventure unfolds) and the interactions between those of two worlds . . . The plotting and pacing of the novel are perfect, the suspense and adventure never waver. Still, one of my favorite elements of the story is its humor."

Christopher Rose, Andover Bookstore (Andover, MA) —
"Atlantis: the Accidental Invasion is sure to be a hit with readers and teachers. The kids will appreciate the blend of humor, science, and speculation, all wrapped up in an undersea adventure. Teachers can use it to open up class discussions about our oceans and inspire great "what if" scenarios."

Kristine Jelstrom-Hamill, Buttonwood Books (Cohasset, MA) —
"This steampunkish sci-fi/fantasy adventure is quickly paced, an inventive, if far-fetched, engagement of plastics pollution and climate change—as well as a diverting vision of Atlantis's underwater technology. Lewis's middle-grade wackiness is quietly funny and realistic."

The Horn Book Magazine —
"Full of action and adventure."

Geekmom —
"What if the legend isn't a myth? What if Atlantis is real and the people who live there have through the generations adapted to their environment? Atlantis: The Accidental Invasion is that story. This fanciful twist highlights the serious topic of climate change with quirky characters and lots of high tech gadgetry that is very cool! Kids who like constant action are going to really enjoy this book."

Kathleen "Totsie" McGonagle, Buttonwood Books (Cohasset, MA) —
Greg Mone talks about the inspiration for the book
About the author
Gregory Mone is the author of several bestselling works of fiction and nonfiction for both children and adults. He is a contributing editor at Popular Science and an award-winning science writer. A graduate of Harvard College, he lives with his family on Martha's Vineyard.