COVER OF NEW DIARY OF A WIMPY KID BOOK REVEALED BY JEFF KINNEY TO FANS WORLDWIDE AT LIVESTREAMED CARNEGIE HALL EVENT HOSTED BY ABRAMS
Unveiling of Diary of a Wimpy Kid: The Getaway Kicks Off the 10th Anniversary Celebration of the Internationally Bestselling Series Leading Up to
Global Release on November 7, 2017, and International Tour
New York, NY [April 27, 2017]—Author and creator Jeff Kinney today revealed the cover of the eagerly anticipated 12th book in the internationally bestselling Diary of a Wimpy Kid series. The unveiling of Diary of a Wimpy Kid: The Getaway took place at New York City's famous Carnegie Hall in front of schoolchildren from throughout the city, broadcast live for fans around the world watching the livestream on the Wimpy Kid YouTube channel.
The cover's bold blue background features a humorous illustration of the Heffley family in flight, and promises another hilarious adventure for Kinney's millions of fans when the book releases simultaneously in the United States and worldwide in 21 countries on November 7, 2017.
Kinney's Carnegie Hall presentation also included a guest appearance by fellow author and friend Jarrett J. Krosoczka, as well as Kinney's reflections on 10 years of huge Diary of a Wimpy Kid success and an interactive launching of paper airplanes by the audience. In addition to his event at Carnegie Hall, Kinney will also be ringing the closing NASDAQ bell.
"Ten years in, I'm having a blast. I'm as excited and energized about these books as I've ever been, and I think The Getaway is going to be one of the best Wimpy Kid books," says Kinney. "I'm very grateful to all of the readers who have stuck with me over the years, and to the ones who are just starting the series."
The incredible day of events caps off ABRAMS's annual April as Wimpy Kid Month and is just the beginning of the 10th anniversary celebration honoring "10 Years of LOL." The past decade has been one of extraordinary achievement, including a remarkable 500+ weeks on the New York Times bestseller list, over 180 million books in print worldwide, 6 Nickelodeon Kids' Choice Awards, and 3 blockbuster movies.
"When Charlie Kochman [Jeff's editor at ABRAMS] brought the first Diary of a Wimpy Kid manuscript to our publications board more than ten years ago, we knew that it was special, that it could grow into a series and that it would resonate with kids, with reluctant readers and with parents, teachers, and librarians," says Michael Jacobs, president and CEO of ABRAMS. "What we couldn't imagine was the impact the books would make on kids and reading around the world, or that the series would spend more consecutive weeks on the New York Times—and other bestseller lists everywhere—than any other kids' book series . . . ever. Ten years of LOL, indeed—and counting!"
The 10th anniversary celebration will continue in force throughout the year with author appearances, another major motion film release, exciting new publications, and a global tour still in store. This spring brings the anticipated May 19 release of the fourth Diary of a Wimpy Kid movie, The Long Haul, from 20th Century Fox, as well as the publication of The Wimpy Kid Movie Diary: The Next Chapter, on sale May 9. As the only official tie-in publication to the film, this exclusive edition features a behind- the-scenes look at the making of the movie and original essays and illustrations by Jeff Kinney.
This summer, Kinney will be attending BookCon in New York City on Saturday, June 4, and Sunday, June 5, with both a solo presentation celebrating the 10th anniversary of Wimpy Kid and a panel appearance with Kwame Alexander, Mary Pope Osborne, and Lemony Snicket. In addition, there will be an all-new version of the celebrated first book in the series with Diary of a Wimpy Kid: Special CHESSIEST Edition (on sale August 8), a special one-of-a-kind collectible offered for a limited time, featuring a padded front cover, "cheese touch" stained edges, and a special letter from the author.
This fall brings the publishing event of the year that millions of fans around the world have been anticipating: the November 7 publication of Diary of a Wimpy Kid: The Getaway. Originating from ABRAMS's Amulet imprint in the United States, the title will be published throughout the world, in the United Kingdom, Canada, Germany, France, Australia, Turkey, Greece, China, Japan, Brazil, Spain, Catalonia, Romania, Portugal, Hungary, Sweden, Latvia, Norway, Taiwan, Israel, and Korea.
With this new adventure, readers won't be able to stop laughing as they join Greg and his family on a holiday trip to remember. To escape the stress of the holidays, the Heffleys decide to get out of town and go to a resort instead of celebrating Christmas at home, but what's billed as a stress-free vacation becomes a holiday nightmare. Filled with Kinney's trademark hilarity, accessibility, and pure fun, this latest Wimpy Kid installment is sure to delight fans once again.
The release will kick off international marketing and publicity campaigns including major trade and consumer advertising across print, broadcast, and social media channels; extensive social media promotion; massive publicity and large-scale events. Kinney will embark on his third global tour in November meeting and entertaining fans around the world with media and events.
Jeff Kinney's work has been widely praised for its ability to turn reluctant readers on to books. Published in 2007, the first Diary of a Wimpy Kid book was an instant bestseller, and just a year later, more than 100,000 copies were in print in the United States alone. The Diary of a Wimpy Kid series is a fixture on the USA TODAY, Wall Street Journal, Publishers Weekly, and IndieBound bestseller lists. The books have remained on the New York Times bestseller list for more than 500 weeks total, and for more than 422 weeks on the series list. The series has won 6 Nickelodeon Kids' Choice Awards, and Jeff Kinney won Children's Choice Book Awards in 2012 and 2013. Books in the series have won numerous awards voted on by students and teachers around the globe. Wimpy Kid books have been sold in more than 62 editions in 53 languages and appear on bestseller lists around the world. There are now more than 180 million books in the series in print.
Founded in 1949, ABRAMS was the first company in the United States to specialize in publishing art and illustrated books. Now a subsidiary of La Martinière Groupe, the company continues to publish critically acclaimed and bestselling works in the areas of art, photography, cooking, craft, comics, interior and garden design, entertainment, fashion, and popular culture; children's books ranging from young adult fiction to picture books to board books. ABRAMS creates and distributes brilliantly designed visual books with the highest production values under the following imprints:
Abrams; Abrams ComicArts; Abrams Image; Abrams Press; Abrams Books for Young Readers; Amulet Books; Abrams Appleseed; and a gift and stationery line, Abrams Noterie. ABRAMS also distributes books for The Vendome Press, Victoria & Albert Museum, Tate, Booth-Clibborn Editions, Five Continents, SelfMadeHero, MoMA Children's Books, and others.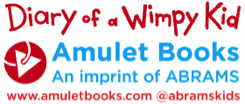 Contact: Melanie Chang ABRAMS
Vice President, Children's Marketing and Publicity Phone: 212.229.8826
Email: mchang@abramsbooks.com
* * * * *