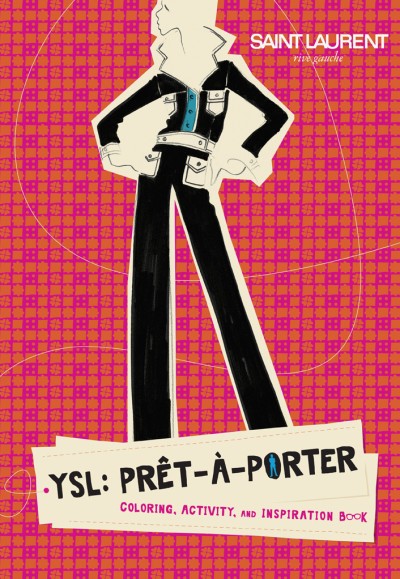 YSL: Prêt-à-Porter
Coloring, Activity, and Inspiration Book
Imprint: Abrams Image
Publication Date: May 7, 2013
Price: $18.95
Trim Size: 9.75 x 14.25
ISBN: 978-1-4197-0677-6
EAN: 9781419706776
Page Count: 40
Illustrations: 40 illustrations
Format: Paperback
Rights: North America Only
Celebrating 40 years of glamorous fashion and design, this officially authorized coloring book and sketchbook is based on the drawings and works of Yves Saint Laurent (1936–2008). This playful and unique memento allows for a behind-the-scenes look at the creative process of the YSL brand, as well as the chance for the reader to reimagine these famous designs.
Yves Saint Laurent was more than just a stylist: He was a genius designer who reinvented the world of haute couture. From the beginning, YSL wanted his clothing to be accessible to women all over the world. His "Rive Gauche" collection was the first-ever ready-to-wear collection made by a haute couture designer. This collection became an iconic one that bridged the gap between haute couture and the clothes that women could actually wear.
Prêt-à-Porter explores the behind-the-scenes process of this collection and includes original drawings and sketches by Yves Saint Laurent himself. The book is a unique collection of fashion inspiration and interactive design that allows readers to discover Yves Saint Laurent's design methods in a coloring book that is both stylish and fun.
Praise for YSL: PRÊT-À-PORTER:
"YSL: PRÊT-À-PORTER pays tribute to Saint Laurent's design career. But the interactive sketchbook also nods to the importance he placed on options, allowing readers to mix and match swatches to rework some of Saint Laurent's pieces." – Time.com
"Filled with pages of sketches, silhouettes, and patterns to excite the elementary schooler in us all, YSL: Prêt-À-Porter: Coloring, Activity, and Inspiration Book is simultaneously a historical document and an outlet for innovation." —Refinery29
"It's a coloring, activity and history book all-in-one, featuring Yves Saint Laurent's sketches, close-ups of his prints and a deeper look into his design process in a way that's fun and creative." —Essence.com
"It's time for crayons and couture. Little ladies and the young at heart will swoon over YSL: Prêt à Porter—a coloring, activity and inspiration book based on master couturier Yves Saint Laurent's sketches spanning 1936–2008."
—New York Daily News online
 
"Ideal for budding fashion mavens." – Women's Wear Daily