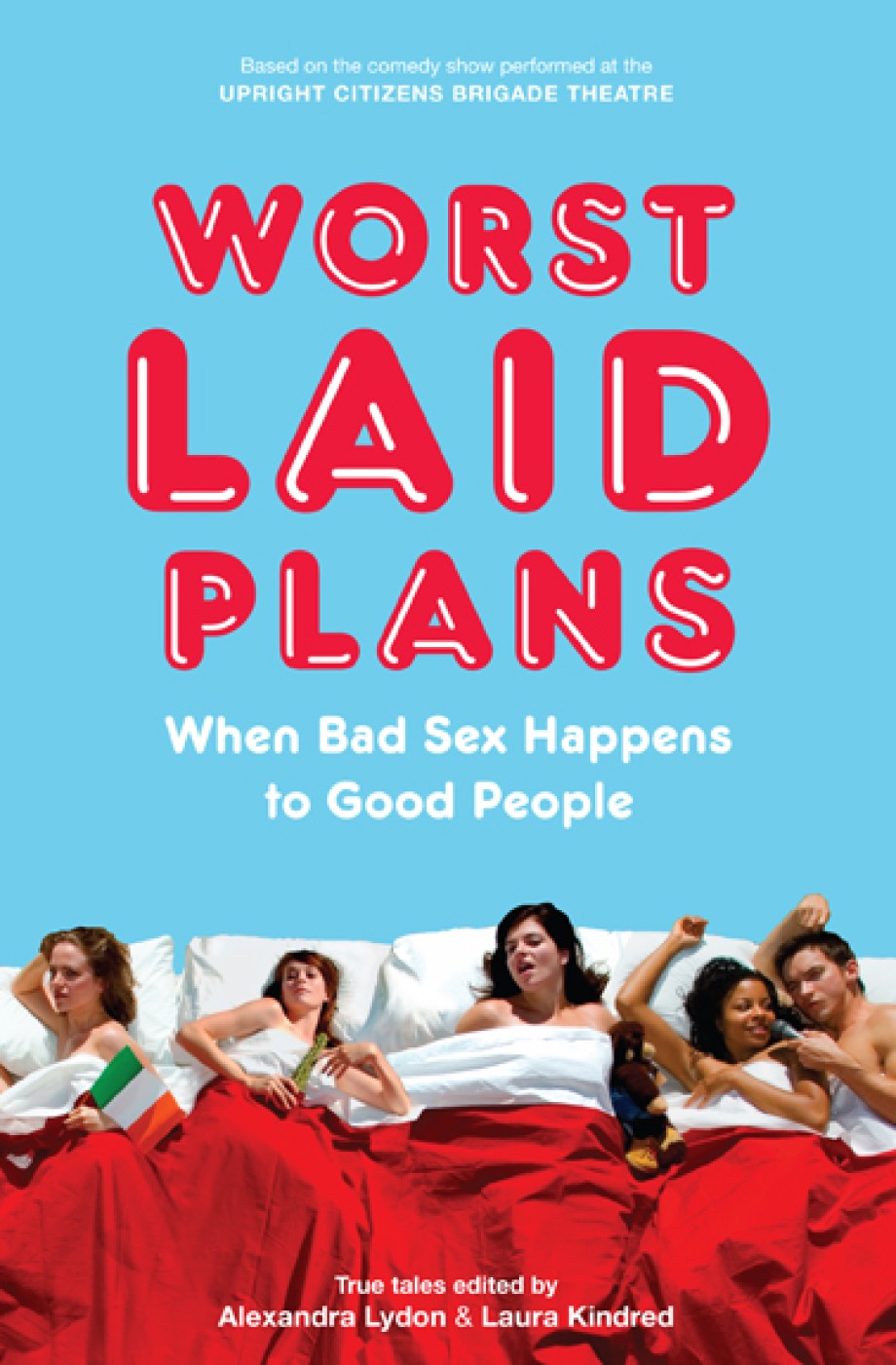 Worst Laid Plans
When Bad Sex Happens to Good People
Imprint: Abrams Image
Publication Date: May 1, 2010
Price: $14.95
Trim Size: 5 1⁄4 x 8
ISBN: 978-0-8109-8902-3
EAN: 9780810989023
Page Count: 240
Format: Paperback
Rights: World English
Additional formats:
"When bad sex happens to good people, there is no recourse like full disclosure," is the motto of Worst Laid Plans, a collection of forty probably-too-intimate, but shockingly funny, true-life tales of lust gone wrong. The stories are divided into themed sections including Foreign Affairs ("When bad sex goes abroad"), Self-Help ("Love thyself…but do it carefully"), On the Rebound ("The art of getting back in-and-out-there"), Mob Mentality (People will do things in groups they would never do alone"), and The End of Innocence ("A memorial to virginity") among others. The book evolved out of a storytelling event originally staged at Upright Citizen Brigade, the highly influential comedy organization co-founded by Amy Poehler, who along with Janeane Garofalo and SNL's Casey Wilson, performed at the show that continues today. Part Vagina Monologues, part car crash, and wholly hilarious, the volume features contributions from shameless actors, comedians, and writers who will shamelessly spread the word via blogs, on-line videos, tweets, on-going WLP performances, film/TV/media contacts, and further sexual conquests.
"[A] hilarious testimonial to the vast array of consequences we face after
having ignored that little voice inside that says: 'Don't.' 'This isn't a
good idea.' 'Leave now.'"
—Laraine Newman (Saturday Night Live, The Groundlings)
"Irrefutable evidence that one should wait until marriage to have sex."
—Joel McHale (The Soup, Community)
"This book will make you laugh, scream, and want to be a lesbian."
—Whitney Cummings (Chelsea Lately, Comedy Central)
"This is the best kind of comedy; that which makes you both laugh and
erect."
—Rob Corddry (The Daily Show)

About the authors

Alexandra Lydon, originally from Boston and a graduate of NYU's Tisch School of the Arts, is currently a Los Angeles-based actress who has appeared on 24, Prison Break, CSI, Desperate Housewives, and House.

Laura Kindred, raised in Greater Boston and also a graduate of NYU's Tisch School of the Arts, is currently a fashion writer and Senior Site Editor for a California-based fashion company. She previously served as Copy Director at Ralph Lauren.