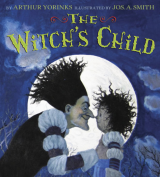 Imprint: Abrams Books for Young Readers
Publication Date: October 1, 2007
Price: $17.95
Trim Size: 9 x 10
ISBN: 978-0-8109-9349-5
EAN: 9780810993495
Page Count: 32
Format: Hardcover
A creator of the bestselling Mommy? and an acclaimed illustrator will BEWITCH READERS!
Who wants to be a witch's child?
When a witch wishes to have a child of her own, she creates one from straw and names her Rosalie. But when the witch tries to coax the straw girl into life, she is thwarted at every turn, until finally she abandons her inanimate creation.
Then one day while the witch is away, a young girl wanders into the witch's house. She befriends Rosalie, but she tarries too long. The witch is coming home! Who will save this young girl?
The haunting and bewitching illustrations by inspired artist Jos. A. Smith dramatically bring to life this poignant and spine-tingling story by Arthur Yorinks.
Praise for Jos. A. Smith
"[Smith's] watercolor art, embellished with pencil, watercolor pencil, and pen and ink, is dramatic and a perfect complement to the vivid prose . . ." —Kirkus
"Smith's watercolors masterfully portray all of the characters and scenes . . ." —School Library Journal
Praise for Arthur Yorinks
Author of a Caldecott Award–winning book
"Yorinks moves it all along at a good pace . . . children will enjoy . . ." —School Library Journal
"Yorinks's droll storytelling talents are perfect . . ." —Publishers Weekly
About the author
Arthur Yorinks has created a number of celebrated books for children. Among them are Mommy?, illustrated by Maurice Sendak; Hey, Al, winner of the Caldecott Medal; and Happy Bees. He is the founder and director of The Night Kitchen Radio Theater. He lives in New York City.

Jos. A. Smith has illustrated a range of books for both children and adults, among them Circus Train, which he also wrote, and Gregor Mendel, which School Library Journal called "an eye-catching picture book." He is a professor of fine arts at Pratt Institute in Brooklyn, New York, and his work has been exhibited in galleries throughout the United States. He lives in Easton, Pennsylvania.