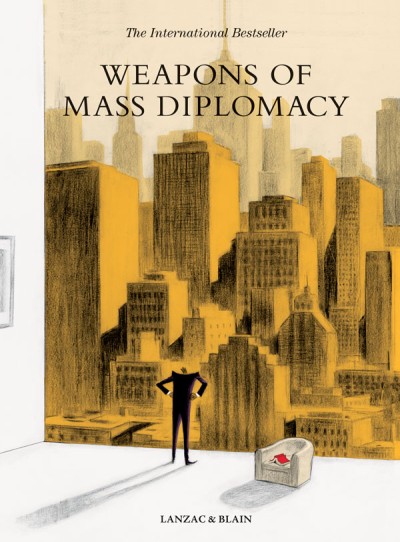 Weapons of Mass Diplomacy
Imprint: SelfMadeHero
Publication Date: May 6, 2014
Price: $24.95
Trim Size: 8 x 10 1⁄2
ISBN: 978-1-906838-78-2
EAN: 9781906838782
Page Count: 200
Illustrations: color illustrations throughout
Format: Hardcover
Rights: US & Canada
Following 9/11, President Bush's "War on Terror" with plans to invade Iraq erupted into a cultural clash between French reluctance and American assurance over the case for "Weapons of Mass Destruction." In Weapons of Mass Diplomacy, diplomat Abel Lanzac reveals the tension and politics through a French insider's point of view, with satirical humor that softens the controversial subject matter. Readers follow Lanzac's fictionalized self, Arthur Vlaminck, a speechwriter for the French Foreign Minister. As part of a team of flamboyant ministerial advisors, he has been tasked with drafting France's response to the growing international crisis in the Middle East, which is then delivered before the United Nations Security Council. A graphic milestone of diplomacy, Weapons of Mass Diplomacy—a bestseller in Europe—pro­vides a revelatory account of a period that saw French fries become "freedom fries" and an alternative perspective on the decisions leading up to the U.S.-led invasion of Iraq.
Praise
"Were I in the front row of the White House press briefing room, I would ask spokesman Jay Carney one question above all others: 'Have you read Weapons of Mass Diplomacy, and if not, why not?' It's that good—insightful, like a tall mirror reflecting truth, hung in the halls of power."

— The Washington Post
"The machinations at the ministry gave him the material for 'Quai d'Orsay,' a bande dessinée that he wrote under the pen name Abel Lanzac, with illustrations by Christophe Blain. . . . The book was recently brought out in English by the British publisher SelfMadeHero under the title 'Weapons of Mass Diplomacy.'"

— The New York Times
About the author
Abel Lanzac, a pseudonym for Antonin Baudry, is a diplomat and former advisor to French Foreign Minister Dominique de Villepin. Christophe Blain is an award-winning artist and writer. In 2002, he won the Best Graphic Novel award at Angoulême for Isaac the Pirate.