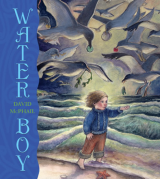 Imprint: Abrams Books for Young Readers
Publication Date: April 1, 2007
Price: $16.95
Trim Size: 8 x 9
ISBN: 978-0-8109-1784-2
EAN: 9780810917842
Page Count: 40
Illustrations: 40 Color Illu
Format: Hardcover
Beloved illustrator McPhail offers a child's magical view of the natural world.
When a little boy overcomes his fear of water, fantastic things begin to happen: The birds who live by the sea bring him treasures, the waves sing to him, and suddenly, he is able to perform incredible tricks, like parting or purifying water. He uses his special powers to transform not only himself, but also the world around him.
Award-winning author and illustrator David McPhail uses his exquisite paintings and a touch of magic to illustrate the connection between people and nature and to encourage young readers to help take care of the environment. A beautiful and evocative picture book unlike any other, Water Boy will captivate children, adults, and environmentalists alike.
"Water Boy began as a series of little drawings (I try to do at least one every day). Water images kept showing up in my sketches and soon became a theme. After I'd done about eight or ten, I tried to connect them, but nothing worked, so I put the idea aside.
"I continued to draw, and my drawings were still infused with water. Then, without really trying, they began to reveal some continuity. I kept drawing and drawing, and the story continued to take shape. It came together so magically that it informed my new approach: Do the art you want, and the story will follow . . ."
—David McPhail
About the author
David McPhail has illustrated over 100 books for children and received numerous state awards and other honors. He is also the illustrator of When Sheep Sleep, by Laura Numeroff. He lives in Rye, New Hampshire.