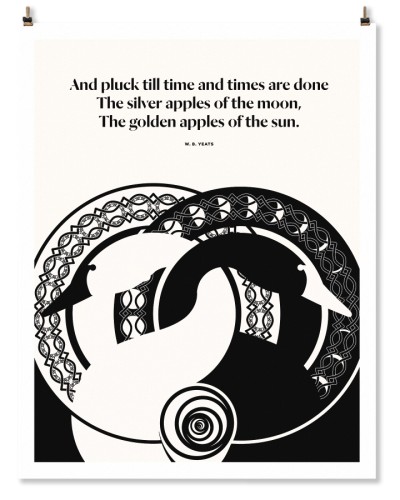 Imprint: Obvious State
Publication Date: September 24, 2019
Price: $24.95
ISBN: 063-4392439-42-3
EAN: 0634392439423
Page Count: 160
Format: Print
Rights: US and Canada
"And pluck till time and times are done, the silver apples of the moon, the golden apples of the sun." - W. B. Yeats
From his lyrical poem, The Song of Wandering Aengus.
Yeats often drew inspiration from ancient Celtic stories, which reinvigorated interest in Irish mythology. His rich and beautiful poetry is layered with multiple meanings, but demonstrates an undeniable passion and yearning for harmony, beauty and spiritual ascendance. In the original story, Aengus had a vision of a lovely maiden named Caer and spends many years lovesick and in search of her. He finally finds her on the edge of a lake, but discovers that she's imprisoned by an enchantment that transforms her into a swan every other year. Without hesitation, Aengus jumps into the lake, choosing to be transformed into a swan as well rather than be parted.
But in Yeats' poem, Aengus has not yet found his love. He is "old with wandering." And although he has only glimpsed her in a vision, he's committed to wandering forever in search of her. Perhaps Aengus' yearning represents the yearning of not only lovers, but philosophers and poets as well—all of whom strive toward an elusive vision of the sublime.
• 11x14 inch art print with white border
• Heavy, premium 270 gsm archival paper
• Matte, slightly textured finish
Original artwork by Obvious State, not endorsed by or affiliated with the attributed author. All applicable rights reserved.
About the author
Obvious State is a creative studio in pursuit of wisdom and beauty. They are inspired by provocative language that has stood the test of time, poetry that captures the beauty of the human experience, and philosophy that drives us to examine and re-examine. They aim to create art and thoughtfully designed gifts that prompt conversations and bring aesthetic joy to everyday objects. All Obvious State goods are meticulously crafted in the United States and printed on the finest papers and materials. After all, beautiful language deserves beautiful treatment.