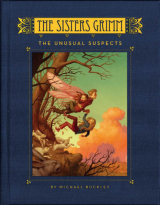 The Unusual Suspects (Sisters Grimm #2)
Imprint: Amulet Books
Publication Date: October 1, 2005
Price: $16.95
Trim Size: 5 1⁄2 x 7
ISBN: 0-8109-5926-7
EAN: 9780810959262
Page Count: 192
Illustrations: 288 pages, 5 1⁄2 x 7, 304 pages, 5.5x7"
Format: Hardcover
Additional formats:
With the winning combination of Nancy Drew meets Shrek, this next book in the new Sisters Grimm series will entertain fans with the same hilarious mix of mysteries with fairy tale twists—plus some new, outrageous adventures.
In the tradition of Lemony Snicket's Series of Unfortunate Events and The Spiderwick Chronicles comes a new humorous mystery of fantastic circumstances. When orphaned sisters, Sabrina and Daphne, are sent to live with their mysterious grandmother, Relda Grimm, who lives in a strange town in New York state, known for it's extraordinary number of unexplained and unusual crimes, they begin to unravel a mystery that leads to their ancestors' magical beginnings.
Sabrina and Daphne find out they are descendants of the Brothers Grimm, who were actually detectives of the magical phenomenon perpetrated by the Everafters, a parallel race of magical beings. They soon learn it is the Grimm family's legacy to keep the Everafters in line and the two sisters are the sole heirs to this challenge! In the Sisters Grimm Book Two: The Unusual Suspects , the girls start school with Snow White as their teacher and soon discover a plot pitting mortal children against immortal parents—they must do everything they can to stop it!
In a new breed of mystery that entails excitement, adventure and imagination, The Grimm Sisters Book Two: The Unusual Suspects injects the legends of fairytale with modern day sensibilities and suspense, creating an irresistible combination young readers will love!
F&P level: U
About the author
This is Michael Buckley's first book. He has written and developed shows of Nickelodeon, Disney, MTV animation, the Sci-Fi Channel, and VH-1. His shows The Mole People and the New Sideshow can be seen regularly on the Discovery Channel. Michael also writes a monthly internet column for The Idiot Magazine. He lives in New York City.

Peter Ferguson is a comic book and editorial artist who just published his first picture book with the Tricycle Press. He is also the illustrator of the young adult novels, The Anybodies and The Nobodies, by N.E. Bode. He lives in Montreal, Canada.