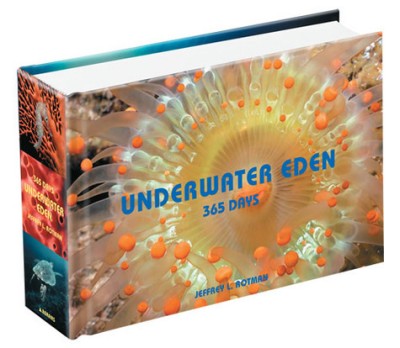 Imprint: Abrams Books
Publication Date: May 1, 2007
Price: $32.50
Trim Size: 9 1⁄4 x 6 1⁄4
ISBN: 978-0-8109-9311-2
EAN: 9780810993112
Page Count: 744
Illustrations: 365 Color Photos
Format: Hardcover
With a focus on coral reefs, Underwater Eden illuminates the fantastic colors, array of textures, and countless bizarre shapes and forms of undersea life.
Beneath the surface of the world's most exotic seas and oceans—from the Red Sea and the coast of Costa Rica to the Great Barrier Reef and Palau Islands—lie spectacularly diverse ecosystems that only a privileged few have had the opportunity to view up close and in person. Jeffrey Rotman has spent more than thirty years diving in these waters to capture their breathtaking beauty and the stunning richness and variety of the creatures that inhabit them. .
The book's extended captions are written by Rotman and contain scientific facts and trivia interspersed with personal anecdotes and insights gained from decades of observation. Underwater Eden grants readers 365 days of unprecedented access into a strange and captivating world.
About the author
Jeffrey L. Rotman is one of the world's leading underwater photographers. He is the author of numerous books and articles on marine life and was named BBC Underwater Wildlife Photographer of the Year in 1991. He has also won the National Press Photographers Award for Picture of the Year in 1994 and 2000. He lives in New Jersey.