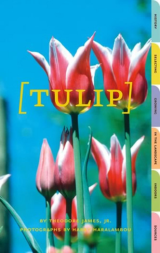 Imprint: Abrams Books
Publication Date: March 11, 2003
Price: $17.95
Trim Size: 6 1⁄8 x 9 1⁄2
ISBN: 978-0-8109-9099-9
EAN: 9780810990999
Page Count: 96
Format: Paperback
One of the most popular of all spring-flowering bulbs, the tulip has a history that is as colorful as the flower itself. In the 1600s, in the heyday of "tulipomania," these stately blooms were rare, very expensive, and considered status symbols by European aristocrats. Fortunately, today just about all of us can afford to "tiptoe through the tulips" right in our own gardens. This easy-to-use, abundantly illustrated guide tells novice and expert gardeners everything they need to know to successfully grow many exquisite varieties, from the bizarre Parrot to the classic Rembrandt.
About the author
Author Theodore James, Jr., and photographer Harry Haralambou, author and photographer of Abrams' Seaside Gardening, are a nationally known team, with 10 books and dozens of magazine articles to their credit. James is a popular lecturer on garden subjects and in 1988 was knighted by the King of Belgium for his writing on Belgian gardens and architecture. Haralambou has received numerous awards from the Garden Writers Association of America for his photographs. Both reside on the North Fork of Long Island, New York.