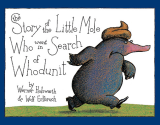 The Story of the Little Mole Who Went in Search of Whodunit
Imprint: Abrams Books for Young Readers
Publication Date: March 1, 2007
Price: $15.95
Trim Size: 11 1⁄2 x 8 1⁄4
ISBN: 978-0-8109-1641-8
EAN: 9780810916418
Page Count: 24
Format: Hardcover
The long-running gross-out bestseller!
Since its first publication in 1993, this book has charmed readers young and old with its unconditionally candid tale that raises bathroom humor to new heights. Splendidly straightforward and comic, it is at first unbelievable and then irresistible.
When Little Mole looks out of his hole one morning—PLOP!—something lands on his head. Whodunit? Now a new generation of readers will enjoy this one-of-a-kind, stinky, and delightful story for the first time.
About the authors
Werner Holzwarth has worked in advertising and as a creative director in Germany, and as a journalist in Bolivia.

Wolf Erlbruch began working as an illustrator of children's books in 1974. A professor at the University of Düsseldorf, he teaches illustration and design.