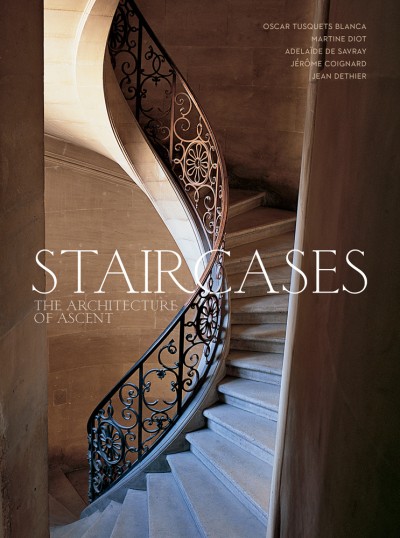 Staircases
The Architecture of Ascent
Imprint: Vendome Press
Publication Date: October 29, 2013
Price: $75.00
Trim Size: 9 3⁄4 x 12 1⁄4
ISBN: 978-0-86565-309-2
EAN: 9780865653092
Page Count: 240
Illustrations: 238 color and black-and-white illustrations
Format: Hardcover
Rights: North America
The essential purpose of a staircase is utilitarian: to facilitate ascent and descent. Yet the design of even the simplest stair is complex, requiring great knowledge, skill, and ingenuity. This volume showcases the astonishing diversity of staircases over the centuries, from the stepped pyramids of the Maya to the exquisitely proportioned stairs of the Renaissance, to the elaborate balustraded confections of the Baroque period, to the virtuosic, computer-aided designs of today. Among the scores of featured staircases are Michelangelo's double stair at the Palazzo dei Senatori on the Capitoline Hill in Rome; the double-spiral stair at Château de Chambord in France's Loire Valley; the entrance stair in the Winter Palace (now the Hermitage) in St. Petersburg; the radical spiral ramp of Frank Lloyd Wright's Guggenheim Museum; and the exterior stair at the Pompidou Center in Paris. Architectural tours de force all, often charged with religious, mystical, and hierarchical meaning, these staircases are inherently dynamic, as is every page of this fascinating and beautifully illustrated book. Praise for Staircases:
"Forget utilitarian, boring staircases. This book illustrates an array of stunners, from Frank Lloyd Wright's spire ramp at the Guggenheim to Michelangelo's Roman masterpieces."—At Home

"A useful piece of architecture that transcends cultures and location, staircases have been around almost as long as humans have. A new book, Staircases: The Architecture of Ascent, presents a dizzying array of staircases across the globe and throughout history." —PopSugar

"If you, like me, fill your bookshelves with visual passion and lovely bound imagery, then you too will enjoy the downward or upward lift from Oscar Tusquet's Staircases: The Architecture of Ascent." —La Maison Fou

"With beautiful images of a range of stairways. . . see a history of the trends, innovations, and modernizations of the seemingly simple invention that helps us get from one floor to the next."—The Daily Beast

"The constructions documented in 'Staircases' are like ballets, set to orchestrations of marble, limestone, granite, cast iron, steel and inlaid wood." —The Wall Street Journal

About the author
Oscar Tusquets Blanca is an architect, designer, painter, writer, and curator. He lives in Barcelona.



Martine Diot is a historian and head of information studies at the Centre for Research on Historical Monuments in Paris. She has published

several books on architectural design.



Adelaïde de Savray is a graduate of the Université Sorbonne Nouvelle. Now living in Pittsburgh, she has worked as a research assistant and archivist with an interest in the cultural heritage of France.



Jérôme Coignard is an art historian and journalist who writes regularly for the magazine Connaissance des Arts. His books include Dream Palaces: The Last Royal Courts of Europe (2004).



Jean Dethier is an architect and urban planner. He has curated more than twenty exhibitions at the Pompidou Centre, Paris.