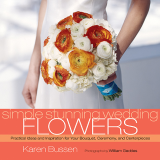 Simple Stunning Wedding Flowers
Practical Ideas and Inspiration for Your Bouquet, Ceremony, and Centerpieces
Imprint: Stewart, Tabori & Chang
Publication Date: January 1, 2007
Price: $25.00
Trim Size: 8 1⁄2 x 8 1⁄2
ISBN: 978-1-58479-539-1
EAN: 9781584795391
Page Count: 112
Illustrations: 40 full-color photographs, 112 pages, 8 1/2x8 1⁄2"
Format: Hardcover
"Flowers are love's truest language": so wrote journalist Park Benjamin in the 19th century. The sentiment remains just as compelling today. As every bride-to-be knows, the right flowers are a fundamental expression of the perfect wedding.
But brides are often flummoxed when it comes to the specifics of realizing a beautiful and personal floral vision. Should the arrangements be lushly romantic or sleekly understated? Which flowers are best for the season when the wedding will take place—and for its setting? How much should you spend on flowers? (Where should you splurge and where can you cut back?) How do you go about choosing and working with a professional florist? Do you dare to try to make your own wedding bouquets?
These are just a sampling of the questions that Karen Bussen, one of the country's top wedding experts, addresses in Simple Stunning Wedding Flowers, the gloriously illustrated follow-up to her essential wedding-planning book, Simple Stunning Weddings. As always, Bussen offers advice that's as down-to-earth as it is aesthetically fresh and inspired. And her guiding principles—that "less is more," and that breathtaking elegance is achievable on any budget—are sure to calm an overwhelmed bride's frazzled nerves.
About the author
Karen Bussen, one of America's most exciting wedding planners, has designed more than 100 weddings. Her work has been featured in such magazines as Modern Bride, InStyle Weddings, Cosmopolitan, Martha Stewart Weddings, Elegant Bride, Food & Wine, and Good Housekeeping. She is the cooking and entertaining expert on the upcoming Do-It- Yourself Network series Home Made Easy. She lives in New York City.

William Geddes's photographs have appeared in numerous magazines in the U.S. and abroad. He enjoys working with a wide range of subject matter, including still life, interiors, and lifestyle. He lives in New York City with his wife and daughters.