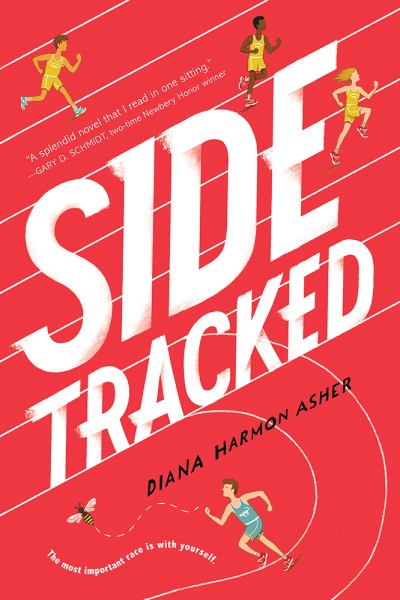 An ABA Indies Introduce Book
An ALA/ALSC Notable Children's Book
Parents' Choice Award, Fiction, Recommended
"This is a splendid novel that I read in one sitting. . . . You will cheer when this kid embraces 'Do your best' and shows it to be a ringing call to nothing less than Triumph." —Gary D. Schmidt, Printz Honor winner and two-time Newbery Honor winner
"Diana Harmon Asher tells an entertaining story about a boy picking his way through the potholes and pitfalls of puberty, with a little help from his friends." —Richard Peck, Newbery Medal winner
"Just read it! Diana Harmon Asher has written a witty, observant, and sensitive novel for kids, as well as a delight for the adults in their lives." —Susan Isaacs, New York Times bestselling author
If middle school were a race, Joseph Friedman wouldn't even be in last place—he'd be on the sidelines. With an overactive mind and phobias of everything from hard-boiled eggs to gargoyles, he struggles to understand his classes, let alone his fellow classmates. So he spends most of his time avoiding school bully Charlie Kastner and hiding out in the Resource Room, a safe place for misfit kids like him.
But then, on the first day of seventh grade, two important things happen. First, his Resource Room teacher encourages (i.e., practically forces) him to join the school track team, and second, he meets Heather, a crazy-fast runner who isn't going to be pushed around by Charlie Kastner or anybody else.
With a new friend and a new team, Joseph finds himself off the sidelines and in the race (quite literally) for the first time. Is he a good runner? Well, no, he's terrible. But the funny thing about running is, once you're in the race, anything can happen.
Praise
"Joseph's first-person voice is fresh and authentic, and his character arc is immensely satisfying."

— Kirkus
"The characters in Asher's debut novel are likable and approachable, and the story is absorbing and moves quickly. Readers will root for Joseph and his new teammates."

— School Library Journal
"They come to count on each other as they race for the same goal: doing their personal best...natural-sounding narrative with a good amount of humor."

— The Horn Book
"An entertaining mix of events, conversations, anxieties, and reflections, Joseph's first-person narrative engages readers on page one and never lets up...Justice is sweet when bullies get their comeuppance in this rewarding first novel."

— Booklist
"Asher is honest about the ways in which Joseph's condition sometimes affects his performance at school, but she's also attentive to how his sensitivities enable him to experience his environment—the feel of the squishy new track surface, the air rushing past him when he runs, the colors of the woods along the course."

— Bulletin of the Center for Children's Books
About the author
Diana Harmon Asher is the mother of three sons and is deeply immersed in reading and writing programs at the nonprofit organization the Children's Village and at Blythdale Children's Hospital, both in Westchester, New York. This is her debut novel.