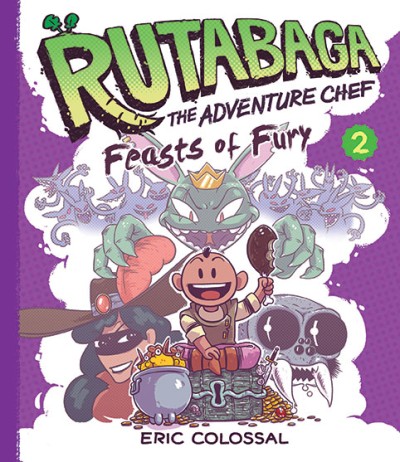 Rutabaga the Adventure Chef
Book 2: Feasts of Fury
Imprint: Amulet Books
Publication Date: May 3, 2016
Price: $16.95
Trim Size: 6 1⁄2 x 7 1⁄2
ISBN: 978-1-4197-1658-4
EAN: 9781419716584
Page Count: 128
Illustrations: Full-color illustrations
Format: Hardcover (Paper over Board)
Rights: World/All
Additional formats:
On their mission to find only the most exotic ingredients for top-notch dishes, Rutabaga and his pet cooking pot, Pot, somehow manage to get themselves into a series of pickles. Amid the giant killer spiders, a desperate acting troupe, a nefarious thief, and a horde of toxic gubblins (nasty, goblin-like creatures) who threaten to take over the kingdom of Evanore, how is Rutabaga supposed to find any time to cook? Filled with the first volume's same brand of humor and high jinks, this installment takes readers to new locations in the fantastical world Eric Colossal has created and showcases more out-of-this-world platters that "Ru" brings to life. As in the first book, in the back are three safe, easy-to-make recipes for all ages.
Praise
"... All the while, Ru serves up tasty treats while Colossal delivers big laughs with his signature blocky, exaggerated figures, warmly colored small panels, and cartoonish visual jokes. The episodic format is the perfect match for Colossal's brand of quick-fire humor and comical reactions, and Ru's occasionally daft gullibility puts him in some dire—but hilarious—situations. Fans of the first installment—and there are many—will be eager to dig into this one."

— Booklist
"Traveling chef Rutabaga and his magical cooking-pot companion, Pot, continue to journey the world in search of new ingredients...Though Rutabaga is now a veteran traveler, his friendliness and naiveté still land him in plenty of exciting scrapes, including encounters with giant spiders, a clever thief, and malicious gubblins.Fortunately, he's able to cook his way out of most of his pinches, thanks to his inventive use of ingredients and menus."

— Kirkus
"Pot is absurdly personable…Rutabaga, all bluster and enthusiasm, is equally endearing, resulting in a duo one can't help but root for…Lively illustrations, liberal use of exclamation points and font changes to emphasize exaggerated points, and manga-style facial expressions keep things pitched at high drama, as Rutabaga seems to react to deathly encounters and minor disappointments with equal amounts of surprise. As with the earlier novel, there are several actual recipes throughout that foodie kids can try, with three specifically featured at the end that would be appropriate even for young cooks….fans will still enjoy the chance visit again with Ru and Pot."

— BCCB
"This book delivers a savory sequel for fans hungry for a second course of Rutabaga the Adventure Chef."

— School Library Connection
About the author
Eric Colossal is an artist living and working in Upstate New York. He lists his great loves as: his cats, Juju and Bear; his lovely girlfriend, Jess; and eating. He is still working on a magic spell that lets him eat all he wants without the unhealthy side effects. It's a work in progress. www.ericcolossal.tumblr.com.